Man throws explosive onto bus in China, 17 injured in blast caught on camera

South China Morning Post
6/12/2018
Seventeen people were injured in an explosion on a bus in southwestern China on Wednesday evening and police are searching for a 44-year-old male suspect, local media reported on Thursday.
In security camera footage being circulated on social media, a man can be seen boarding the bus in Jiajiang county, near the city of Leshan in Sichuan province, and lighting a package wrapped in cloth before flinging it further into the vehicle, which quickly becomes engulfed in flames.
Local police said they believed the culprit was Lu Shibing, a Jiajiang local, and urged the public to provide information.
The injured were sent to hospital and all are in a stable condition, according to the Jiajiang county police's WeChat account.
Other video footage, from The Beijing News, showed a bus stationary on a busy road, with smoke pouring from the front.
Chinese chemical factory blast kills 23, injures 22
The windows of the bus had been blown out by the explosion, according to Shanghai-based news portal Thepaper.cn.
(GALLERY) North Korea's military: A nation built for war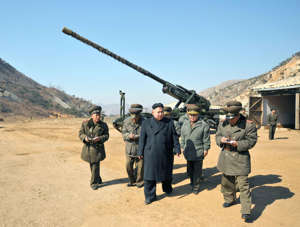 China has had a spate of bus attacks in recent years. The latest incident was similar to another explosion on a bus in Leshan in June, which injured 15 people.
In January 2017, police in Foshan in southern China's Guangdong province arrested a man who had twice blown up buses, injuring six in total.
In 2013, a man in Xiamen in the southeastern Fujian province set fire to a bus, killing himself and 46 others and injuring 34.
Fresh passenger attacks on Chinese bus drivers highlight scale of problem after fatal Yangtze crash
In October this year, an angry passenger attacked a bus driver and sent the vehicle plunging into the Yangtze River, killing 15 people on board. It put incidents on buses into the national spotlight, with a string of similar cases being exposed and calls for improved safety on public transport.
This article originally appeared on the South China Morning Post (SCMP), the leading news media reporting on China and Asia. For more SCMP stories, please download our mobile app, follow us on Twitter, and like us on Facebook.
Copyright (c) 2018. South China Morning Post Publishers Ltd. All rights reserved.