Two youths found dead in car in Kinabatangan

New Straits Times
10/10/2018
KINABATANGAN: Two youths were found dead in a car with the engine still on by the roadside in Kampung Jaya Baru here.
Kinabatangan police chief Superintendent A. Sahak Rahmat said the victims were identified as Mohd Fitri Haimin, 19, from Perumahan Pekerja Bukit Mas Palm Oil in Lahad Datu, and Mohd Helmi Muhammad, 19, from Kampung Desa Bajau, Peringkat 3, Jalan Tengah Nipah in Lahad Datu.
Police were informed by a member of the public at 11.46 this morning about a car with two men, who seemed to be sleeping, parked by the roadside at KM80 Jalan Kinabatangan-Lahad Datu.
A team of police officers were deployed to the scene and found the car, a white Perodua MyVi, parked by the roadside with the engine on.
The two men were found lying down and did not respond even after several knocks on the window, he said in a statement.
A. Sahak said a team from the Kinabatangan Fire and Rescue Department had to break the door open. Initial investigation found no physical injuries on both victims and a medical officer from Kinabatangan Hospital confirmed their death.
Both bodies had been sent to the hospital for post-mortems tomorrow morning.
© New Straits Times Press (M) Bhd
Also on MSN:
Many dead and several missing after landslide at garbage dump in Ethiopia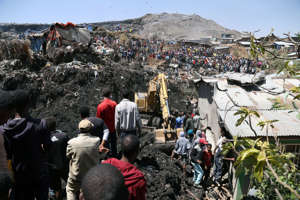 More From New Straits Times

New Straits Times