Firm of China's seventh richest man to spend RM10b on Malaysia

Malay Mail
11/10/2018
KUALA LUMPUR, Oct 11 — One of China's largest construction groups is set to invest RM10 billion here over the next decade, with a focus on the construction and education sectors.
Pacific Construction Group Limited (CPCG), ranked No. 96th in 2018 Fortune Global 500 with a total revenue of RM319 billion, also announced today the establishment of the wholly-owned subsidiary CPCI Holdings Sdn Bhd (CPCI) in KL as its Regional Technical Competency Center.
The group's founder, Yan Jiehe, said the subsidiary will manage its investments in Malaysia and the Asia-Pacific region.
"Malaysia is business friendly, and one of the region's most competitive countries. The country's fundamentals are strong," he said in a statement.
Yan said Malaysia possessed excellent infrastructure, a robust eco-system for business and a strong talent pool of trilingual talents, making it a strategic launchpad for CPCG's expansion into Asia-Pacific.
"We plan to invest up to RM10 billion over 10 years in Malaysia in line with our core business areas of infrastructure development, high technology machineries and education.
"We are open to increasing our investment especially for federal projects that will benefit the people," he said, adding the group is confident of replicating its successes in China here, in collaboration with local partners.
Currently, CPCI is part of a RM200 million construction project in Sahabat, Sabah. Yan said CPCG intends to employ 150 highly skilled professionals in the next five years.
"More than half (of the professionals) will be Malaysians. These trilingual local talents will be invaluable to work on the group's projects worldwide," Yan said.
CPCI's establishment will enable CPCG to optimise operations by centralising its regional decision making and key activities in KL.
These include accounting, strategic business planning, business development, bid and tender management, and engineering services.
The group also aims to establish business schools and universities in Malaysia, and provide scholarships to local students. CPCI will start by providing up to 500 construction and engineering scholarships for local university students.
Also on MSN
China's awe-inspiring architecture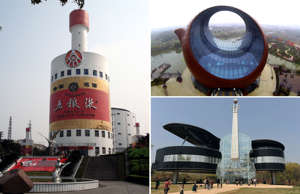 In 2015, Yan's personal fortune was estimated to be US$14 billion.