Johnny Depp alters tattoo he once got to honor Amber Heard -- see the new ink

Wonderwall
11/7/2018
Video provided by Splash News
Johnny Depp is no longer giving Amber Heard the finger.
The actor has again changed a tattoo that he initially got to honour his ex-wife. Johnny initially got the word "SLIM" tattooed across his knuckles, which was a nickname he used for Amber. However, after the duo's toxic split, he changed the tattoo to read "SCUM."
Now, Johnny's fellow Hollywood Vampires bandmember Tommy Henriksen revealed that the actor has again changed it to read "SCAM." However, the "A" is in the form of the anarchy symbol.
A post shared by Dis⚡️Vicious (@disvicious1) on Jul 4, 2018 at 2:35pm PDT
"You wanted it...you got it…," Tommy captioned the photo of Johnny's ink.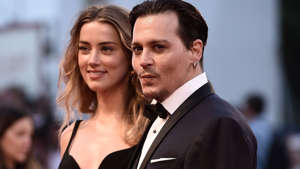 © Getty Johnny and Amber's divorce was especially vitriolic, as she accused him of domestic violence. At one point, she claimed he accidentally cut off his fingertip in a fit of rage.
Johnny made headlines earlier this week when it was reported that he's being sued for allegedly attacking a crew member on one of his film sets.
© Richard Young/REX/Shutterstock Johnny Depp attends the "Murder on the Orient Express" film premiere in London on Nov. 2, 2017. In a newly filed lawsuit, Gregg "Rocky" Brooks said he was the location manager for a film called "City of Lies," a movie about the murder of Biggie Smalls. Johnny plays a Los Angeles police detective who investigates the crime. 
According to Rocky, he told Johnny to essentially wrap up a scene he was working on, but the actor didn't take kindly to the news. Rocky, who says he was fearful of the actor, claims that Johnny attacked him and punched him in the ribcage twice. Rocky says in the lawsuit that he didn't react. Johnny then allegedly screamed, "I will give you $100,000 to punch me in the face right now." Rocky is suing for unspecified damages.
Pictures: Johnny Depp's highs and lows