Police destroy RM100,000 worth of firecrackers with Bomba help

The Star Online
19/6/2017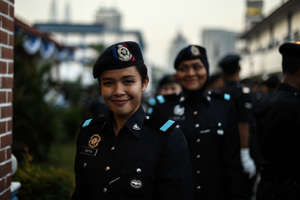 © Getty Images KOTA BARU: Police sought the help of firefighters to destroy RM100,000 worth of firecrackers in Rantau Panjang, about 30 km from here. 
  Pasir Mas district police chief ACP Ibrahim Saad said the firecrackers, smuggled from a neighbouring country, were seized during various operations in the district since last year. 
"No individuals in this district had been given any permit to sell firecrackers. 
"If they sell, we seize," he said. 
Fire and Rescue Service Department personnel destroyed the firecrackers by spraying it with water. 
ACP Ibrahim noted that smuggling activities appeared to have slowed down this year. 
"But we will remain vigilant, and actively seek and destroy firecrackers," he said. 
Kota Baru deputy OCPD Supt Setapa Yusoff said only sparklers, pop-pop, Happy Bom and Magic Pop were allowed in the market. 
He said since June 5, they had nabbed 14 people including two women for selling firecrackers without permit at Ramadan bazaars and night markets in the district. 
Those caught selling firecrackers without permit are liable to a maximum seven-year jail term and a fine of RM10,000 or both if found guilty under Section 8 of the Explosives Act 1957, he said.