Rio 2016: The best moments from the Paralympic Games

Photos
19/9/2016
From record-breaking feats to heart-warming passion, athletes from all over the world delivered memorable moments during the 2016 Rio Paralympic Games. Take a look at some of the highlights from the competition:
Kadeena Cox wins gold in two different sports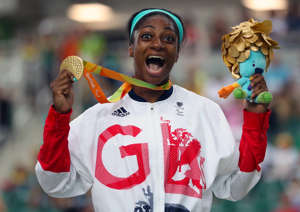 Kadeena Cox became the first British Paralympian to win gold in two different sports at the same event, since 1984 - which was hosted in the UK and U.S.. She won the women's 400m T38 sprint, setting a new world record with a time of 1:00.71. She picked up another gold win at the women's C4-5 time trial cycling event. Such a feat was last achieved by Isabel Newstead, who won in both swimming and shooting events at the 1984 games. 
Daniel Dias becomes Brazil's most decorated Paralympian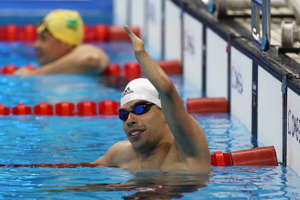 Brazilian swimmer Daniel Dias took the Paralympics by storm as he picked up nine medals at this year's games, becoming his country's most decorated individual Paralympian. Competing in a wide range of swimming events at the 2008, 2012 and 2016 games, he has won a total of 24 medals, which includes 14 gold, seven silver and three bronze. Of his performance at this year's games, Dias said, "Medals are consequences of good work. I never promise medals. I believe it is a consequence of my good work in the water."
Sascha Kindred's last Paralympics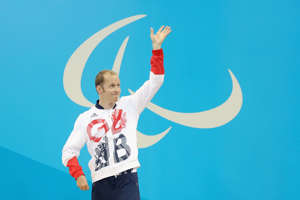 Having competed at six Paralympic Games, British swimmer Sascha Kindred bid farewell with a gold medal win at his final games. He won the men's 200m individual medley SM6, setting a new world record at 2:38.47. The win took his Paralympic medal tally to 13, which includes seven golds. He said, "The last four years have been just amazing and this is the perfect ending".
Sarah Storey creates history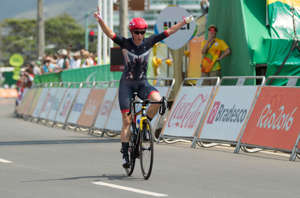 British road and track cyclist and former swimmer Dame Sarah Storey became the most successful British Paralympian with a total of 13 gold Paralympic medals. At this year's games, she won two gold medals in 3km Pursuit C5 and women's road time trial C5 events. She eclipsed Tanni Grey-Thompson and Dave Roberts, who each have 11 gold medals, to become Britain's most decorated para-athlete.
Ibrahim Hamadtou becomes an inspiration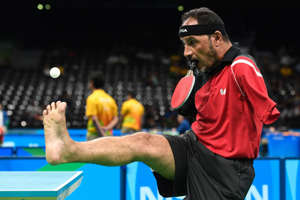 Egyptian table tennis player Ibrahim Hamadtou is the only athlete with no arms to compete in table tennis. Even though he didn't win this year, his dedication and skills mesmerized audiences all over the world. Videos of his practice sessions, uploaded on YouTube by International Table Tennis Federation, have already clocked over 2.9 million views. Hamadtou commented "Not all defeats are defeats" of his performance as this year's games. "Sometimes you lose, but you actually win because you have added to your experience, you have added to your knowledge".
Morteza Mehrzadselakjani stands tall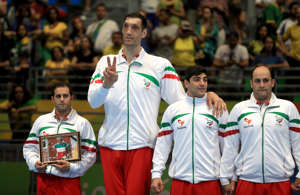 Standing at eight feet and one inch, Iran's Morteza Mehrzadselakjani (2nd from L) became the tallest athlete in the history of the Paralympics. He is only two inches shorter than Sultan Kösen, the world's tallest man, as recognized by the Guinness World Records. Mehrzadselakjani is a part of Iran men's national sitting volleyball team, which won gold after defeating Bosnia and Herzegovina.
Márcia Malsar doesn't give up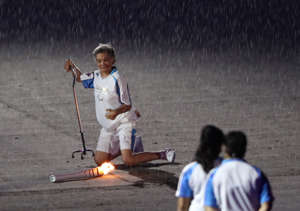 Márcia Malsar, the first Brazilian athlete to win gold at the Paralympic Games (in 1984), was given the honor of carrying the torch during the opening ceremony at Maracanã stadium in Rio de Janeiro. She slipped on the rain-soaked floor and fell, dropping the torch on the ground. However, she quickly picked herself up with the help of her walking stick and walked the remaining distance and passed on the torch. It was her passionate attitude towards the games that warmed the crowd, who cheered the veteran star throughout the ceremony.
Siamand Rahman breaks 300kg barrier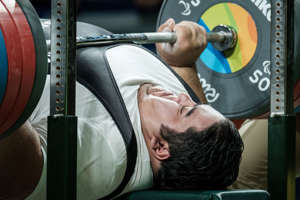 Iran's Siamand Rahman became the first powerlifter to break the 300kg barrier during the +107 kg event, to win a gold medal. In his second attempt, he lifted 300kg. He followed it up with impressive 305kg and 310kg lifts, becoming the only athlete to do so. He said, "I want to be an inspiration for all people with impairment who stay at home and don't lead an active life, and especially for the youth".
Hannah Cockroft makes a hat-trick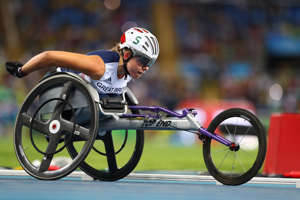 British wheelchair racer Hannah Cockroft already holds the Paralympic and world records for the 100m, 200m and 400m races in T34 qualification. At this year's games, she has added one more feather to her cap, by winning three gold medals in the 100m, 400m and 800m races. At the 400m race, she put up a new world record time of 58.78 seconds.
British paddlers sweep women's races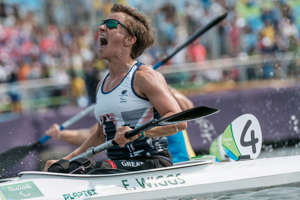 As the canoe sprint made its debut at this year's Paralympics, Great Britain's female paddlers did a clean sweep, winning all three segments of the race. While Jeanette Chippington picked up a gold medal in the KL1 category, Emma Wiggs (pictured) and Anne Dickins came out victorious in the KL2 and KL3 races respectively.
Bradley Snyder lands a treble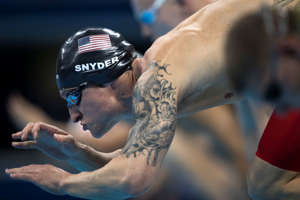 American swimmer Bradley Snyder won three gold medals and set a new world record at this year's games. He picked up the gold medal in the categories of 50m, 100m and 400m Freestyle S11 events. With a time of 56:15, Snyder set a new record in the 100m race.
Abdellatif Baka clocks better time than Olympic winner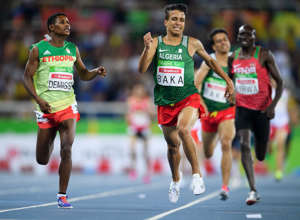 Algeria's Abdellatif Baka (C) won a gold medal in the men's 1500m T13 sprint event, setting a new world record of 3:48.29. Incredibly, Baka and four other runners finished the race inside the time of 2016 Olympic Games gold winner Matthew Centrowitz Jr., who finished in 3:50.00. Commenting on his impressive win, the visually impaired athlete said, "It wasn't easy to get this gold medal. I've been working one or two years non-stop and it's been very, very hard for me."
Devendra Jhajharia wins gold, breaks own world record
Indian javelin thrower Devendra Jhajharia became the first Indian to win two gold Paralympic medals. With a throw of 63.97m, he set a new world record and went on to win in the F46 event. His previous gold win came at the 2004 Paralympic Games in Athens, where he posted the previous world record of 62.15m. The 36-year-old athlete is currently ranked third in the world.
Liam Malone beats Pistorius's record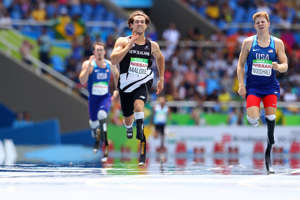 Blade runner Liam Malone (C) smashed the record previously held by Oscar Pistorius, to win the men's 400m T44 sprint in 46.20 seconds. The Kiwi athlete finished 0.48 seconds ahead of Pistorius. This was Malone's first Paralympic Games and he went on to win two gold medals in 400m and 200m races.