Hollywood Remembers Stephen Hawking

The Hollywood Reporter
14/03/2018
Video provided by International Business Times
Stars paid their condolences to famed British theoretical physicist Stephen Hawking, the author of the worldwide best-selling book A Brief History of Time and the subject of the Oscar-nominated film The Theory of Everything, following his death on Tuesday night. He was 76.
Diagnosed with amyotrophic lateral sclerosis (ALS) at age 21, in 1963, Hawking went on to win numerous awards for his research in the field of theoretical physics such as the Albert Einstein Award in 1978 and a Presidential Medal of Freedom in 2009.
Hawking achieved worldwide fame when his book A Brief History of Time became a worldwide bestseller and sold 10 million copies.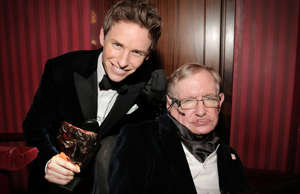 © Hannah Taylor/BAFTA/REX/Shutterstock Eddie Redmayne, Leading Actor winner for The Theory of Everything, with Stephen Hawking at the BAFTAs in 2015. "His passing has left an intellectual vacuum in his wake. But it's not empty. Think of it as a kind of vacuum energy permeating the fabric of spacetime that defies measure. Stephen Hawking, RIP 1942-2018," tweeted Neil deGrasse Tyson.
"RIP Stephen Hawking. Genuinely very sad to hear that. If you haven't, read A Brief History of Time. It'll make the world feel more amazing and beautiful and strange. It'll also make you feel smart and stupid all at once," wrote comic actor Kumail Nanjiani.
"Our world has lost a shining light. Stephen Hawking defied expectation," tweeted journalist Dan Rather. "Blessed with a brilliant mind and uncommon grace, he opened so many minds to the wonders of our universe. Courageous and unbowed by adversity, he believed deeply in the power reason. May he rest in peace."
Read more stars' reactions below.
In loving memory of Stephen Hawking. It was an honor to have him on The #BigBangTheory. Thank you for inspiring us and the world. pic.twitter.com/9rWoYqIToy

— The Big Bang Theory (@bigbangtheory) March 14, 2018
His passing has left an intellectual vacuum in his wake. But it's not empty. Think of it as a kind of vacuum energy permeating the fabric of spacetime that defies measure. Stephen Hawking, RIP 1942-2018. pic.twitter.com/nAanMySqkt

— Neil deGrasse Tyson (@neiltyson) March 14, 2018
RIP Stephen Hawking. Genuinely very sad to hear that. If you haven't, read A Brief History of Time. It'll make the world feel more amazing and beautiful and strange. It'll also make you feel smart and stupid all at once.

— Kumail Nanjiani (@kumailn) March 14, 2018
RIP, Professor Hawking. https://t.co/ZzhjgESNo6

— MAURICE LAMARCHE (@MAURICELAMARCHE) March 14, 2018
Just sitting here absolutely shattered about Stephen Hawking.

— Emmy Rossum (@emmyrossum) March 14, 2018
Our world has lost a shining light. Stephen Hawking defied expectation. Blessed with a brilliant mind and uncommon grace, he opened so many minds to the wonders of our universe. Courageous and unbowed by adversity, he believed deeply in the power reason. May he rest in peace.

— Dan Rather (@DanRather) March 14, 2018
Awesome life.... https://t.co/h9Fl6ujhSg

— Ron Perlman (@perlmutations) March 14, 2018
Stephen have a sweet journey and we will see you again soon I hope.

— Tommy Chong (@tommychong) March 14, 2018
Stephen Hawking: Life in pictures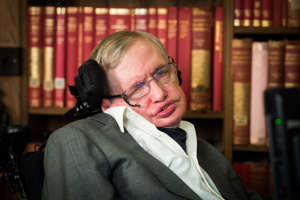 More From The Hollywood Reporter

The Hollywood Reporter