Beyonce hit was written for someone else

AAP
4 days ago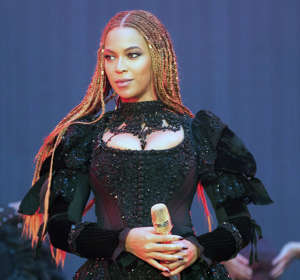 © Daniela Vesco/Invision for Parkwood Entertainment/AP Images Beyonce. Beyonce famously sang about being Irreplaceable but that song that seems so synonymous with Queen Bey was not originally written for her.
It was R'n'B artist Ne-Yo who penned Irreplaceable and originally intended to release it as a song himself, but at the last minute, the lyrics made him think twice about that.
"I originally wrote the song for myself with the intention of performing it myself, but then once I realised that those lyrics on a man come across a little misogynistic, whereas those lyrics on a woman come across more empowering, I decided 'yeah, may be a better idea to go ahead and let a woman sing this one'," Ne-Yo told AAP.
"So Beyonce gets a hold of it, turns it into a mega hit and the rest is history."
Beyonce included it on her second solo album B'Day in 2006 and released it as a single that same year. It was a huge success, becoming the singer's fourth number-one in the US and was nominated for a Grammy Award.
It's just one of the many hits Ne-Yo has written, both for himself and others. He's also responsible for the Rihanna songs Hate That I Love You, Take A Bow and Unfaithful and Jennifer Hudson's breakout hit Spotlight, along with countless more hits.
His own solo career began in the early 2000s when he released the R'n'B song So Sick. Then in 2008 he moved closer to pop for his third album, Year of the Gentleman which earned him several Grammy Awards and featured the hit Closer.
He's currently in Australia and will kick off his tour of the country as part of the RNB Friday Live concert series in Sydney on Thursday, with his seventh album, Good Man, also on the way.
Fans would have also recently seen him in the biggest comedy of the year, Girls Trip, performing at a concert for the film's four lead actresses including Queen Latifah and Jada Pinkett-Smith,.
The film broke records as the first film made by, and starring, a black cast to earn $US100 million.
"I love when we as people, not black people or white people just we as people, can do something that transcends black, white and all of that stuff," he said.
"It's great that it's an all black cast, all black crew, black director, that's great that we've taken the steps that we've taken but I feel like if we're ever going to get to this equality place we can't put the focal point on black, we can't put the focal point on white, it's got to be just people. That's where we got to eventually get to if equality's ever going to be a real thing."
* Ne-Yo will be performing as part of the RNB Friday Live series which kicks off on Thursday in Sydney and will be touring Australia until October 21. He will also play a special headline show at Discovery Darwin on October 17.