Is this proof that Avengers: Endgame will start a new timeline?
Digital Spy (UK)
11/02/2019
Even though we've had a trailer and that bleak Super Bowl teaser, we're still no closer to finding out how our favourite heroes will recover from Infinity War's devastating ending in Avengers: Endgame.
It's widely believed that time travel will play a part in undoing the Snap and bringing back all the dead heroes - Spider-Man, Black Panther et al - in time for their new movies. However, there's always been the worry that too much messing in the past could have serious consequences for the MCU's continuity.
A potentially cleaner way around the timey-wimey stuff would be that whatever the Avengers do in Endgame, it will only remove Infinity War from the timeline, resetting the universe to before Thanos clicked his fingers.
Download the Microsoft News app for your Android or iPhone device and stay up-to date on the news you care about most.
And a theory from Reddit user ak2sup suggers that we've already had some evidence of the reset in Infinity War.
If you cast your mind back to near the start of Infinity War, there's a sweet scene with Tony Stark (Robert Downey Jr) and Pepper Potts (Gwyneth Paltrow) as he tells her about a dream he had.
"Last night, I dreamt we had a kid. It was so real. We named him after your eccentric uncle, what was his name... Morgan," he explains, adding that he genuinely believed it was real even once he woke up.
Just a dream, right? Well maybe not.
Last year, after the release of Infinity War, Gwyneth Paltrow seemingly let slip a huge spoiler about the future of Tony and Pepper's relationship.
"Pepper and Tony have had a really long journey together. She obviously starts as his dutiful assistant, and then the relationship evolves, and now this decade later they're married, and they have a child," she explained.
That certainly didn't happen in Infinity War as their conversation is interrupted by Doctor Strange (Benedict Cumberbatch), with Tony soon finding himself on Titan battling Thanos and, eventually, adrift in space according to Endgame's first trailer.
But the theory argues that what Tony saw wasn't a dream, but a flashforward of the new timeline and an effect of causal loop due to Endgame resetting the Snap.
"Causal loop is a paradox of time travel that occurs when a future event is the cause of a past event, which in turn is the cause of the future event," it outlines. "Both events then exist in spacetime, but their origin cannot be determined. A causal loop may involve an event, a person or object, or information."
And if you need a bit more evidence, the official synopsis for Endgame talks about the surviving Avengers having to "undo Thanos' actions and restore order to the universe", which sounds like a reset to us.
Marvel being Marvel, it's unlikely that the conversation was just put into Infinity War as a filler and will mean something in the future. Of course, it could be an emotional kicker if Tony ends up dying in Endgame and we'll always be left to wonder what could have been.
We want to be a bit more positive though and believe that it is actually a teaser of what will happen to Tony and Pepper post-Endgame. After all, it could be a nice way for him to leave the series, giving up on saving the world to raise a child instead.
Wouldn't that be sweet?
Related slideshow: Marvel's 'Avengers: Endgame': What we know so far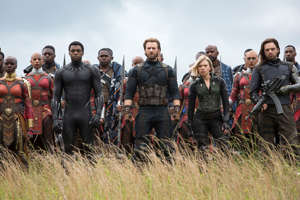 More from Digital Spy

Digital Spy (UK)