Rose McGowan just named Harvey Weinstein as her alleged rapist for the first time.

Mamamia
12/10/2017
Video provided by NowThisNews
Arguably no voice has been louder about Harvey Weinstein's alleged history of sexual harassment and assault than Rose McGowan.
Along with more than 20 women, from well-known actresses including Angelina Jolie and Gwyneth Paltrow to women who worked as Weinstein's assistants, the 44-year-old Charmed actress has claimed the Hollywood producer abused his power to systematically assault and harass women over a 30-year period.
After briefly having her Twitter account suspended for violating the site's rules, McGowan has used the social media platform to name Harvey Weinstein, 65, as her alleged rapist. It has been claimed she has broken a non disclosure agreement in doing so.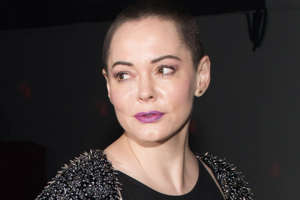 © Noam Galai/WireImage Actress Rose McGowan attends 'Charliewood - An Exhibition Of Transgressive Movement'. In a Twitter thread posted on Thursday directed at Amazon CEO, Jeff Bezos, McGowan said, "I told the head of your studio that HW raped me. Over & over I said it", referring to an incident in a hotel room at the Sundance Film Festival which was settled with a US$100,000 agreement, according to the New York Times.
After being fired by the board of the film production company he co-founded, The Weinstein Company, the disgraced film producer is reportedly seeking treatment.
This comes as the New York Police Department is launching a criminal investigation into Weinstein's conduct.
It is unclear as yet what the consequences of McGowan's latest statements will be for her.
1) @jeffbezos I told the head of your studio that HW raped me. Over & over I said it. He said it hadn't been proven. I said I was the proof.

— rose mcgowan (@rosemcgowan) October 12, 2017
2) @jeffbezos I had already sold a script I wrote to your studio, it was in development. When I heard a Weinstein bailout was in the works

— rose mcgowan (@rosemcgowan) October 12, 2017
3) @Jeffbezos I forcefully begged studio head to do the right thing. I was ignored. Deal was done. Amazon won a dirty Oscar.

— rose mcgowan (@rosemcgowan) October 12, 2017
4) @jeffbezos I called my attorney & said I want to get my script back, but before I could, #2 @amazonstudios called to say my show was dead

— rose mcgowan (@rosemcgowan) October 12, 2017
4) @jeffbezos I am calling on you to stop funding rapists, alleged pedos and sexual harassers. I love @amazon but there is rot in Hollywood

— rose mcgowan (@rosemcgowan) October 12, 2017
5) @jeffbezos Be the change you want to see in the world. Stand with truth. #ROSEARMY#Amazon

— rose mcgowan (@rosemcgowan) October 12, 2017