With love-rats Dean and Davina, Married at First Sight ditches 'science' for soap

Sydney Morning Herald
13/02/2018
Video provided by Now To Love
It's hard to recall that it was ever so, but in the beginning Married at First Sight took that "scientific experiment" bunkum at least half seriously. There seemed a slim chance that the lovelorn might actually meet a soul mate within the artificial construct of marriage to a stranger.
Now though, forget it. It's pure soap opera – and as the last 20 minutes or so of Tuesday night's episode proved, a pretty superior one at that.
As Dean prepared for his long-teased, on-the-sly meeting with Davina, instawife Tracey was catching up with Gabrielle (she of alopecia and Nasser fame) for a drink and chinwag. The back and forth between these two scenes was nothing short of masterful.
"I feel respected," said self-proclaimed goddess Tracey, who only days before was complaining about being disrespected by a guy who could b--k her in the morning and bail on her in the evening.
"We're having good chats," she said. "I'm trying to keep open, I'm trying not to shut down, because now that he's open he deserves that from me."
© Nine Davina and Dean steam up the screens in Married at First Sight. Meanwhile Dean was telling the camera he hadn't told his wife about the imminent meeting with the bikini model because "it's my business, I don't have to tell her anything really". Oh yes, he's open, all right – open like the jaws of a white pointer at dinner time.
"I think Dean's moved forward because he's really opened up," Tracey said. "And now I think he's willing to really give this a go."
Cut to Dean spraying cologne – on the outside of his shirt.
"I'm beginning to see a side of Dean I didn't see before."
Cut to Dean leaving the apartment.
"Because I can see he's trying hard, he deserves me to be 100 per cent committed to that." 
Cut to Dean approaching the bar where Davina awaits.
They meet, they flirt. They don't so much beat around the bush as sprint around it.
Davina: "I know what I want, so…"
Dean: "I know what I want."
Sheesh, get a room you two. Oh, wait. You're "married" to other people. Then get a grip, you two. And a sound recordist and a camera operator as well because we know where this is headed and we don't want to miss any of it, no matter how grubby it makes us feel.
Back to Tracey and Gab, who appear to be inhabiting a parallel universe. "He is an honest, genuine person," says Tracey. "He is generous."
Cut to Dean practically dry-h-----g Davina's leg.
"And he is thoughtful."
Cut to Davina practically licking Dean's face.
"He got me flowers, he went and got me coffee," Tracey says. "He remembered what coffee I like."
"Oh my God," says Gab. "I've got goose-bumps."
And I've got nausea.
Back in the bar of b-----dry, Davina and Dean each try to absolve themselves of sin by first blessing those who are about to be sinned against.
"I love Tracey," Davina says, utterly unconvincingly. "Don't get me wrong, I love Tracey."
"I love Ryan," says Dean.
"I'm not here to try and cut her grass," says Davina, who has a Jim's Mowing franchise on the side. "But at the end of the day I'm attracted to you. I want to get to know you more."
"You kind of excite me a little bit," Dean drools. "I'm very interested in exploring what we have going on."
"Yeah," says Davina, before throwing a curve ball that Dean surely did not see coming. "I love you."
She laughs nervously.
"Oh my God, I wanna kiss you so bad," she says, taking his mind off the crazy by focusing it again on his nether regions. "Oh God, what happens now?"
"Look, we haven't done anything wrong," says Dean, slipping into his favourite mode – I'm the man, I'll tell you what to do. "You've been real, I've been real. How about we don't…"
"Let's get married," says Davina.
It's a second curve ball. Poor little thing is a goner. 
Dean looks stunned. Wait, let's get back to sex. That he can handle. "Let's make out a little bit," he says. 
"How about we don't tell anyone else about this until at least after the next commitment ceremony," he suggests, mind back on strategy. "This meeting is secret."
It really is appalling. It's funny, too, until you realise there are real people involved. But then, they've opted in to this utterly unreal scenario and at least some of them surely have ulterior motives, so how much sympathy do they deserve? Well, at least some of them deserve a little bit, I think. 
MAFS being expert at the endless tease, other dramas, other comedies, other intrigues play out before we get to all this. A bare-a---d Telv cooks dinner to make up for the fact he hadn't deleted the dating apps from his phone before marrying Sarah. Troy the vain hangs upside down in a rock-climbing centre while Ashley the judgmental taunts his inadequacy (a change at least from taunting his vanity). Nasser gets Gab to do the housework in a leopard-print dress as part of Yes week (in which one partner gets to give all the orders and the other has to obey; yes, a full B&D episode is surely on the way).
On the sadder side of the fence, Sean continues to give Jo the full sulk and she continues to look for the silver lining in this grey cloud of a man's demeanour. And Matt throws in the towel entirely, leaving Alycia to carry her fairytale fixation toward the next poor fool, but in the process proving that while he has some big issues (anger chief among them) self-delusion is not among them.
But really, we all know what we're here for, right? This sleazy bit of two-timing that has us all excited and appalled in equal measure.
The MAFS producers know the best kind of sexual tension on telly is the unresolved kind, but at some point there must be an ending – and it's unlikely to be happy.
"It's so funny," Tracey tells Dean as he puts dinner in front of her at the end of a hard day of love-rattery. "It's like you've done a 180."
"I've tried to open up, be a bit more honest with you about that stuff," he tells her, entirely dishonestly.
"I can't ask for more than that," she tells the camera.
Nor can we, Tracey. Nor can we.
Pictures: Married at First Sight 2018: Meet the contestants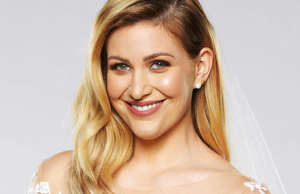 More from Sydney Morning Herald

Sydney Morning Herald