Apples - Oven-dry Fruits
[Do Not Use]DK Publishing
2/07/2014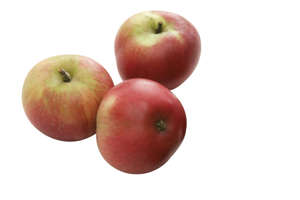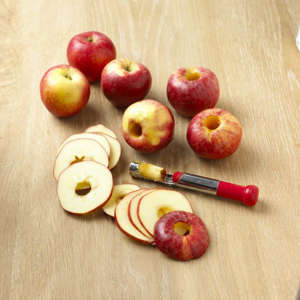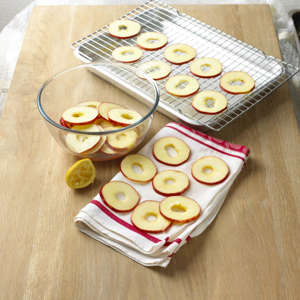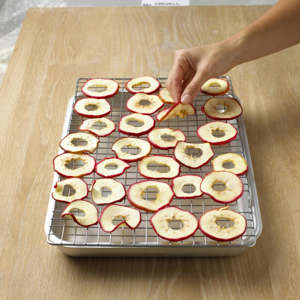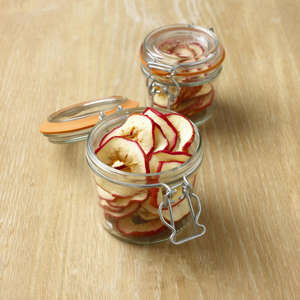 Oven-dry Fruits

Dried fruits make healthy snacks and are an excellent addition to granola, baked goods, sauces, pies, and many savory and sweet dishes. Choose ripe fruits, since they dry quickly and have a better flavor. The same recipe works for many kinds of fruit including tropical fruits, cherries, cranberries, grapes, nectarines, and plums. Keep the oven on its lowest setting and dry for 8–24 hours, depending on the temperature and preferred texture. Leave longer for a crunchier version.
Core the apples
Briefly rinse the apples in cold water, then core and slice them into 1/8–1/4in (3–5mm) rings. Discard the top and bottom rings with the most skin on.
Prevent browning
In a bowl, add lemon juice or citric acid to 21/2 cups water. Drop in apples, drain on kitchen towel, and lay on wire racks over baking sheets.
Dry in the oven
Dry for 8–24 hours in the oven at 120–140°F (50–60°C), turning occasionally, until they look and feel like soft chamois leather.
Store in jars
Remove from the oven, cover with paper towels, leave for 24 hours, turning occasionally. Pack into sterilized, airtight jars and store in a cool, dark place.
Drying different fruits
Keep the door of an electric oven ajar with a skewer to create airflow so that the fruit is dried rather than cooked.
Stone fruits
Remove the stones first.
Fruits with rind
Remove thick rind and peel.
Fruits with whole skins
Dip fruits with skins left on, such as grapes and cherries, into boiling water for 30 seconds to split the skins first.
Larger fruits
Cut fruits like peaches and large figs in half, and dry them cut-side up.