Austria & Eastern Europe - Wine Map of Bulgaria
[Do Not Use]DK Publishing
2/07/2014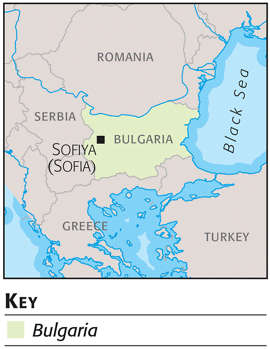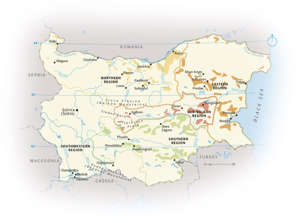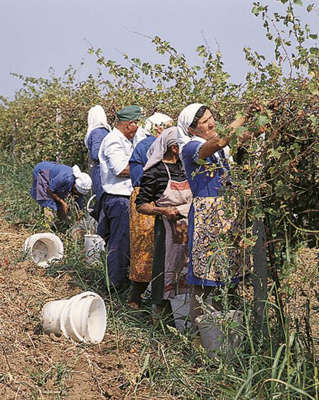 View of vineyards near Melnik, Southwestern Region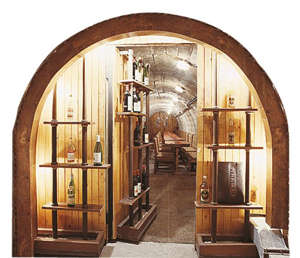 Tasting room at Vini Sliven, Sub-Balkan Region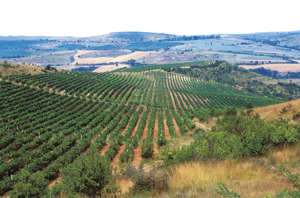 Harvest time, Northern Region
Wine Map of Bulgaria

This small country on the Balkan Peninsula is divided into five viticultural regions. The Northern Region runs from the Dunav (Danube) south to the Stara Planina (Balkan Mountains), and then continues on to the Thracian Plain. The Eastern Region borders the Black Sea and is best known for its white wines. In the center, the Sub-Balkan Region produces mostly red wines. In the Southwestern Region, the Struma River winds through the Rhodope Mountains, surrounded by Bulgaria's only hillside vineyards. The Southern Region has a moderate continental climate, well-suited to ripening red varieties.
Bulgaria: Areas & top producersNorthern Region
Stork Nest Estates
Sub-Balkan Region
Blueridge Winery
Vini Sliven
Vinex Slavyantsi
Southern Region
Santa Sarah
Vinazod Assenovgrad
Southwestern Region
Damianitza
Perfect case: BulgariaTerroir at a glanceLatitude:
41–44°N.
Altitude:
100–1,000 m.
Topography:
The Stara Planina (Balkan Mountains) range stretches across the center of the country and protects southern Bulgaria from cold winds blowing off the Russian steppes. The highest altitudes are in the Rhodope Mountains in the southwest.
Soil:
Loess over limestone on the Dunav Plain; alluvial soils on the Thracian Plain; forest soils near the mountains.
Climate:
Continental climate in the north, Mediterranean in the south and maritime on the Black Sea coast.
Temperature:
July average is 73°F (23°C).
Rainfall:
Annual average is 630 mm.
Viticultural hazards:
Hail; fungal diseases; September rain.
Making waves among the vines
The poor state of Bulgaria's wine industry is largely a result of the shocking condition of the vineyards, which suffered greatly after the fall of communism. The way forward, however, is shown by exciting new ventures such as the Bessa Valley project at Ognianovo in the Southern Region. The financing comes from German wine lover Karl Hauptmann and Bordeaux-based producer Stephan von Neipperg, with Marc Dworkin as winemaker. They were attracted by the region's superb soils and great potential for top class wine. With help from the local mayor, they have bought 200 ha and planted four varieties: Merlot and Cabernet Sauvignon, Syrah and Petit Verdot. The first vintage, 2003, was just 6,000 bottles and was eagerly awaited by all those who realize that Bulgaria needs a show-stopping wine to help rebuild its reputation.