Austria & Eastern Europe - Winegrowing Areas of Austria
[Do Not Use]DK Publishing
2/07/2014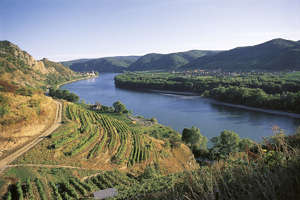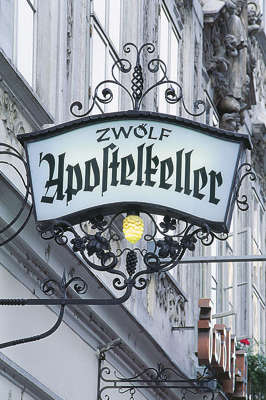 Vineyards along the Donau (Danube) Valley, Wachau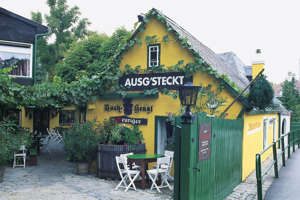 A typical Heurige or inn, Vienna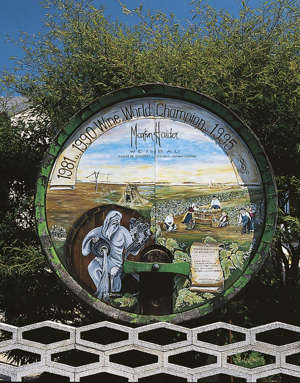 Vineyards surrounding the village of Kapfenstein, Südost Steiermark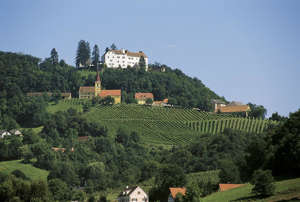 Decorated barrel, Burgenland
Winegrowing Areas of Austria

Niederösterreich
soil type: various
red grape variety: Blauer Portugieser, Zweigelt, St-Laurent
white grape variety: Grüner Veltliner, Müller-Thurgau, Welschriesling
wine styles: red, white, dessert

With 33,650 ha under vine, Niederösterreich (Lower Austria) accounts for 58 percent of Austrian wine production. Most of the wines produced here are dry whites, and Grüner Veltliner is the most popular variety, occupying nearly half the vineyards. Niederösterreich breaks down into eight key winegrowing districts.
Weinviertel
The largest wine district in Austria with 18,000 ha under vine, the Weinviertel ("wine quarter") was formed after 1985 and is now Austria's first EU-approved appellation or DAC (Districtus Austria Controllatus). The climate here varies greatly, from the aridity of Retz to the more humid areas along the March River, where much of Austria's classic Grüner Veltliner is produced. Base wines for Austria's flourishing Sekt industry (usually from Grüner Veltliner, Weissburgunder (Pinot Blanc), or Riesling) come mainly from Poysdorf to the northeast, and exemplary still wines are produced here, too—notably peppery Grüner Veltliners and deliciously sappy Weissburgunders. The Pulkautal, in the north along the Pulkau River, is home to the Hardegg estate, which is known for having produced Austria's first port-style wine and the first commercial Viognier.
Kamptal
Climate and soil combine to make this one of the country's best winegrowing areas, above all for dry white wines made from Grüner Veltliner, Riesling, and Weissburgunder (Pinot Blanc). The Kamptal centers on the small town of Langenlois, home of first-rate winemakers such as Willi Bründlmayer. There are also groups of important growers in the Strassertal and Zöbing, who exploit the area's greatest geological feature, the Heiligenstein. This south-facing Permian rock is made up of a mixture of shaley sandstone and volcanic soils that produce top-class Grüner Veltliner, impressive Weissburgunder, and racy Riesling. Kamptal growers have even elaborated their own classification based on soil: Grosse Erste Lage (grand cru), Erste Lage (premier cru), and Klassifizierte Lage (cru classé).
Kremstal
The 1,000-year-old town of Krems and its eponymous river are home to some of the best growers in Niederösterreich. The sandy soils to the east are ideal for lively Grüner Veltliners, but more serious wine—above all lime-scented Riesling—is made on the primary rock soils of Stein and Senftenberg. There are two more pockets of quality vineyards: around Rohrendorf and Brunn im Felde; and across the Donau (Danube) in Furth and Palt. Wines here are chiefly Grüner Veltliner, but Riesling also makes an appearance.
Wachau
Wachau has become Austria's most famous wine district for its powerful, lime-scented Rieslings. Even so, Riesling only accounts for around 10 percent of production here. Grüner Veltliner is still the main grape, and the area's granite soils mean these wines can be every bit as good as Riesling.
With vineyards on either side of the Donau (Danube) and a dramatic patchwork of terraces hewn out of the granite, gneiss, and mica, there are few wine regions in the world that can rival Wachau's beauty. Wines from the south-facing slopes below Dürnstein tend to be more powerful than those from farther west. There is also a small cluster of good growers in Mautern, south of the river. The Vinea Wachau organization has developed its own system of classification: Steinfeder is a light, unchaptalized wine; Federspiel a medium Kabinett; and Smaragd is a powerful dry Kabinett or Spätlese .
Traisental
Austria's newest and smallest wine district was born in 1995, with 700 ha between the Donau (Danube) and St Pölten, but has been slow to present any particular identity. The flagship was, and is, Ludwig Neumayer's 7-ha estate in Inzersdorf ob der Traisen, which is known for its impressive Weissburgunders.
Donauland
Donauland centers on Klosterneuburg—best known for its monastery—and the Wagram, west of Vienna. The monastery is the biggest vineyard owner in Austria and owns some stunningly steep slopes on the western fringes of the capital, with considerable potential for Grüner Veltliner and Riesling. The best Donauland wines, however, still come from the Wagram, a long loess ridge where growers make some of the country's most delightfully peppery, green-lentil-scented Grüner Veltliners.
Carnuntum
This emerging area—above all for red wines—runs along the north bank of the Danube and benefits from the warm Pannonian winds. Most of the good growers are around Göttlesbrunn. Zweigelt is the best grape in the west of the region, producing rich, cherry-scented wines. But Cabernet Sauvignon and even Syrah are made here, too. Blaufränkisch dominates in the east, but it lacks the weight of its Burgenland cousin.
Thermenregion
In the old days, the demand in Vienna's pubs or Beisls was for red Vöslauer or sweet, white Gumpoldskirchner—both produced in the Thermenregion. Vöslauer, from the deep gravel soils around Bad Vöslau, used to be a thin wine made largely from Blauer Portugieser, but these days it is as likely to be Cabernet Sauvignon, St-Laurent, or Pinot Noir (Blauburgunder). Gumpoldskirchner comes from the rolling hills that are the last outriders to the Alps. Classically it was made from Zierfandler and Rotgipfler, which give broad-shouldered whites; around Baden in the north there was more Neuburger, which is allegedly part of the Burgundian vine family and makes plump wines that become nutty with age. When the region was badly hit by the 1985 wine scandal , growers responded by trying Chardonnay instead; although successful, producers are now returning to tradition.
Vienna (Wien)
soil type: limestone, loess, brown soils, loam, gravel
red grape variety: Zweigelt
white grape variety: Grüner Veltliner, Riesling
wine styles: red, white

Vienna has many vineyards on its rustic fringes to supply the city's Heurigen (inns) with fresh young white wine, also called Heurige ("this year's"). When it passes its first birthday, this wine is designated Altwein ("old wine") and replaced by the newly harvested Heurige. Locals and tourists are relatively undemanding, so winemaking can be sloppy, but a few serious growers are now producing Rieslings and Weissburgunders that show potential.
Burgenland
soil type: gravel, sand, loam, chalk, limestone
red grape variety: Blaufränkisch, Zweigelt, Cabernet Sauvignon, Syrah, Nebbiolo, Tempranillo
white grape variety: Welschriesling, Weissburgunder, Chardonnay
wine styles: red, white, dessert

Burgenland is Austria's second-biggest wine region, and virtually every type of wine is made here. Part of Hungary until 1921, it is not surprising that it has little in common with Niederösterreich, or that Welschriesling, as opposed to Grüner Veltliner, is the most-planted grape. As in Hungary, Blaufränkisch is the main red variety, particularly in Mittelburgenland. The Hungarian influence is also found in Ruster Ausbruch, Austria's answer to Tokay. Burgenland divides into four winegrowing districts.
Neusiedlersee (Seewinkel)
Neusiedlersee is often associated with luscious sweet wines made from Welschriesling, Scheurebe (Sämling 88), Traminer, Grauburgunder (Pinot Gris), Weissburgunder (Pinot Blanc), and Bouvier. These grapes are grown closest to the shallow lake, the Neusiedler See, around the villages of Illmitz and Apetlon. The fall mists here are important for production of these wines because they encourage botrytis, which is also helped by a belt of largely stagnant ponds with appropriate names like the upper and lower Stinkersee. But even in misty Apetlon, it is possible to make some rich, dry whites, as the Velich family proves.
Farther back from the lake shores, sweet wines give way to other styles. Gols, halfway up the eastern shore, has become famous for its great reds. This is the home of the Pannobile organization, whose members specialize in blending native grapes such as Blaufränkisch, St-Laurent, and Zweigelt with imported cultivars. To the north is Jois, where Austria's most convincingly Burgundy-style Pinot Noirs (Blauburgunders) are made.
Neusiedlersee-Hügelland
This area centers on the small town of Rust, Burgenland's capital in the Leitha Hills, situated on the west bank of the Neusiedler See. Since the early 17th century, Rust has been associated with sweet Ausbruch wine. At that time, when Burgenland was under the Hungarian crown, it was the equivalent of Tokay's famous Aszú . Unlike the sweet wines from the eastern side of the lake, Ausbruch is made by just adding botrytized grapes to the wine or must. The result is more vinous—closer to the French Sauternes . Today this Hungarian tradition is most readily apparent at Robert Wenzel, the doyen of Rust's Ausbruch winemakers. Up in the hills above the lake, producers have pioneered the development of western-style Bordeaux-blends and dry whites from Chardonnay and Sauvignon Blanc.
Mittelburgenland
Sometimes called Blaufränkischland after its dominant grape variety, this is essentially a red wine area. Red wine grapes traditionally make up two-thirds of the total planted around the small towns of Horitschon, Neckenmarkt, and Deutschkreuz. The 1980s and 90s were a time of experimentation here: the French oenologist Philippe Ricôt converted many local growers to Merlot, and the late Hans Igler brought in Cabernet Sauvignon. In the early 1990s new oak barriques were also introduced and wildly overused. Their use has now been moderated, and the wines have benefited from the mellowed oak flavors. In fact, a collection of exemplary Blaufränkisch wines has recently been released from Neckenmarkt cooperative. Near the Hungarian border in Lutzmannsburg, meanwhile, Roland Velich of Apetlon and Erich Krutzler of Deutsch Schützen have created another new (and very fashionable) wine, Moric, using century-old Blaufränkisch vines.
Südburgenland
This wild and remote district in southern Austria only produces a small amount of wine, most of it red. The best comes from Deutsch Schützen, where Weingut Krutzler makes one of the country's best reds, Perwolf, by blending Blaufränkisch with a small amount of Cabernet Sauvignon. Other villages of note are Eisenberg and Rechnitz. In Heiligenbrunn and Moschendorf, there are still several growers who make Uhudler—a wine from ungrafted American hybrids—which, like the Italian Fragola, has a strawberry bubblegum flavor.
Steiermark (Styria)
soil type: volcanic
red grape variety: Zweigelt
white grape variety: Welschriesling, Sauvignon Blanc, Chardonnay, Grauburgunder (Pinot Gris), Weissburgunder (Pinot Blanc), Gelber Muskateller
wine styles: red, white, rosé, sparkling

After Vienna, Steiermark is the smallest region in terms of wine production. The fact that one in 10 growers has a Buschenschank (country inn) gives an indication of the sort of wine that is made here: simple stuff for local consumption. The climate is warm and most of the wine produced in Steiermark's three districts is dry and white, although some sweet wines are made in good years. Recently the region's wines have won a reputation in Austria for their sappy fruitiness, and their fame is now spreading.
Südost Steiermark
Principally white grapes, such as Welschriesling, are grown on the volcanic knolls and outcrops of this district, especially along a strip of land that protrudes into Slovenia around Bad Radkersburg. The villages to look for are Kapfenstein (a fief of the Winkler-Hermadens, who make Austria's most monumental Zweigelt, Olivin), St Anna am Aigen, Straden, Tieschen, Riegersburg, and Klöch—which specializes in off-dry Gewürztraminer.
Südsteiermark
This is one of the country's most beautiful wine districts, and the wines here are a match for the scenery. The pioneer was the elder Willi Sattler, who began making dry white wine in Gamlitz in the 1970s. In those days, this area made semi-sweet wines to sate the German tourists, but after 1985 everyone followed Sattler's lead. Wines to look out for are Sauvignon Blanc, Chardonnay (Morillon), and Grauburgunder (Pinot Gris), preferably vinified in a dry, not-too-oaky style that brings out the fruitiness. Welschriesling is the mainstay of most vineyards—its delicate acidity and refreshing clarity of fruit can be a revelation here.
Weststeiermark
With one or two exceptions, Weststeiermark means Schilcher: a darkish rosé with a searing acidity made as a red wine from the Blauer Wildbacher grape. The Sekt is best. Every now and then a hot year allows growers to vinify Blauer Wildbacher as a Merlot-like red wine, which can be worth trying.