Austria & Eastern Europe - Winegrowing Areas of Hungary
[Do Not Use]DK Publishing
2/07/2014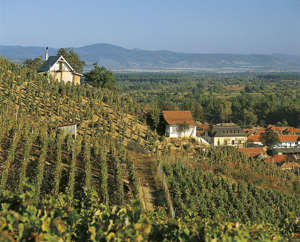 Vineyards on the hill behind the town of Tokaj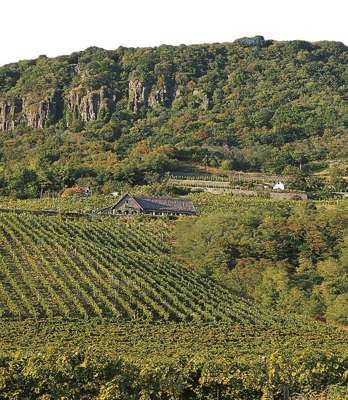 Sign of a Borház (wine house), Villány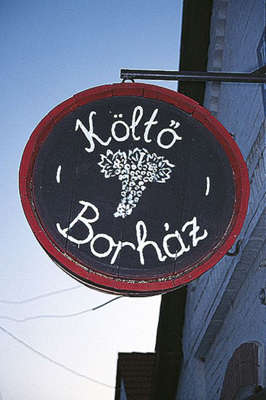 Vineyards on the slopes of Mount Badacsony
Winegrowing Areas of Hungary

The Northeast
soil type: clay, loess, tuffeau
red grape variety: Cabernet Sauvignon, Merlot, Kékfrankos, Kékoportó, Zweigelt
white grape variety: Furmint, Chardonnay, Hárslevelű, Muscat, Olasz Rizling, Szűrkebarát (Pinot Gris), Pinot Blanc, Zenit
wine styles: red, white, dessert

The most famous region for the production of Bikavér is Eger, where the loess, tuffeau, and clay soils at the foot of the Matra Hills help to make these robust reds. As in Szekszárd, before World War II the wine's key ingredient was Kadarka: now the mainstay is Kékfrankos (Blaufränkisch) with Kékoportó (Blauer Portugieser) and Zweigelt. However, the loss of the Kadarka has meant a less complex wine, lacking in a vital element of spice. Thummerer and Tibor Gál are producers to look out for.
Matráalja, just to the south, is Hungary's second-largest wine region, and yet only a couple of producers have a good reputation. The Győngyős Estate Chardonnay and Sauvignon Blanc caused a stir when first produced in an international style by flying winemakers. Today the Chardonnay is still reliable, tasty, and moderately priced. Nagyrede is the other well-known name, with a good range of attractive, if simple, varietal wines. However, Tokaj-Hegyalja is the area's most important wine region.
Tokaj-Hegyalja
This is Hungary's most famous vineyard region, known for Tokaji—a luscious, sweet, white wine. The area's rolling volcanic hills center on the little town of Tokaj, where the rivers Bodrog and Tisza meet. It is this confluence that can create the autumnal mists that encourage the growth of botrytis. This fungus, which causes noble rot , needs just the right combination of cool, humid mornings and warm afternoons to work its magic, and is crucial for making Tokaji. However, dry wines are a commercial necessity, since the mists cannot be guaranteed every year, and neither can the wine. For most of the 15,000-some growers, 70 to 100 percent of their crop will not make Aszú (the most famous Tokaji style) quality in any year. Making good dry wine needs a change in attitude from managing vines for rot development, to understanding how to grow healthy fruit for dry wines. The former state winery Kereskedoház (Crown Estates) has brought in international consultants to work on the dry whites with good results.
The West
soil type: basalt, red sandstone, chalk, loess, clay, brown forest soil, crystalline shale, limestone, gravel
red grape variety: Kékfrankos, Merlot, Cabernet Sauvignon, Zweigelt, Kadarka
white grape variety: Olasz Rizling, Chardonnay, Szűrkebarát, Sauvignon Blanc, Ezerjó, Furmint, Juhfark, Müller-Thurgau
wine styles: red, white, sparkling

The climate of this part of Hungary is moderated by both Lake Balaton and the Duna (Danube) River. Most appellations here specialize in white wines: Ászár-Neszmély is an increasingly important area thanks to the success of the modern Hilltop winery (behind the Riverview range), whose wines are always clean, fresh, and vibrant. Szűrkebarát (Pinot Gris), Gewürztraminer (Tramini), Chardonnay, and Sauvignon Blanc are planted, along with local specialties like Csersegi Főszeres, an aromatic spicy white with soft acidity. Volcanic Somló almost rivals Tokaj for the historical fame of its wines, perhaps due to their reputation for "guaranteeing" a male heir when drunk at weddings. Today this is Hungary's smallest wine region, with full-bodied, high-extract dry whites from local grapes like Furmint, Hárslevelű, and Juhfark—which produces firm mineral whites with green apple notes and marked acidity. Due east, the district of Etyek Buda is traditionally the source for base wines for the production of sparkling and is also increasingly recognized for its lean, elegant, and aromatic whites, especially Szűrkebarát, Chardonnay, and Sauvignon Blanc. On the sunnier, northern side of Lake Balaton, Badacsony is home to the unique and deliciously floral Kéknyelő, and also produces rich and spicy Szűrkebarát as well as Olasz Rizling. To the south of the lake is Balatonboglár, where international varieties such as Szűrkebarát, Chardonnay, and Muscat are grown with great commercial success. The Balatonboglár winery, with its Chapel Hill range, was one of the pioneers in importing Australian winemaking know-how in the shape of Kym Milne in the early 1990s.
Lying close to the Austrian border on the eastern side of Lake Fertű (Neusiedler See to the Austrians), Sopron is predominantly a red-wine-producing area: the climate here is more temperate than the rest of Hungary, with cooler summers and wetter winters. Kékfrankos dominates, and the wines tend to be tannic, with firm acidity. Cabernet Sauvignon and Merlot are also grown, along with the white Zőldvetelini (Grüner Veltliner).
The South
soil type: loess, terra rossa
red grape variety: Merlot, Cabernet Sauvignon, Cabernet Franc, Kékfrankos, Kékoportó, Kadarka
white grape variety: Chardonnay, Olasz Rizling, Pinot Blanc, Leányka, Gewürztraminer
wine styles: red, white

Real potential for quality emerges in Szekszárd on the west of the Great Plain, now Hungary's largest red-grape-growing region. Traditionally, this area produced Bikavér (Bull's Blood), but it was banned during the communist era and Szekszárd has only recently reestablished its right to make this famous blend. The mineral-rich loess and terra rossa soils here are believed to be responsible for the wines' paprika-like spicy quality. There has been some replanting of Kadarka, a red grape formerly indispensable for making Bikavér, though today a blend including Kékfrankos and Zweigelt is more popular. The region likes to claim it makes Hungary's best Merlots, and Cabernet Franc is also showing a lot of potential. Nearby, the new region of Tolna is exhibiting enough promise for Italian producer Antinori to invest in the Bátaapáti estate, making Chardonnay, Gewürztraminer, and a Bordeaux-style red named Talentum.
To the south, Siklos concentrates on whites, notably from Leányka, while better-known Villány is the viticultural success story of post-communist Hungary, with a concentration of hardworking growers achieving excellent red wines at prices to match. Its most famous vineyards are on the slopes of a rocky mound called Számsomlyó, the site of the hottest vineyard in Hungary, with summer temperatures comparable with those of France's Rhône Valley. The principal grapes used here are Kékfrankos (which makes purplish, juicy, cherry-fruited reds inclined to high acidity) and Kékoportó (lively, easy-drinking reds with berry notes and velvety tannins), but there are a lot of foreign cultivars making Bordeaux-style wines of good weight, and even some promising Pinot Noirs.