Austria & Eastern Europe - Winegrowing Areas of Romania
[Do Not Use]DK Publishing
2/07/2014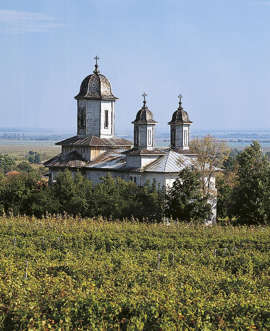 Prahova Valley wine, Oltenia-Muntenia
Vineyard at Dealul Vei in the foothills of the Carpathian Mountains, Dealul Mare
Winegrowing Areas of Romania

Moldova
soil type: marl and clay on limestone, black forest
red grape variety: Cabernet Sauvignon, Băbească Neagră, Merlot, Fetească Neagră
white grape variety: Fetească Regală, Muscat Ottonel, Aligoté, Tămaioasă Românescă, Grasă
wine styles: red, white, dessert

Moldova, east of the Carpathians, is Romania's biggest wine region with a third of the country's vineyard area (85,000 ha). Two-thirds is devoted to white wine production, with vineyards typically planted on south-facing slopes protected from harsh north winds, especially in its most famous district, Cotnari. Odobeşti is Romania's oldest viticultural area, but it tends only to produce high-volume whites for local consumption. The southernmost district, Coteşti, is better known for its deep-colored reds, but its white wines also show promise.
Banat & Transylvania
soil type: sandy, stony, black earth, alluvial, acid brown
red grape variety: Pinot Noir, Cadarcă, Merlot, Burgund Mare
white grape variety: Fetească Albă, Traminer Rose, Olasz Riszling, Sauvignon Blanc, Muscat Ottonel, Fetească Regală
wine styles: red, white

Banat, on the Serbian border, is Romania's smallest wine region, with just one winery in operation. To the east, the high (up to 1,000 ft/300 m) central Transylvanian plateau is the country's coolest region, and one where vines are often planted on steep slopes. The area was once part of the Austro-Hungarian Empire, and the influence shows in the wines, which tend to be Germanic in style with crisp acidity. Tarnave is the most important subdistrict.
Oltenia-Muntenia
soil type: forest brown, clay, iron hard pan, podsols, stony, chalky, terra rossa
red grape variety: Cabernet Sauvignon, Pinot Noir, Merlot, Burgund Mare, Fetească Neagră
white grape variety: Fetească Albă, Olasz Rizling, Pinot Gris, Muscat Ottonel, Sauvignon Blanc, Tămaioasă Românescă
wine styles: red, white, rosé

At just over 110,000 ha, these two areas combined are similar in size to Bordeaux. On the eastern slopes of the Carpathians, Muntenia includes Dealul Mare, the best-known red wine area in the country, with vineyards planted with Cabernet Sauvignon, Merlot, some Pinot Noir, and Fetească Neagră at 400–2,000 ft (130–600 m). Pietroasa is a small subdistrict, producing lusciously sweet, perfumed, golden white wines. Oltenia continues into the southern mountains covering the extensive vineyards (for red and white wine production) of Drăgaşăni, said to date back to Roman times. Sâmburesti is a smaller wine region specializing in the production of full-bodied, structured reds. Plaiurile Drancei, to the southwest, includes the subregions of Vanju Mare-Orevita and Oprisor, both very promising areas for high-quality reds, including Romania's first plantings of Shiraz.
Dobrogea
soil type: black earth on limestone subsoil
red grape variety: Cabernet Sauvignon, Pinot Noir, Merlot
white grape variety: Pinot Gris, Chardonnay, Muscat Ottonel, Olasz Rizling, Sauvignon Blanc
wine styles: red, white, dessert

This region on the Black Sea coast has up to 300 days of sunshine a year. Its most important district is Murfatlar, best known for its white wines (some 75 percent of production). Many local producers cannot afford modern vinification equipment, but where this exists, some expressive, fruity, dry Pinot Gris and Chardonnays (a variety introduced as early as 1907) are produced. Due to the low summer rainfall, botrytis is rare, but Murfatlar is also noted for its late-harvest sweet wines.