Bordeaux - Winegrowing Areas of Entre-Deux-Mers
[Do Not Use]DK Publishing
2/07/2014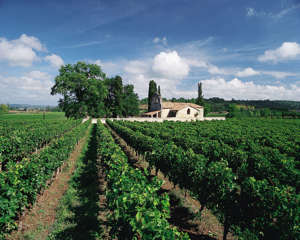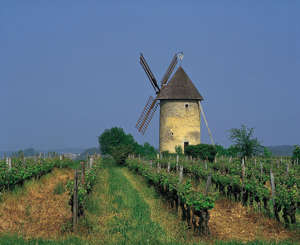 View of mill seen across rows of vines in Haut-Benauge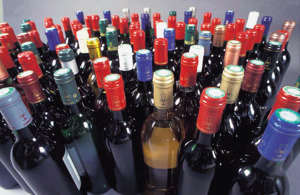 Vineyards around an old church in Entre-Deux-Mers
Winegrowing Areas of Entre-Deux-Mers

Entre-Deux-Mers is both a geographical region, between the Garonne and Dordogne rivers, and an appellation for dry, white wines. This is also Bordeaux's production engine room, turning out huge quantities of red Bordeaux and Bordeaux Supérieur, in addition to a little sweet white.
Entre-Deux-Mers & Haut-Benauge
soil type: silt, sand, gravel, limestone-and-clay
white grape variety: Sauvignon Blanc, Sémillon, Muscadelle
wine styles: white

Within the greater Entre-Deux-Mers region lies the appellation Entre-Deux-Mers, known for dry, white wines made from a blend of classic white Bordeaux varieties Sauvignon Blanc, Sémillon, and Muscadelle. These are crisp, fresh, fruity wines to be drunk young, normally representing good value. The production area covers around 1,600 ha. AOC Haut-Benauge is a delimited zone in the south of Entre-Deux-Mers. The wines are similar, and production is negligible, most producers preferring the more marketable Entre-Deux-Mers or Bordeaux labels.
Graves de Vayres
soil type: gravel, sand
red grape variety: Merlot, Cabernet Sauvignon, Cabernet Franc, Malbec
white grape variety: Sauvignon Blanc, Sémillon, Muscadelle
wine styles: red, white

This small AOC has nothing to do with the Graves region but is a small enclave in the north of Entre-Deux-Mers, centered on the town of Vayres. As the name suggests, the soils are mainly gravel. Light, fruity reds are the main product, with a limited amount of dry white.
Premières Côtes de Bordeaux
soil type: limestone-and-clay, gravel
red grape variety: Merlot, Cabernet Sauvignon, Cabernet Franc, Malbec
white grape variety: Sauvignon Blanc, Sémillon, Muscadelle
wine styles: red, white

This AOC forms a long, narrow strip of land in the south of Entre-Deux-Mers. It consists of a limestone scarp that follows the meandering path of the Garonne River, with a tumble of hills behind. The area was once known for its semi-sweet and sweet whites; however, the main staple today is red wine. The dominant variety is Merlot, but these are blended wines, with both Cabernet Sauvignon and Cabernet Franc playing an important role. These lively, fruity, medium-bodied wines are intended for drinking over three to five years. Some special cuvées will age longer.
Clairet
Clairet is a Bordeaux specialty that is steadily growing in popularity. It pays homage to the style of wine that was probably exported to Britain in the Middle Ages and was the inspiration for the English term "claret," which was used to describe red bordeaux. Basically, Clairet is more characterful and vigorous than rosé, but less tannic than a red wine. It is a dark pink color, and is fruity and easy to drink. It is ideal as an apéritif or with certain grills and appetizers. The wine is made by macerating the grape skins with the juice for up to two days, rather than the short four or five hours that rosé is given. Merlot is the favored grape variety, but both Cabernets are also used. Occasionally the wine is aged for a short spell in oak barrels (barriques). Clairet is best drunk young and chilled, in the year following the harvest.
Cadillac, Loupiac & Ste-Croix-du-Mont
soil type: limestone-and-clay, gravel
white grape variety: Sémillon, Sauvignon Blanc, Muscadelle
wine styles: white, dessert

These three sweet white wine AOCs face Sauternes and Barsac across the Garonne River. Like their illustrious cousins, they have the propensity to produce botrytized grapes; autumnal morning mists provoke the onset of this fungus that helps concentrate the juice. The wines are less powerful and concentrated than Sauternes but represent excellent value for money, particularly with the recent spate of top vintages (2001, 1999, 1997, 1996). Ste-Croix-du-Mont (425 ha) is historically the most important of the three AOCs, and considered capable of producing wines that rival all but the very best Sauternes. Loupiac (400 ha) is a little fresher, with more apparent acidity, while the smaller Cadillac varies from the rich and exotic to semi-sweet styles. The human factor also plays an important role with regard to style and quality.
Bordeaux
The generic AOC Bordeaux encompasses over 50,000 ha and accounts for 50 percent of production in the Bordeaux area. AOC Bordeaux wine is produced throughout the Gironde département, but Entre-Deux-Mers provides 75 percent of it. Two-thirds of generic Bordeaux is red, with white, rosé, clairet, and sparkling making up the rest. Given the extent and volume of the appellation, quality and style can vary, with everything from low-yielding garage-style wines to high-volume "plonk." Seventy-five percent of Bordeaux AOC rouge is bulk-commercialized, feeding brand names like Mouton Cadet and own-label supermarket wines. At its best, red Bordeaux has a grassy fruitiness; the white is crisp, dry, and refreshing. Sainte-Foy-Bordeaux is a delimited zone in the east of Entre-Deux-Mers, where producers may bottle their wines using the Sainte-Foy label, but most prefer appellation Bordeaux.
Bordeaux Supérieur
The AOC Bordeaux Supérieur is predominantly for red wines, although there is also a tiny amount of sweet white. The appellation covers the same geographical area as generic Bordeaux (and a similar amount of its wine comes from Entre-Deux-Mers), but demands higher minimum alcohol (10 percent instead of 9.5) and a slight reduction in maximum yield. More importantly, the wines are not allowed on the market until the September following the harvest, giving a longer period of maturation. The implication is that these wines have a little more structure and depth than regular Bordeaux. Just over 10,000 ha of red Bordeaux Supérieur are declared each year, with 75 percent of the wine bottled at the property—the opposite of appellation Bordeaux. Again, standards vary, but generally these wines are more reliable.