Bordeaux - Winegrowing Areas of the Left Bank
[Do Not Use]DK Publishing
2/07/2014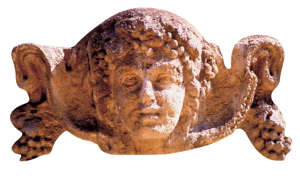 Turreted 19th-century residence of Château Palmer in Margaux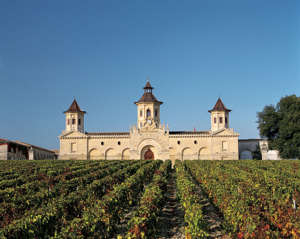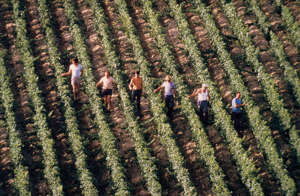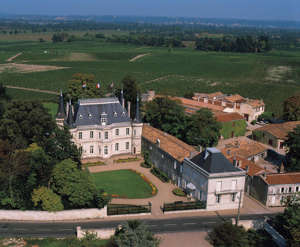 Château Cos d'Estournel in St-Estèphe on the Left Bank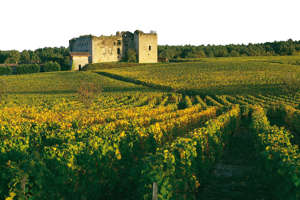 Vineyards and ruined château in Sauternes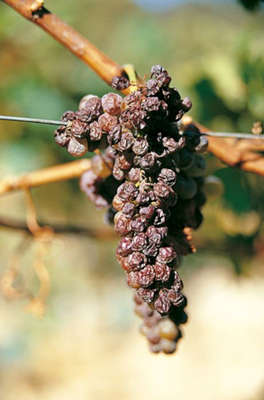 Workers at Château Lafite-Rothschild, Pauillac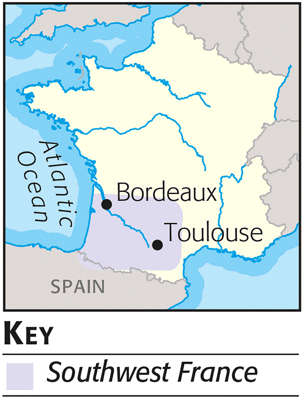 Principal appellations of Southwest France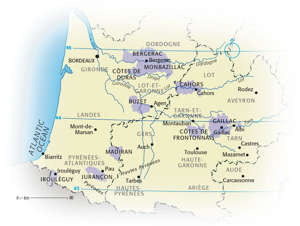 Winegrowing Areas of the Left Bank

The Left Bank is the favored zone for Cabernet Sauvignon, since the gravel soils of St-Estèphe, Pauillac, St-Julien, and Margaux on the Médoc peninsula, and Graves farther south, are well suited to this late-ripening variety. Wines are usually firm and complex, and those of the top châteaux have great aging potential. The Left Bank is also home to Sauternes, one of the world's finest sweet whites.
Médoc
soil type: limestone-and-clay, sand, gravel
red grape variety: Cabernet Sauvignon, Merlot, Cabernet Franc, Petit Verdot
wine styles: red

The AOC Médoc is located, confusingly, only in the northern tip of "the Médoc," the peninsula north of Bordeaux city. Formerly known as the Bas-Médoc, this area now has 5,000 ha under vine. The land is flat with marshy areas, pasture, and generally heavy soils interspersed with the occasional gravelly outcrop. Médoc wines can be earthy, rustic, and even a little lean, but a recent increase in Merlot plantings and better winemaking have added more flesh and finesse. Much of the production is handled by cooperatives, but there are a growing number of good-value wines from individual châteaux.
Haut-Médoc
soil type: gravel, limestone-and-clay
red grape variety: Cabernet Sauvignon, Merlot, Cabernet Franc, Petit Verdot
wine styles: red

In the southern half of the Médoc, the 4,500 ha of viticultural land not covered by the six communal appellations (St-Estèphe, Pauillac, St-Julien, Listrac, Moulis, Margaux) is designated AOC Haut-Médoc. The mainly gravel soils are ideal for the principal grape variety, Cabernet Sauvignon. With the requisite investment and skill, the area has the capacity to produce wines of a high standard with concentration, structure, and aging potential. Five estates included in the 1855 classification—Belgrave, Camensac, Cantemerle, La Lagune, and La Tour Carnet—are located here, but most producers make the often good-value crus bourgeois.
St-Estèphe
soil type: gravel, limestone-and-clay, sand
red grape variety: Cabernet Sauvignon, Merlot, Cabernet Franc, Petit Verdot
wine styles: red

The most northerly of the Médoc's four preeminent communal appellations, AOC St-Estèphe has more of a rural feel than its neighbors. Large corporations are less evident here than farther south, and estates remain primarily family owned. St-Estèphe has its share of gravel soils near the estuary, but there are also outcrops of limestone known as calcaire de St-Estèphe, and deposits of sand and clay to the west and north. Cabernet Sauvignon, grown on the cooler limestone soils, gives a slightly austere character to the wines, hence the move to plant the rounder, fleshier Merlot. In general, the wines are mouth-filling, firm, and long-aging. The crus bourgeois account for 54 percent of production, the five classed growths 20 percent, and the area's single co-op a further 17 percent.
The place de Bordeaux
The Bordeaux wine trade is unique in operating its own market system, the Place de Bordeaux, where wines are sold in bulk, by the bottle, and as futures or en primeur. Through this system, producers avoid direct contact with their market, selling instead to trading houses or négociants who in turn sell to distributors in France or importers abroad. The transaction between producer and négociant is brokered by a middleman, the courtier, who takes a two percent commission on the sale. Similarly, wines from a top château's most recent vintage are sold through a courtier as futures for delivery 18 to 24 months later. About 75 percent of the region's production, including château-bottled wines and commercial brands, is handled by around 400 négociants who distribute to 160 countries. The reputation of a château is often linked to its standing on the Place de Bordeaux.
Pauillac
soil type: gravel
red grape variety: Cabernet Sauvignon, Merlot, Cabernet Franc, Petit Verdot
wine styles: red

For many, pauillac is the perfect example of a Médoc wine—powerful, concentrated, and long-lived, with an almost pencil-lead mineral quality and the aroma of black currants, cedar, and cigar box. It comes as no surprise, therefore, that three of the five 1855 first growths are located in AOC Pauillac (châteaux Lafite-Rothschild, Latour, and Mouton-Rothschild), as well as 15 other classified estates. Separated by a tiny stream from St-Estèphe, which lies to the north, Pauillac's deep, gravelly soils and close proximity to the warmth of the Gironde Estuary are the secrets behind its distinctive character. The terroir proves ideal for Cabernet Sauvignon, Pauillac's principal grape variety.
St-Julien
soil type: gravel
red grape variety: Cabernet Sauvignon, Merlot, Cabernet Franc, Petit Verdot
wine styles: red

One reason for St-Julien's unrivaled consistency in recent years is that 80 percent of its 900 ha is owned by 11 high-profile classified châteaux, five of them second growths, and all of them committed to a high level of quality. The other reason is location. A compact appellation on the Médoc, AOC St-Julien comprises two well-exposed and well-drained gravelly plateaux on the Gironde Estuary. Cabernet Sauvignon is the dominant grape variety, but unlike the powerfully concentrated reds of neighboring Pauillac, St-Julien's offerings show restraint, with a more mellow fruit character; "balance" is their defining feature. They are, however, equally long-lived.
Listrac-Médoc
soil type: limestone-and-clay, gravel, sand
red grape variety: Merlot, Cabernet Sauvignon, Cabernet Franc, Petit Verdot
wine styles: red

Plantings of merlot in AOC Listrac-Médoc now exceed those of Cabernet Sauvignon. The cool limestone-and-clay soils and greater distance from the warming Gironde Estuary mean the ripening cycle begins slightly later here than in the other Médoc appellations, making it harder to ripen Cabernet Sauvignon fully. In the past, this meant tougher wines, but the use of more Merlot has added flesh and helped to soften tannins. The Listrac co-op is an important producer in this communal appellation, but the best wines come from the 20 individual cru bourgeois châteaux.
Moulis
soil type: gravel, limestone-and-clay
red grape variety: Cabernet Sauvignon, Merlot, Cabernet Franc, Petit Verdot
wine styles: red

The smallest of the Médoc's communal appellations, with 590 ha, AOC Moulis shares its northern border with Listrac-Médoc and similarly has a percentage of limestone and clay soils. However, it also has a ridge of gravel to the east where Cabernet Sauvignon ripens fully. A handful of châteaux here produce wines of a quality and style similar to good Haut-Médoc, occasionally even of classed-growth standard. Farther inland on the cooler soils, there is a greater percentage of Merlot and the wines are fruitier and less intense. As in Listrac-Médoc, the best wines come from the crus bourgeois.
Margaux
soil type: gravel
red grape variety: Cabernet Sauvignon, Merlot, Cabernet Franc, Petit Verdot
wine styles: red

The largest of the Médoc's communal appellations, world-famous Margaux has 1,400 ha under vine, distributed through the villages of Arsac, Labarde, Cantenac, Soussans, and Margaux itself. The gravelly soils here, with low clay content and scant fertility, are suitable for little other than the vine. Ideal for Cabernet Sauvignon in particular, they result in wines of delicate weight, fragrant aroma, and fine tannic structure. "Feminine" is often the adjective used to describe them, although modern winemaking techniques have slightly distorted this ideal, and some wines are now more concentrated. With 21 classified châteaux (1855), including first-growth Château Margaux, standards should be high, but until the mid-1990s producers were complacent and Margaux underachieved. Now, with a younger generation at the helm, this AOC has gained considerably in quality and consistency, and is still improving.
Pessac-Léognan
soil type: gravel
red grape variety: Cabernet Sauvignon, Merlot, Cabernet Franc, Petit Verdot
white grape variety: Sauvignon Blanc, Sémillon, Muscadelle
wine styles: red, white

This is probably Bordeaux's oldest viticultural district, and the vine was cultivated here as far back as the Middle Ages. In 1987 the northern part of Graves became the separate appellation of Pessac-Léognan, taking its name from the two principal communes located to the west and south of the city of Bordeaux. Some of the vineyards are even enveloped in the city's urban sprawl. With its gravel soils, this is a district of great potential—as demonstrated by prestigious names such as châteaux Haut-Brion and Pape Clément—and has benefited from considerable investment in recent years. Both red and dry white wines are produced, but the region has always been noted for its reds—now accounting for 80 percent of the total 1,450 ha under vine. The red wines are similar in style to those of the Médoc—firm, structured, long-lived—but perhaps a little fuller on the palate, with a smoky, mineral nuance. The tiny production of dry white is the best seen in Bordeaux: fine, full, and persistent with the aroma and flavor of citrus fruits and an ability to age.
Graves
soil type: gravel, limestone-and-clay, sand
red grape variety: Cabernet Sauvignon, Merlot, Cabernet Franc
white grape variety: Sauvignon Blanc, Sémillon, Muscadelle
wine styles: red, white, dessert

This is a region of small, family-owned estates that lack the level of investment of their northern neighbors in Pessac-Léognan. Good-value wines can be found, though, and increasingly so. As the name suggests, gravel soils exist, but there is also limestone-and-clay and sand. Reds from AOC Graves, produced from 2,500 ha, have an increasing percentage of Merlot in the blend. These are fruity and should be drunk at four to five years. Dry white Graves, from a further 800 ha, comes in two styles: crisp, fresh, aromatic, and bone dry, or rich and barrel-aged. There is also a small production of sweet Graves Supérieur made from late-harvested grapes.
Sauternes
soil type: gravel, limestone, sand
white grape variety: Sémillon, Sauvignon Blanc, Muscadelle
wine styles: white, dessert

This is home to some of the most luxuriously sweet, unctuous, aromatic wines in the world. The region of Sauternes, for white wines made only from botrytized grapes, is located 25 miles (40 km) upstream from the city of Bordeaux on the left bank of the Garonne, surrounded by the vineyards of Graves. The AOC totals some 2,200 ha dispersed through the five communes of Bommes, Fargues, Sauternes, Preignac, and Barsac. Producers in Barsac are permitted to label their wines as either Sauternes or Barsac; the rest are labeled as Sauternes. The top châteaux were classified in 1855, the most famous being Château d'Yquem. These rich, opulent wines are very representative of their terroir. The grapes, a majority Sémillon, ripen naturally at first, but in the fall, if all goes well, the influence of the cool waters of the Ciron stream running into the warmer Garonne gives rise to the mists and humidity that provoke the onset of Botrytis cinerea. The grapes thus concentrated are selectively hand-picked, sometimes through to December. Yields are very low, officially no more than 25 hl/ha. The variability of climate means there is considerable vintage variation, to the extent that top châteaux occasionally forego a vintage. The lower-lying land and higher limestone content in the soils make Barsac a generally lighter, less powerful wine than Sauternes. A tiny quantity of sweet wine of a less sumptuous nature than both Sauternes and Barsac is also produced in neighboring AOC Cérons.
Botrytis cinerea
Noble rot (pourriture noble), Botrytis cinerea, or botrytis is a fungal spore common in Sauternes. It reduces the water content of the grape, effectively increasing its sugar levels, acidity, viscosity, and flavor to give sweet, unctuous, and succulently aromatic wine. The humidity born of misty autumnal mornings followed by sunshine is ideal for the development of botrytis, enabling it to perforate the fruit's skin but leave the pulp untouched. The rot first appears as a brown spot, which then extends to cover the grape until it eventually shrivels. Since the onset of noble rot is always irregular, the grapes are harvested selectively, often with several passages, or tris, through the vines. This explains the relatively small quantities of wine and the high production costs. The requisite nature of the climate means that a good Sauternes vintage does not necessarily correspond with a good vintage for red bordeaux.
The authentic southwest
The southwest is more a convenient grouping than a homogenous wine region, with vineyards dispersed over a wide and varying terrain. It encompasses some 30 AOCs in the southwest corner of France, from the edge of Bordeaux south to the Pyrenees and east to the city of Toulouse. The common denominator is wine of strong character produced from an eclectic selection of grape varieties.
Located upstream from Bordeaux, the appellations of Bergerac, Monbazillac (known for sweet white wines), Buzet, Côtes de Duras, Cahors, and Gaillac were considered serious rivals to Bordeaux in the Middle Ages. The climate here is temperate, with winters a little colder farther inland. The co-ops in these areas play an important role, supplying a large percentage of the wines. Bordeaux varieties—Cabernet Sauvignon, Merlot, and Cabernet Franc for reds and Sémillon, Sauvignon Blanc, and Muscadelle for whites—are usually cultivated in these AOCs, and the wines are comparable in style to those of Bordeaux. In Cahors, Malbec (known locally as Auxerrois) produces dark, minerally, tannic red wines. Gaillac, meanwhile, has an array of local grape varieties, including the white Mauzac and Len de l'El, resulting in a range of styles. The Négrette grape appears in the AOC Côtes de Frontonnais, producing spicy, aromatic reds.
Farther south toward the Spanish border in Gascony and the Basque country are the appellations of Madiran, Jurançon, and Irouléguy. A revival in quality winemaking has taken place here over the past 15 years, led by a number of producers. The climate is again maritime, but with the influence of altitude in Jurançon and Irouléguy, where the vine is grown at 1,000–1,300 ft (300–400 m). The Tannat grape in Madiran produces firm, tannic reds softened by modern winemaking practices. The same variety blended with Cabernet Franc and Cabernet Sauvignon is found in Irouléguy. Tangy Jurançon comes in sweet and dry white versions made from Petit and Gros Manseng and Petit Courbu.