Brewing and Wine-making - Brewing Cider
[Do Not Use]DK Publishing
2/07/2014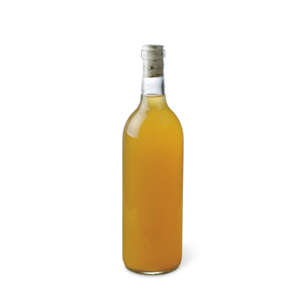 Matured cider - This cider is best consumed within 6 months, but if the seals are airtight, it can last longer.
Cider can be made with any apples, including windfalls. Generally, the sweeter the apple, the sweeter the cider, so cooking apples will make a drier cider than dessert varieties. Sterilize all brewing equipment before use.
Tips on brewing
Scrupulous hygiene and sterilization are essential at every stage of brewing to keep out unwanted rogue yeasts and other microbial contaminants.
Don't use baker's yeast.
Check your brew regularly to see if it is still fermenting, and don't rush the brewing process.
Make sure the fermentation process is complete before bottling, or bottles may explode.
Use screw caps, metal caps, or corks to seal your bottles. Use a corking machine for corking and a capping machine to attach metal caps.
Store corked bottles sideways to ensure the corks keep moist (dry corks shrink and let in too much air, which spoils the brew).