Burgundy - Winegrowing Villages of Beaujolais
[Do Not Use]DK Publishing
2/07/2014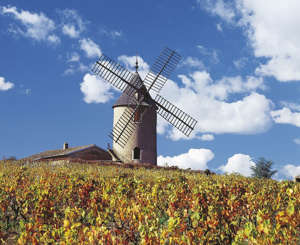 Harvesting Gamay grapes in Fleurie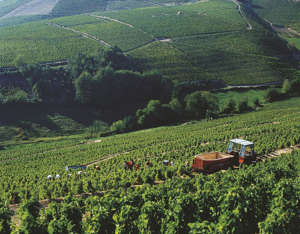 A windmill surrounded by Gamay vineyards at Moulin-à-Vent
Winegrowing Villages of Beaujolais

soil type: granite
red grape variety: Gamay
wine styles: red

This southern district of Burgundy is a large and exceptionally pretty area with small villages and slopes planted almost exclusively with Gamay. It is often regarded as distinct from Burgundy in wine terms—its soil and grape variety, and therefore its wines, are different from those found elsewhere in the region.
Beaujolais made its reputation decades ago as a popular quaffing wine in the bistros of Paris and Lyon. Endlessly enjoyable and with no pretensions, it is all freshness and vivid, zesty fruit—a style that has been taken to a profitable extreme with Beaujolais Nouveau. Like some more "serious" Beaujolais, this is made by a method known as carbonic maceration, which involves fermenting whole bunches of grapes under a protective layer of gas. The process emphasizes bright fruitiness at the expense of structure. At the same time, certain producers continue to vinify and age their wines in a traditional Burgundian fashion, aiming to create something more serious and age-worthy.
It seems that Beaujolais may have lost its way in recent years: in addition to the clusters of small family domaines, some excellent, others mediocre, it is dominated by cooperatives and merchants, some of whom have dragged down the quality of the wine. Markets have been shrinking and in 2002 the region saw part of its crop sent for distillation for lack of customers. Yet Beaujolais at its best is a unique wine that, if well made and well priced, will always find an enthusiastic following.
The basic appellation is AOC Beaujolais, of which on average some 80 million bottles are produced annually; a step up is AOC Beaujolais Villages, of which 45 million bottles are released. The rest of the production, around 48 million bottles, carries the AOCs of the 10 crus entitled to their own appellation, each with its own character. These crus all lie in the northern half of the region on granitic soils.
Juliénas
This is not usually one of the most immediately appealing of crus, since its 560 ha give wines that are very high in tannins and acidity. On the other hand, it ages quite well, developing spiciness as it matures. In vintages where acidity levels are low, Juliénas shows a welcome vigor.
St-Amour
The most northerly cru, St-Amour commands a premium thanks to its romantic name. It can indeed be a charming wine, offering a mouthful of sweet, ripe fruit. However, it has less personality than some other Beaujolais crus.
Chénas
Granitic subsoils beneath the 250 ha of this village yield wines with more stuffing and aging potential than many other Beaujolais crus. The wines are less overtly fruity and quaffable, but have weight and density, which gives them added complexity.
Moulin-à-Vent
This 640-ha appellation is the most serious of the Beaujolais crus. It produces wines that do not really conform to the stereotype of juicy purple wines to be knocked back with abandon. Its character derives from manganese in the soil. It also tends to be aged longer, and with a higher proportion of oak barrels than the other crus. It can keep well, and after 10 years or so comes to resemble Pinot Noir. Some wines from this cru can be slightly too serious and extracted, giving less pleasure than simpler, fruitier examples.
Fleurie
Fleurie is one of the most fragrant and elegant wines of Beaujolais. This, combined with its charming name, has made Fleurie one of the most expensive wines of the district, even though there is plenty of it to go around, with over 800 ha in production. Fortunately, there are a good number of reliable producers.
Chiroubles
With its 300 ha of vineyards located on some of the highest spots in the region, Chiroubles produces wine that is relatively light, though none the worse for that. It is best enjoyed young when its fruit is at its most vivid.
Morgon
With over 1,000 ha under vine, this is an important cru, as well as one of the most distinctive, thanks to the schist and granite in the soil. Although it is not always the most appealing of wines when very young, Morgon can age well. Beaujolais fanciers look out for wines from the sub-district called the Côte du Py, where Morgon's best fruit is grown.
Régnié
The most recent village to be promoted to cru status, Régnié became an AOC in 1988. With 640 ha in the appellation, the wine should be more in evidence than it is. However, it has been slow to catch on, and a good deal of it is bottled as simple Beaujolais Villages.
Brouilly & Côte de Brouilly
These are Beaujolais' most southerly crus. Brouilly is quite a large village, with 1,200 ha under vine; Côte de Brouilly, with just 300 ha, is usually of slightly superior quality, since the vines are planted on slopes. Both wines often have an abundance of fruit and can be drunk with pleasure relatively young.
The Nouveau phenomenon
Beaujolais Nouveau is Beaujolais that has been vinified and bottled as fast as possible, to ensure the wine is bursting with youthful fruitiness. An excess of mediocre Nouveau has led to declining interest in the wine, but when all goes well, it can be delicious—and can also do wonders for the grower's cash flow.
As with some other types of Beaujolais, the wine is made by carbonic maceration. After a few days of maceration, the Gamay grapes are pressed and fermentation is finished in a vat, without grape skins to minimize astringency. When handled properly, the technique emphasizes color and fruitiness, and keeps tannin to a minimum. The wine is ready to drink within a few weeks of harvest.
The vogue for Nouveau reached its peak in the 1960s when the annual Beaujolais Race developed, with producers competing to rush the newly released wines to restaurants and venues as quickly as possible after each harvest.