Burgundy - Winegrowing Villages of the Côte Chalonnaise & Mâconnais
[Do Not Use]DK Publishing
2/07/2014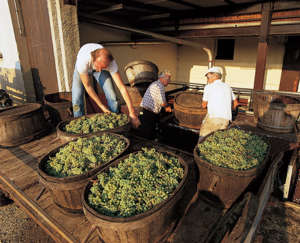 Vineyards and the Rock of Solutré, Pouilly-Fuissé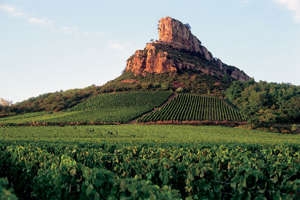 Chardonnay grapes at Buxy cooperative in Montagny, Côte Chalonnaise
Winegrowing Villages of the Côte Chalonnaise & Mâconnais

Côte Chalonnaise
soil type: limestone
red grape variety: Pinot Noir
white grape variety: Chardonnay
wine styles: red, white

Set among gently rolling hills between the Côte d'Or and the Mâconnais, the landscape of the Côte Chalonnaise is different from that of the Côte d'Or, and viticulture shares the land here with other forms of farming. Nor are the vineyards continuous; instead, they are grouped around the five major villages. Both red and white wines are produced, and until recently the district had a reputation for rusticity. The efforts of quality-conscious négociants and a handful of excellent growers have raised standards considerably, and today the Côte Chalonnaise offers both good quality and good value. In addition to the basic Côte Chalonnaise appellation, there are the following four AOCs.
Bouzeron
A tiny commune of only about 60 ha, Bouzeron is best known for its acidic white grape variety, Aligoté. In 1997, the village received its own appellation, promoted from Aligoté de Bouzeron to simple Bouzeron.
Rully
This village is dominated by its splendid château, and its 300 ha of vineyards are divided almost equally between Pinot Noir and Chardonnay. Much of the wine is produced by négociant houses such as Antonin Rodet, Domaine Drouhin, and Olivier Leflaive, but private estates are beginning to produce wines of excellent quality. The premiers crus, both red and white, from growers such as Domaine Henri & Paul Jacqueson, are fruity, succulent, and excellent value.
Mercurey
This important AOC has around 600 ha in cultivation (90 percent of it red) and about a third of the vineyards have premier cru status. The wines used to be rather coarse, but the ambition of local growers like Michel Juillot has led to a marked improvement. The négociant Domaine Faiveley is also a major proprietor here and it, too, sets high standards, increasingly followed by a new generation of growers in the village. White wines here are improving, but Mercurey's strength lies in robust, fruity reds.
Givry
The quiet village of Givry is the smallest of the area's AOCs. The efforts of a handful of ambitious and enthusiastic local growers are, however, showing that Givry is capable of producing supple Pinots and attractively aromatic Chardonnay (although only about 10 percent of its production is white). The top growers include Domaine François Lumpp, Domaine du Clos Salomon, Michel Sarrazin, Domaine Ragot, and Parizé & Fils.
Montagny
The southernmost village in the Côte Chalonnaise, Montagny only produces white wine. All its vineyards are designated premier cru, but the wine is often dull. Much of it is produced by a sound co-op in Buxy, but there are better examples from négociants such as Olivier Leflaive and Chartron & Trébuchet.
Mâconnais
soil type: limestone
red grape variety: Gamay
white grape variety: Chardonnay
wine styles: red, white

The strength of this large district, northwest of Mâcon, lies in its fruity whites made from Chardonnay. The reds, usually from Gamay, are invariably inferior in quality and cannot compete with the best from Beaujolais. The most basic wines are sold as Mâcon or Mâcon Supérieur, but wines of much greater character are Mâcon-Villages, the villages often being replaced on the label by the name of one of the 43 villages entitled to the appellation.
Much of the wine is made by cooperatives, some of which are well equipped and produce wine to a good standard. Over the last decade, quality has improved dramatically, and the top wines of Pouilly-Fuissé and its nearby villages can rival some of the best from Chablis and the Côte de Beaune, although they are very different in style. The wines are broad, quite high in alcohol, and fleshy in texture. The following are the main AOCs within Mâconnais.
Viré-Clessé
This new AOC, created in 1999, replaced the two Mâcon-Villages appellations of Mâcon-Viré and Mâcon-Clessé. Around 400 ha are in production and there are many good growers.
Pouilly-Fuissé
This is by far the best-known appellation within the Mâconnais, and with good reason, since its 850 ha produce some of the area's most exciting wine. The vineyards lie beneath impressive cliffs, which help trap heat and project it onto the vines. The Chardonnay grown on these limestone soils tends to be richer and fatter than that from the Côte de Beaune, and vinification varies from unoaked (for clean fruity wines) to heavily new-oaked cuvées, which, in the hands of good winemakers, can be sumptuous and opulent.
Pouilly-Vinzelles & Pouilly-Loché
These lesser appellations lie on the eastern fringes of Pouilly-Fuissé. Pouilly-Loché is often (legally) labeled as Pouilly-Vinzelles. Local cooperatives dominate production, which is limited, since the two districts combined are only 81 ha in area.
St-Véran
This 500-ha appellation unites the wine of seven communes, and before 1971, when the AOC was created, it was usually sold as Beaujolais blanc. The production zones lie just north and south of Pouilly-Fuissé, and some of the better wines do resemble those from that well-known region. The wines are fresh and attractive, and can be good value.
The case for Aligoté
Few wine lovers have a good word to say about Aligoté, other than as an essential ingredient in Kir, in which its asperity is softened by the addition of cassis liqueur. Many generations ago, however, Bouzeron was admired for its Aligoté, and when Aubert de Villaine, co-owner of Domaine de la Romanée-Conti, bought a property here, he recognized the grape's potential. In 1979, de Villaine helped establish an AOC for Bouzeron and a good reputation for Aligoté. Fully ripe Aligoté can be delicious and refreshing, and a stimulating alternative to the ubiquitous Chardonnay in Burgundy.