Burgundy - Winegrowing Villages of the Côte de Nuits
[Do Not Use]DK Publishing
2/07/2014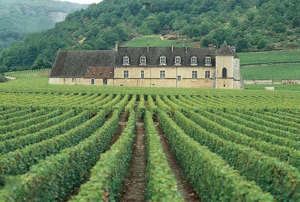 Clos de Vougeot's grand cru vineyard and château, Vougeot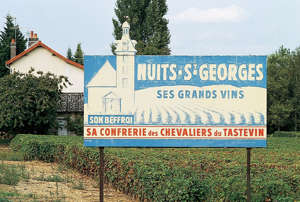 Wine advertisement in Nuits-St-Georges
Winegrowing Villages of the Côte de Nuits

soil type: limestone
red grape variety: Pinot Noir
white grape variety: Chardonnay
wine styles: red, white, rosé

For many Burgundy lovers, the Côte de Nuits produces the area's finest red wines. Almost all the red grands crus lie here in Burgundy's heartland, tucked among the mighty monastic estates that once dominated the east-facing slopes. Nowhere else in the world does Pinot Noir attain such heart-stopping complexity and elegance. Its delicate red-fruit aromas are married to a firmness of structure that allows a well-made example to age for decades, developing ever more subtle aromas and flavors. Burgundians insist that the greatness of their wines comes from the soil rather than the grape, that Pinot Noir is merely a vehicle through which the rich, mineral limestone soils of the Côte de Nuits express themselves most brilliantly.
The vineyards begin just south of Dijon, rising from the plains onto east-facing slopes, and continue in a sweep of vines until a few miles south of Nuits-St-Georges. There the vineyards continue, but the name changes to Côte de Beaune. The AOC Côte de Nuits Villages is used mostly for villages high up on the plateau behind the renowned slopes; a cooler mesoclimate and higher altitude make it more difficult for the grapes to ripen, so the wines are less highly esteemed than those from the Côte de Nuits itself. The region breaks down into numerous AOCs, including the following key ones.
Marsannay
Until the 1980s, Marsannay was mostly known for its rosés. These rosés—made, like the red, from Pinot Noir—can be delicious, but are really thought to be a waste of good terroir. Bruno Clair is probably the best-known producer, but others, such as Charlopin, also take their winemaking seriously, and produce rich, enjoyable, and quite inexpensive wines, of which the reds are most worthwhile.
Fixin
This somewhat obscure village dines out on its authentic connections with Napoleon: one of his closest associates came from here, and returned from accompanying the emperor into exile to name a vineyard after him, erect a statue, and open a small museum. The best site is the Clos du Chapître, on the slopes behind the village. The wines here are solid in style rather than elegant, but can be good value.
Gevrey-Chambertin
The largest wine-producing village in the Côte de Nuits, Gevrey-Chambertin is richly endowed with nine grands crus, of which the best known (and usually the finest) is Le Chambertin. Vineyard status is by no means an infallible guide to quality: some producers of grand cru wines are consistently disappointing, while top growers like Denis Mortet make wonderful wines from mere village sites. Among the premiers crus here, Clos-St-Jacques reigns supreme. Everyone agrees that it delivers wine of grand cru quality, which explains why its five co-owners charge grand cru prices. The wines of Gevrey-Chambertin tend to be muscular and very long-lived, yet the best ones can have surprising finesse.
Morey-St-Denis
The swathe of grand cru vineyards heading south from Gevrey-Chambertin continues into Morey-St-Denis, and some of those vineyards, notably Clos de la Roche and Clos St Denis, can be of truly outstanding quality. Unlike most Burgundian crus, which are divided into numerous parcels of vines with equally numerous owners, two of Morey-St-Denis' grands crus are monopolies with single owners. These monopolies are Clos des Lambrays and Clos de Tart, both now producing delicious wines after decades of mediocrity.
Chambolle-Musigny
Morey-st-Denis segues so subtly into Chambolle-Musigny that the two villages share the grand cru Bonnes Mares. Chambolle-Musigny delivers the most elegant wines of the Côte de Nuits. They are perfumed and delicate, yet can age well. The other grand cru site, Le Musigny, is one of the most prized in all Burgundy, and its wines are admired for their extraordinary finesse and depth of flavor.
Vougeot
This hamlet is best known for its large (at 50 ha, enormous by Burgundian standards) Clos de Vougeot grand cru, which sweeps up from the main road to the celebrated château that stands within it. Because of its size and varied soils, this site produces wines of quality that range from the unexceptional to the magnificent. Here it is important to buy only from the best growers, such as Château de la Tour and domaines Anne Gros, Denis Mortet, Jean Grivot, and Méo-Camuzet.
Vosne-Romanée
The wines of Vosne-Romanée are sturdy yet supple, perfumed yet rich, and full of body and vigor. Like Gevrey-Chambertin, this area is richly endowed with grands crus and superb premiers crus. Not surprisingly, the wines are highly sought-after and expensive, but they are rarely disappointing.
Nuits-St-Georges
It is something of an anomaly that this famous village has no grands crus, possibly because its parsimonious growers back in the 1930s were reluctant to pay the higher taxes due from such sites. Spreading southward through the hamlet of Prémeaux, Nuits-St-Georges is a large commune where quality can be variable. As is so often the case in Burgundy, the name of the producer tends to count for more than the name of the vineyard.
The négociants
Until about 50 years ago, almost all Burgundian vine growers sold their wines to merchants, known as négociants, who blended and sold them under their own name. Over the years, more and more growers have vinified and sold their own wine. Nonetheless, Burgundian estates are small and premier and grand cru holdings can be tiny, so négociants still play an important role, and anyone seeking large volumes of good burgundy still has to buy from them. Unfortunately, many are mediocre, but a handful, including Louis Jadot, Joseph Drouhin, and Bouchard Père & Fils, produce truly fine wines. These tend to be the négociants that also have their own vineyard holdings.