Central Italy - Wine Tour of Chianti
[Do Not Use]DK Publishing
2/07/2014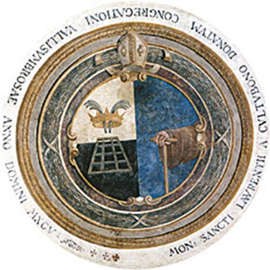 Family crest of Badia a Coltibuono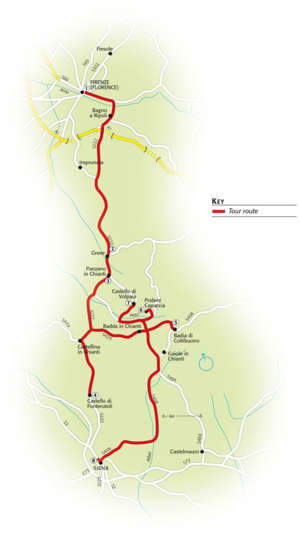 Conca d'Oro below Panzano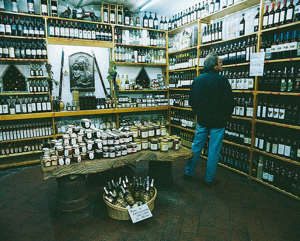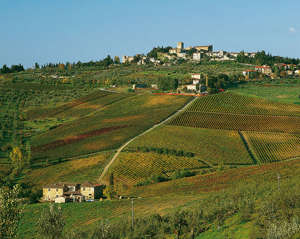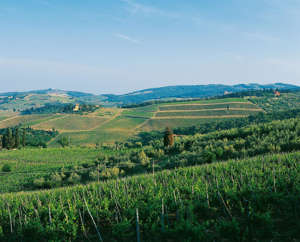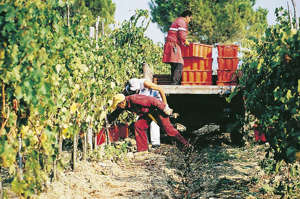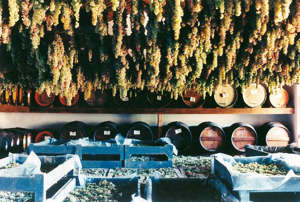 Wine Tour of Chianti

This tour crosses the heart of Chianti Classico DOCG, between the two great art cities of Florence and Siena. It combines top-level wine tasting with spectacular countryside and glimpses of Tuscan rural life, still unspoiled by tourism. The cellar visits show the two faces of Chianti: international high-flyers Fonterutoli and the family-run Podere Capaccia. It also takes in elegant Renaissance villas such as Vignamaggio and fortified medieval hamlets like Volpaia with breathtaking views.
1 Enoteca Pinchiorri
telephone number: 055 242777

Try Annie Feolde's Tuscan- and French-inspired cooking at this two-Michelin-star restaurant in Florence. The mainly Italian and French wine cellar is mind-boggling for size and quality, and boasts Italy's biggest selection of magnums and historic vintages.
2 Greve market & wine estates
telephone number: 055 853297 (Enoteca Gallo Nero)

Chianti's largest wine town has undergone some gentrification in the past few years, but the Saturday morning market still gives a feel of the real Tuscan country lifestyle. The Enoteca Gallo Nero has the most complete selection of Chianti Classicos in the region. Castle wine estates to visit nearby include: Castello di Vicchiomaggio (055 854079); Castello di Verrazzano (055 854243); and Villa Vignamaggio (055 854661).
3 Panzano
telephone number: 055 852725 (Producers' Association)

Panzano's south-facing slopes, known as the Conca d'Oro, have the highest concentration of top-class, small-scale wineries in Chianti Classico. It has a roll call that includes Castello dei Rampolla , producers of one Tuscany's best single-vineyard Cabernets, the pioneering Fontodi, and the superstar estate La Massa.
4 Castello di Fonterutoli
telephone number: 0577 73571
website: www.fonterutoli.it

The Mazzei family has owned the castle in the heart of the medieval hamlet of Fonterutoli since 1435. This is a place to experience great wines in a quintessential Chianti setting. The castle is today the center of a modern winery and estate, which offers sales and tastings plus cellar visits by appointment, and an osteria..
5 Badia a Coltibuono
telephone number: 0577 74481
website: www.coltibuono.com

The abbey of Coltibuono in Gaiole was founded in AD 1000, and its monks were the first to cultivate Vitis vinifera in the area. Today it is at the center of a classy Chianti Classico estate with cellar visits, a wine shop, a restaurant, and even celebrity cooking courses.
6 Podere Capaccia
telephone number: 0577 738385
website: www.poderecapaccia.com

Capaccia is a small-scale family-run estate on the edge of a nature reserve outside Radda. The exceptionally good wine produced here is traditional-style Chianti. Olive oil and other farm products are also sold.
7 Castello di Volpaia
Behind the perfectly restored walls of the tiny hilltop village of Volpaia is a surprisingly modern winery and a state-of-the-art olive oil mill (olive oil, vinegar, and wines are all sold here). The bottles to take home are the Super-Tuscan Sangiovese-Cabernet Balifico and the Chianti Riserva Coltassala.
8 Enoteca Italiana
telephone number: 0577 288497
website: www.enoteca-italiana.com

Italy's national wine museum is housed in a medieval fortress on the edge of Siena and offers a program of exhibitions, tastings, and various other wine-related events. The collection houses around 1,100 wines, the majority of which are available for sale. The enoteca is a good source of local information.
Visitors' tipsRoute:
This 73-mi tour begins in Florence and ends in Siena.
Duration:
The tour can be done in a day, but beware: Tuscan country roads are slow.
Wineries:
Most wineries welcome visitors, but always call to check hours.
Restaurant recommendations:
Lo Sfizio di Bianchi 0577 749501 in Gaiole, and Mangiando Mangiando 055 546372 in Greve.
Useful contacts:
Wine Producers' Consortium www.chianticlassico.com
Wine-related events in Tuscany
Tuscany's hottest wine show is the Corte del Vino held at San Casciano every year on the third weekend in May. A hundred of the region's very best producers pour their own wines, and there are master-class tastings led by star winemakers. An enoteca (wine shop) sells all the wines on show (www.principecorsini.com). All the Chianti villages also have their own annual shows. The biggest and the best happens in Greve in the second week of September (www.chianticlassico.com). For estate visits, the big date is Cantine Aperte day in May, when wineries across the country open their cellar doors for guided tours, hospitality, and tastings (www.movimentoturismovino.it).