Chili Peppers Capsicum species - Chili Products
[Do Not Use]DK Publishing
2/07/2014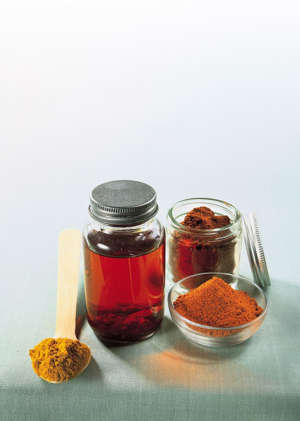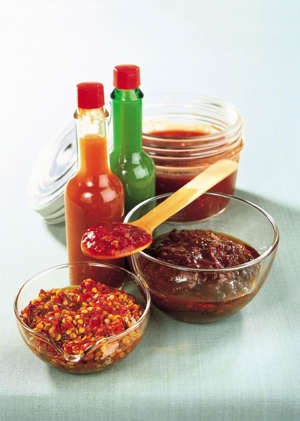 Chili Products

Ground chili, chili pastes, sauces, and oils are produced worldwide. Good-quality ground chili smells fruity, earthy, and pungent and contains traces of natural oils that will stain the fingers slightly. A light orange color indicates the inclusion of a high proportion of seeds, which makes for a sharper taste. Thin, pungent sauces are labeled salsa picante or hot pepper sauce; some combine chilies with astringent ingredients such as limes or tamarind. Thick sauces, based on tomatoes, onions, garlic, and herbs, may be mild or hot and are often sweetened. Indonesian sambals and Thai chili jam are among the hottest. The Chinese use soy sauce, black beans, ginger, and garlic to create medium to hot sauces. Korean gochu-jang is a sticky condiment made with chilies, soybean paste, and rice flour.
Chili oil
Seasoning oil made with dried red chilies is available commercially, but it is easy to make your own: fill one-third of a bottle with dried chili peppers, top up with sunflower oil, close tightly, and leave for 1 month. In Sichuan, crushed dried chilies are added to very hot oil, left to cool for several hours, then strained to produce a bright red oil, used in many cold sauces and on its own as a dip.
Yellow ground chili
The color of ground chilies ranges from yellow to red and mahogany. Yellow ground chili is used in South America; it can be mild or hot.
Chili powder
This blend of ground chili, cumin, dried oregano, paprika, and garlic powder is used to flavor chile con carne and other southwestern dishes. 1–3/10
Cayenne or red pepper
The most common ground chili, cayenne is made from small, ripe chili peppers grown worldwide. The flavour is tart, slightly smoky, and intensely pungent. 8/10
Thin sauces
Thin sauces are made from crushed chilies blended with spices and vinegar to produce fiery liquids. Tabasco sauce is the bestknown example.
Chili sauces
Chili sauces are made in most regions where chili peppers are grown. The simplest types are made from whole chilies preserved in brine or vinegar. Thick sauces, which may be cooked or made from raw ingredients, are used as dips and condiments.
Chili jam and sambal
Chili pastes and thick sauces enliven stir-fries and slow-cooked dishes. At the end of this guide are recipes for chili jam and sambals.