Corn - Make Relish
[Do Not Use]DK Publishing
2/07/2014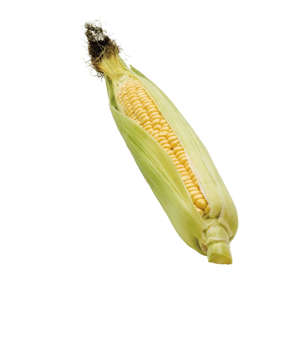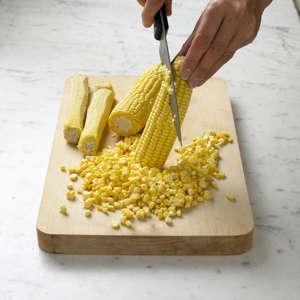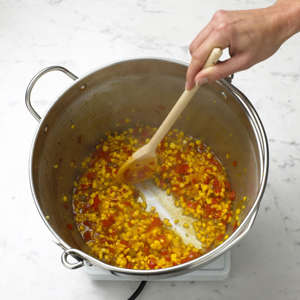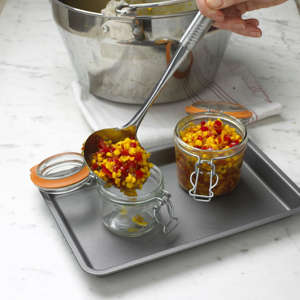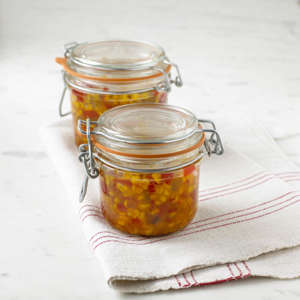 Make Relish

Made from diced fruit or vegetables, relish is part pickle, part chutney, but cooked for a shorter time than a chutney. As its name implies, relish packs a tangy punch of flavor and is a classic accompaniment to barbecue and burgers. Be sure to prepare all the ingredients meticulously, since the final texture of your preserve is dependent on your care at this stage. Take the time to chop ingredients finely, unless you prefer a chunky relish. It is up to you what flavorings you add for spice. This recipe uses a chile pepper, but you can leave this out if you prefer. Relishes can be eaten immediately or stored.
Strip and blanch
Strip the kernels from the cobs using a sharp knife. Blanch the kernels in a saucepan of boiling water for 2 minutes, then drain well.
Simmer in the pan
Put the corn and the other ingredients into a saucepan, bring to a boil, and stir. Simmer gently, stirring frequently, for 15–20 minutes.
Put into sterilized jars
Check the seasoning, then spoon into warm, sterilized jars. The relish should be a spoonable consistency and wetter than a chutney.
Seal and store
Seal with non-metallic or vinegar-proof lids, leave to cool, and label. Store in a cool, dark place. Once opened, store in the fridge.
Other relishes to try
There are many different relishes to make using your own fresh ingredients. Here are a few ideas to get your tastebuds tingling.
Tomatoes
Combine with zucchini and peppers.
Carrots
Delicious with coriander and ginger.
Beets
Use for a sweet relish.
Nectarines and cranberries
A sweet-and-sour relish with coriander and cinnamon.
Zucchini
Add mustard powder, turmeric, chile pepper for a sharp, spicy taste.