Cutting-edge Technology - Sharp-bladed Cutting Tools
[Do Not Use]DK Publishing
2/07/2014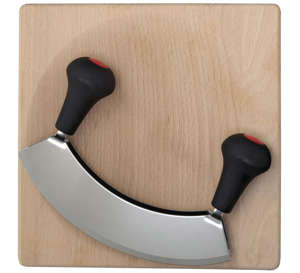 Sharp-bladed Cutting Tools

There are dozens of tasks that a professional chef does easily with a knife, but that we find difficult—reach instead for a pair of kitchen scissors or shears. The mandolin and mezzaluna, too, will enable you to perform like a professional chefin the kitchen.
Mandolin carriage
All mandolins of this type have a separate carriage. This clamps oval and round items, like potatoes, firmly on to the cutting blade and slides up and down the face of the mandolin, removing all danger to your fingers.
Kitchen scissors
Use cheaper scissors for paper, flowers, wire, and cardboard, to keep your kitchen scissors sharp. They should have nonslip handles (for dry or wet use), pointed tips to snip ligaments in the centers of tight joints, and sharp blades to cut herbs or soft bones, e.g., of trout or quail. Teeth on the blade are used in loosening bottle tops.
Poultry shears
The long curved blades and longer handles cut powerfully through ribcages and backbones of game birds, and trim leg bones of game. Use to cut through, rather than carving, joints and for destemming large bunches of parsley.
Mezzaluna
The curved blade rocks fast, safely, and efficiently to chop soft and hard ingredients, such as herbs, chocolate, and nuts. Large handles give a comfortable grip. Double-bladed versions are harder to clean safely, but deal with more ingredients at a time.
Mandolin
This gives a shortcut to enviable slicing, including julienne, grating, and ribbons. It stands on firm legs at a perfect, ski-slope angle for sliding ingredients over the adjustable blades. Using the carriage is advisable for beginners. Stand with feet shoulder-width apart, weight in the center of your body, and hold its legs firmly against your middle with one arm and hand. Slide each vegetable or fruit over the blade carefully; as slices fall away, flex your fingertips upward. The faster you cut, the better the cutting action, and the finer the slices.
Blade changer
Slicing blade
Chipping teeth
Fluted blade for julienne