Desserts - Sake
[Do Not Use]DK Publishing
2/07/2014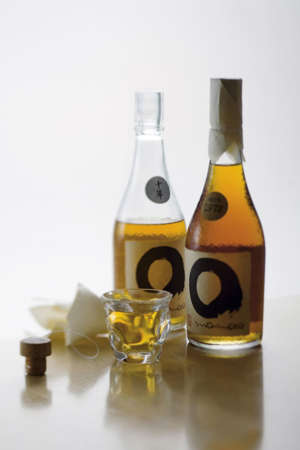 All the sake carafes and glasses at Morimoto New York were made especially for my restaurant. The glasses have inadvertently become "souvenirs" for customers.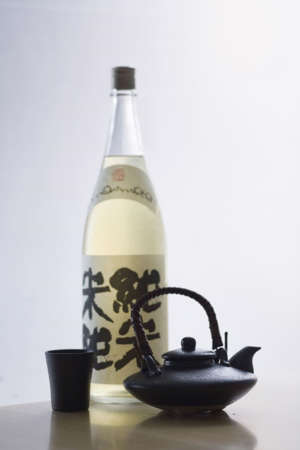 This is a Morimoto junmai sake, made from just rice and water.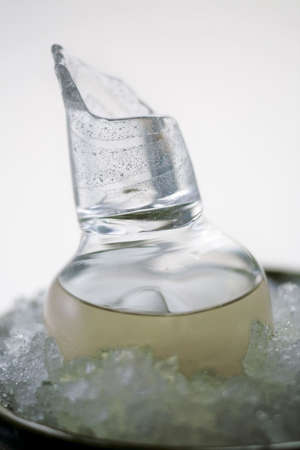 These two bottles are Morimoto aged sakes—the one at left is 10 years old and the one at right is 30 years old.
Sake

Some people take sake too seriously, speaking about it in the hushed tones usually reserved for making big business deals. Drinking it is supposed to be fun. Of course, that's not to say that sake, often referred to as "Japanese rice wine," isn't seriously delicious. Its flavors are as complex and nuanced as those in great wine or beer. I drink it with everything, including foie gras. And because it's made from rice, it occupies a special place in Japanese culture: sake plays a role in Japanese rites of cleansing, purification, and even in the marriage ceremony. At weddings, for instance, couples symbolize their union by drinking sake from the same cup.
The magic of sake is that the alcoholic beverage brewed from just rice and water can provide an endless spectrum of flavors and aromas, such as peaches, pears, bananas, melons, flowers, and grass. Fine sake is not to be guzzled but savored. Before I taste or even smell it, I like to admire its color. It might be crystal clear, faintly gold, or even milky white. Then, I dip my nose in the glass, just above the liquid. I take in the aroma—crisp and clean, tinged with fruit and minerals. Finally, it's time to taste. You won't have to search for the flavor: It'll explode in your mouth, sending out lush sweetness, bracing acidity, and complex mineral notes in all directions before it slowly fades from your palate.
Sake is grouped into two broad categories: junmai (sake made from just rice and water) and honjozo (sake made with rice and distilled alcohol). Within these groupings, the drink is categorized by how much the rice is polished. Sakes brewed from grains of rice that have been milled until no more than 50 percent of each grain remains are called dai ginjo. These are generally full-bodied and fragrant with subtle, refined flavors. I love to drink these alone or with light food. Ginjo refers to sake made from grains polished to no more than 60 percent of their initial size. Sakes within this category tend to be light and highly aromatic, with a quiet elegance similar to that of dai ginjo. Until recently, those labeled junmai had to be made from rice polished until no more than 70 percent of each grain remains. Now, more than 70 percent of the rice can remain, so long as the percentage of rice milled away appears somewhere on the label. Because of their more assertive flavor and sprightly acidity, junmai are my favorite sakes to drink with food. At my restaurants, I serve sake made especially for me by Fukumitsuya, a brewery in Kanazawa, Japan, dating back to 1625.
The sake-making process is a complex one. Rice must be polished, then steamed before being inoculated with Aspergillus oryzae mold, or koji in Japanese. Next, it is transferred to a warm, humid room whose conditions are constantly monitored, for they are essential to the proper development of the mold. (There is now a great deal of research on koji going on in Japan, as brewers seek to develop new strains of the mold, particularly those that grow on fruit, to produce new flavors of sake.) When koji, which looks like pale-yellow powder, is evenly distributed and then massaged into the rice, it's nearly invisible. But after a couple of days, it becomes a noticeable fuzzy layer. If all goes well, the koji multiplies at a fast pace, turning some of the starches in the rice to sugars. This rice is then combined with plain steamed rice, a yeast starter, and springwater. As water makes up nearly 80 percent of the final product, its quality and mineral composition are a big part of determining the sake's personality.
It takes a minimum of two weeks and sometimes much longer for this mixture of rice, water, and yeast to develop properly. When the conditions are ready for the final fermentation, more steamed rice and water are added, and the process begins in giant vats. Yeast is a living thing, a tiny voracious organism that is nearly as unpredictable as we are. Therefore, a sake brewer must carefully observe the vats as the yeast converts sugars to alcohol and carbon dioxide, watching and listening to the foamy bubbles that form on top of the liquid. These sights and sounds tell him whether the fermentation is happening at the appropriate speed and whether he must adjust by, for example, changing the liquid's temperature. Finally, when the brewer has decided his brew is ready, he strains off the liquid. Often, it is filtered to purge it of unwanted colors and flavors; sometimes, however, it isn't, which results in a cloudy, delicious kind of sake called nigori. Then, it's pasteurized, typically twice, though again, a brewer may choose not to do so at all. Unpasteurized sake is called nama.
When sake is used in cooking, the alcohol is often boiled off and a delectable sweetness from the rice remains. It's added to marinades, boiled with soy sauce, used as a steaming liquid, and much more. Keep in mind, though, that the famous wine adage, "Don't cook with it if you wouldn't drink it," applies to sake as well.