Dips - Pacific Feast
[Do Not Use]DK Publishing
2/07/2014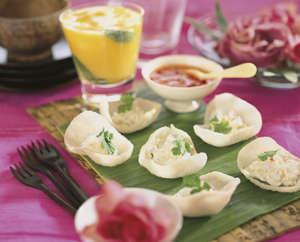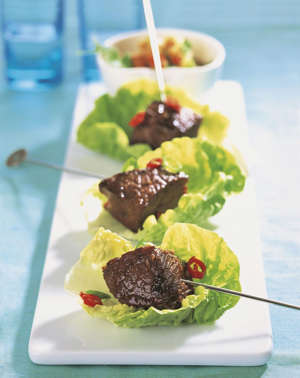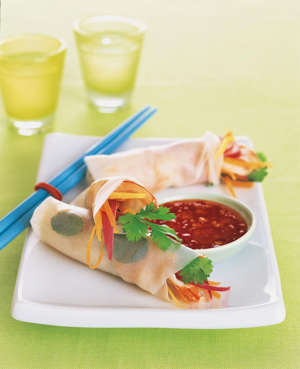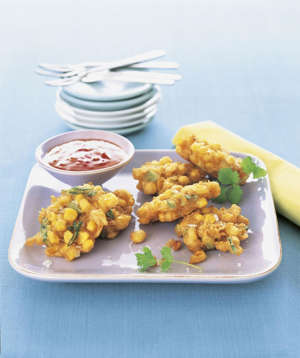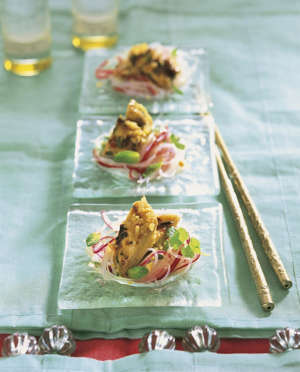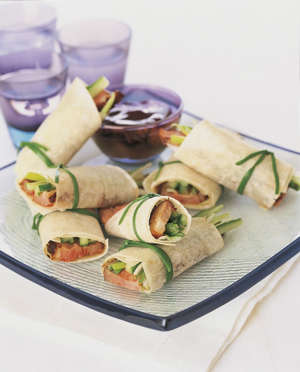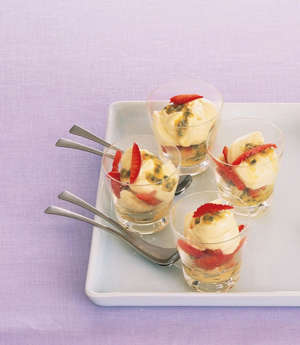 Follow the ring of fire that encircles the highly volcanic area around the Pacific Ocean and you will encounter China, Japan, Indonesia, Thailand, Korea, Vietnam, and Laos—all countries distinguished by lush eating. Pacific Rim cuisine has a vibrant taste characterized by lemongrass, ginger, chili peppers, mint, lime, and soy sauce. While this food gives the impression of being casually made, its composition is sophisticated. Texture is vitally important, providing a satisfying crunch, with an exquisite melange of tastes. In this cooking tradition, each individual flavor is evident yet not dominant.
One of the wonderful aspects of this food is its many sauces, most featuring chili peppers. Some sauces are sticky, made with rice vinegar and sugar, while others comprise simply lime juice and fish sauce. Go easy when using chili peppers—you're seeking taste as well as kick. Keep in mind that the bigger the chili pepper, the milder its heat.
Embellish your table with a few Pacific touches—bowls filled with exotic flowers, candles floating in water, banana leaves, and straw mats. Though Pacific Rim is quintessential summer food, it's refreshing any time, even in deepest winter.
Colors
Magenta pink
Moss green
Shimmering white
Soft yellow
Duck-egg blue
Tableware
Banana leaves
Floating candles
Straw mats
Simple plates
Crackle-glazed dipping bowls
Flavors
Tangy lime
Fresh ginger
Spicy chili peppers
Cool mint
Exotic lemongrass
Nibbles
Five-spice chicken bites
Crab and cream cheese dip
Rice-coated peanuts
Thai shrimp
Spicy peanut dip
Menu
Lemongrass beef skewers with sticky cucumber and peanut sauce
Seafood spring rolls with sweet chili pepper and cilantro dipping sauce
Thai corn fritters with sweet chili pepper and cilantro dipping sauce
Glass noodle salad with black pepper chicken
Peking seared duck rolls with plum sauce
Passion fruit trifle with strawberries and mascarpone
Buy and arrange
Crab and cream cheese dip
Thai shrimp
Rice-coated peanuts
Two days before
Marinate lemongrass beef
Marinate Peking duck
Marinate black pepper chicken
Make sweet chili pepper and cilantro sauce
The night before
Make seafood spring rolls
Make passion fruit trifles
In the morning
Assemble beef skewers
Make sticky cucumber dipping sauce
Broil chicken
Sear and slice duck
Two hours before
Broil and parcook beef skewers
Make batter for fritters
Make crab and cream cheese dip, omitting the cilantro and onion
Assemble glass noodle salad, omitting the herbs
Make Peking duck rolls
Half- to one hour before
Fry corn fritters
Puree mango crush
Broil and finish cooking beef skewers, rest, then plate
Plate seafood spring rolls with dipping sauce
Plate Peking duck rolls
At the last minute
Reheat corn fritters; plate
Toss herbs with glass noodle salad; plate
Finish crab dip with cilantro, onion, and crackers; plate
Pour mango crush
Serve passion fruit trifles