Early Winter - Main Courses
[Do Not Use]DK Publishing
2/07/2014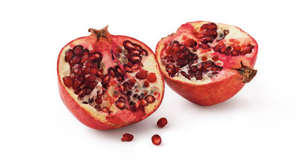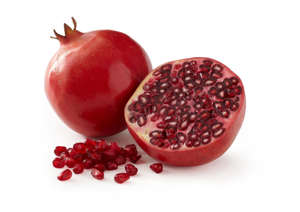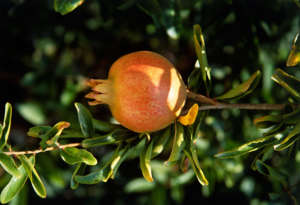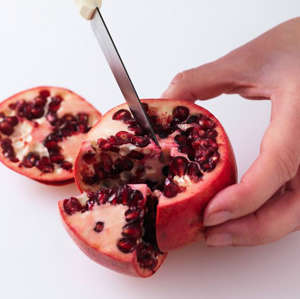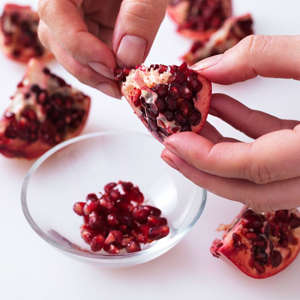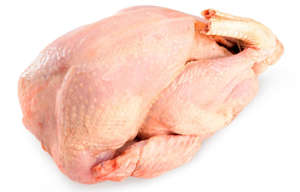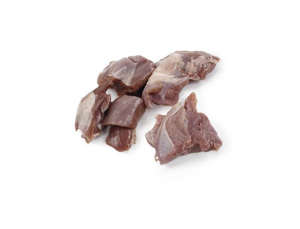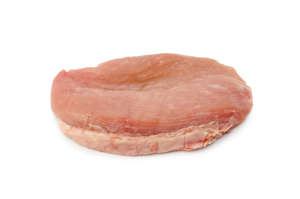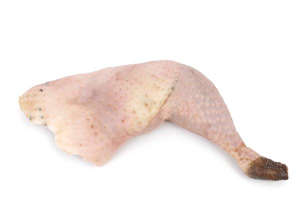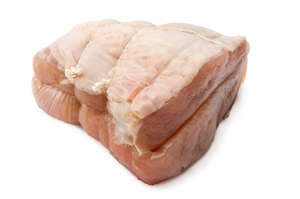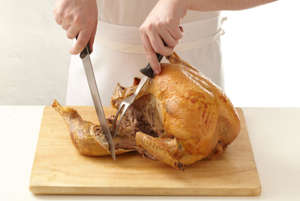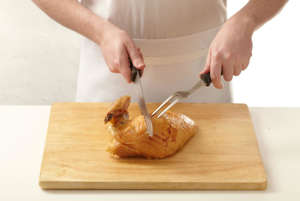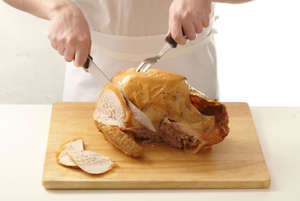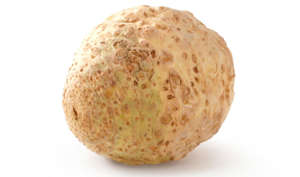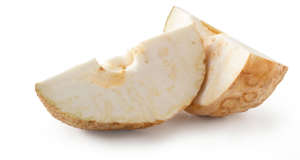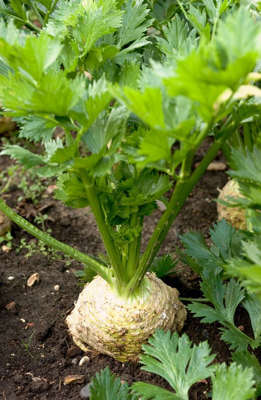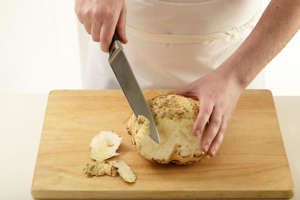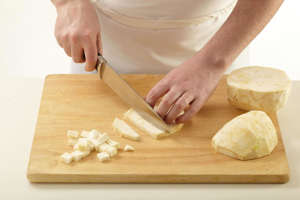 Season's best pomegranates
Considered a superfood, the leathery skin of a pomegranate hides many "arils," each comprising a small, edible seed in a sac of ruby-red or white sweetly tart juice held by a bitter, white pith. Widely cultivated in many countries, it is at its best in early winter through to spring. Enjoy as a snack or scatter the arils over salads, or with chicken, duck, or pork. Try the juice in marinades and syrups.
Wonderful
This is a leading Californian variety with a signature crimson color, abundant juice, a sweet flavor, and glowing red arils. It is a top choice for both eating and juicing.
The calyx end is strikingly shaped like a crown.
Middle Eastern pomegranate
The Middle East is a major exporter of pomegranates, both whole fruit and processed seeds. They have been grown there for thousands of years.
Packs of ready-prepared arils are sold separately for use in salads, desserts, and for quick snacking.
Native to Iran pomegranates are grown in Mediterranean-type climates around the world, mainly America, the Middle East, India, and Spain.
How to cut and prepare pomegranate
This delicious fruit has a tough skin and requires patience when preparing; however, it is worth the effort. Make sure you remove all traces of the bitter white membrane.
Slice off the top of the pomegranate with a sharp knife. Slice into quarters, following the lines of arils.
The seeds are in clusters divided by a thin membrane. Pick out the seeds from each quarter.
EssentialsVarieties available
Available as whole fruit, fresh, ready-prepared seeds in packs, and as juice. Also look for pomegranate molasses and Grenadine syrup.
Buy
Choose glossy fruit that feels heavy for its size. Avoid any that look dry or damaged.
Store
Whole fruit can be kept in the fridge for a few weeks. Packs of ready-prepared arils can be refrigerated for a few days, or frozen to be used for juice.
Cook
Add the juice or arils to salads, desserts, soups, stews, and sauces.
Recipe ideas
Middle Eastern oranges
Shredded turkey, mint, and pomegranate salad
Turkish lamb and pomegranate pilaf
Season's best turkey
Mostly reared for Thanksgiving and Christmas in winter, with some in spring for Easter, turkey is a popular choice because of its unique flavor. It is a good, low-fat source of protein. Choose free-range birds, such as bronze turkeys, for ethical reasons and for better flavor. Cranberries are a favorite pairing, but it is also great with sweet spices, fragrant herbs, chestnuts, mushrooms, and citrus.
Turkey (whole)
Whole birds can be very large. It is best to start roasting them breast-down to ensure the white meat stays succulent and that the thicker bone areas cook through.
The breast has tender, white meat; good cooked any way.
The leg and thigh have dark meat; roast, stew, or casserole.
The wing has high bone-to-meat ratio; good stewed or casseroled.
Diced turkey
Leg meat is darker than breast meat, but when slowly cooked, is very succulent. It is best suited to stews and pies, or for grinding.
Breast steak
A slice of lean turkey breast is good for poaching, grilling, or frying. If skinless, it may be called a breast filet. When sliced or beaten out very thinly it is called an escalope. It can also be diced or sliced for stir-frying.
Breast is the whitest and most tender meat on a turkey.
Leg
One of the cheapest cuts, the leg comprises the thigh and the drumstick (or, from a very large bird, just the drumstick to serve several people). It can be roasted, but is often better stewed or braised.
Turkey drumstick has darker meat and includes some sinew.
Boneless breast joint
A tender joint for roasting. One breast makes a slim joint; both breasts together are plumper. The two boneless breasts sold joined, but untied, is called a butterfly, which you can stuff and tie yourself.
Bard with bacon or baste with butter to prevent drying.
How to carve a turkey
This technique is suitable for turkey and other plump-breasted poultry, such as chicken or pheasant. Before carving, let the roasted bird rest a while in a warm place (on a plate to collect any juices). This relaxes the flesh, softens it, and makes it easier to carve. Use a sharp carving knife and fork to make the process of carving easier.
Cut through the leg joint, then cut it in half to separate the drumstick from the thigh. Repeat on the other side.
To remove the breast, slice down along a side of the breastbone, cut through the joint, repeat the other side.
Cut the breast portions in half on a slight diagonal, leaving a good piece of breast meat attached to the wings.
To carve the breast meat only, make a horizontal cut above the wing. Continue to slice along the same line.
EssentialsCuts available
Whole birds, breast steak, boneless breast joint, crown, large turkey drumstick with or without thigh, wings, diced meat, ground, sausages. Also available smoked.
Buy
Sold both fresh and frozen, whole or in pieces. For roasting, select one with a plump breast.
Store
Remove giblets and store separately. Whole birds and pieces will keep well in the bottom of the fridge for several days, completely wrapped.
Cook
Grill, fry, or stir-fry breast cuts; these and legs can also be stewed. Diced turkey can be stewed or stir-fried, or grilled or cooked on skewers. Use as a lean substitute for beef in many dishes, or ground for burgers.
Preserve
Freeze fresh meat.
Recipe ideas
Roast turkey with parsley and onion stuffing
Turkey and cranberry casserole
Turkey broth
Turkey scallops stuffed with prunes and pecans
Season's best celery root
Also known as celeriac, the thick rough skin conceals white flesh that tastes more strongly of celery than celery itself. The peak season is late fall through winter. It has a creamy texture when cooked, which makes it perfect for puréeing. It also makes delicious low-carbohydrate chips. Try it with other roots, mayonnaise, citrus, or walnuts. It is also good with fish and seafood.
Celery root
What it lacks in looks, celery root makes up with great flavor. It has a thick, gnarled skin that needs to be peeled before use.
The best celery root is firm and wrinkle-free. Old corms are tough and can be tasteless.
Celery root grows best in cool temperate regions but cannot stand harsh frosts. When harvested in early winter, if undamaged, it can be stored well right through to spring.
How to prepare celery root
Unlike some vegetables, it is important to peel thickly to remove all traces of dark skin from the celery root. Always place it in a bowl of acidulated water (water with 1 tbsp lemon juice added) after cutting until ready to use, as it discolors quickly.
Holding the celery root firmly, thickly peel the corm to remove all gnarled skin using a sharp chef's knife.
Cut the peeled celery root in slices, then cut into chunks, grate, dice, or julienne as required.
EssentialsVarieties available
Corms vary in size from a tennis ball to a saucer.
Buy
Choose roots that are at least the size of a small grapefruit. They should feel heavy and be firm to the touch, especially at the top where the leaves emerged.
Store
Keep for up to 2 weeks, unpeeled, in a paper bag in the vegetable drawer of the fridge, but is best used as fresh as possible.
Cook
Steam, boil, braise, roast, fry, or use in soups and stews. After boiling until tender, purée and mix with an equal amount of mashed potato. Add diced celery root with celery to poultry stuffings. Eat raw in salads.
Preserve
Pickle alone or with other vegetables.
Recipe ideas
Beef and celery root casserole with stout and anchovies
Celery root rémoulade with carrot salad
Celery root soufflé pie
Chicken broth with celery root and orange
Chicken with garlic and spiced celery root
Grilled sweet potato and celery root