Eating for the Time of your Life - Food in the First Year
[Do Not Use]DK Publishing
2/07/2014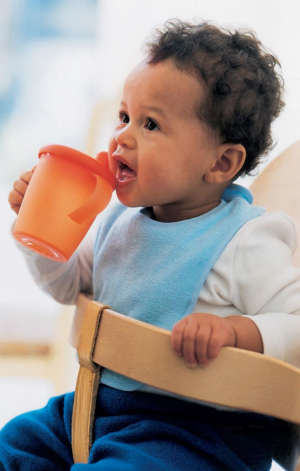 Introducing a cup - At six to eight months, you can start offering your child diluted 100 percent fruit juice or water in a sturdy cup with handles that she can hold herself.
Food in the First Year

Breast milk and infant formula are the most important sources of nutrition for babies.
Feeding your new baby is one of the most rewarding things you do as a new parent. In the beginning, your breast-fed baby will eat every two to three hours (eight to 12 times a day) and formula-fed babies will eat every three to four hours.
You may have heard that breast-feeding is "best for your baby." and this chapter we help you understand the benefits for both you and your baby and teach you how to breast-feed. If you decide to give formula or introduce it while you are breast-feeding or when you return to work, you can follow the advice on choosing a formula and how to prepare and store it. We also outline how infant formula compares with breast milk nutritionally for health and for convenience.
Beginning solid foods
At about six months of age, your baby will sit up and hold his or her head up, and he or she will become much more interested in what you are eating. In the following sections, we outline why you should wait until your baby is ideally six months old before giving any solid food and why iron-fortified infant cereal is the ideal first food . We tell you how to make the transition from giving your baby infant cereal to baby foods during this critical first year, when your baby will triple his or her weight. New parents have many questions about nutrition during this time and we make an attempt to answer most of these.
Food allergies
Since food allergies have become increasingly common and may be life threatening, we discuss the issues involved and provide practical information for parents with children who have a history of food allergies.
Introducing first tastes
A question often asked by new mothers is, "When can I start feeding my baby table food?" Doctors now recommend waiting until at least four, but preferably six, months for breast-fed babies. There are three reasons for this. Firstly, at four months, the average baby needs about 24floz (720ml) of breast milk or formula each day, and early introduction of solid foods may result in babies drinking less milk, interfering with proper nutrition during this critical period. Secondly, young babies have a tongue reflex that pushes food out of the mouth. By four to six months, this reflex disappears, so they can accept food from a spoon. Thirdly, before the age of six months, a baby's digestive system cannot properly digest the nutrients in food.
In addition, if you introduce solid foods too early, it may result in the development of food allergies or cause your baby to choke or breathe food into his or her lungs.