Eating for the Time of your Life - Nutrition for School-age Children
[Do Not Use]DK Publishing
2/07/2014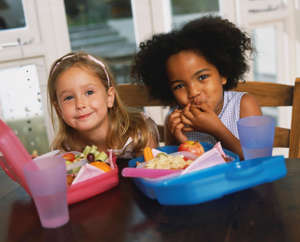 Mixing it up - Teaching children to cook lets them see which ingredients go into different foods and different meals. It also prepares them for when they eventually leave home.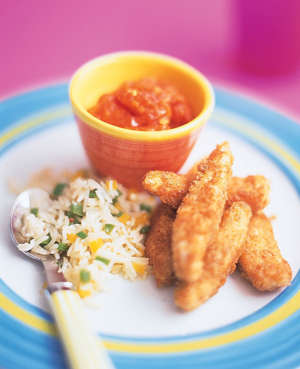 Chicken fingers - Full of protein and vitamins chicken fingers, served with a tomato sauce for dipping and rice with vegetables are fun to eat. Serve with 8floz (240ml) of low-fat milk or water.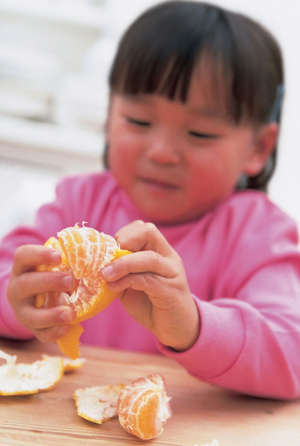 School lunches - The midday meal allows children to have a break, sit down together, and enjoy one another's company while refueling for the afternoon.
Healthy lunch - Whole-wheat pita containing sliced chicken, tomato, and lettuce is a nutritious low-fat lunch. A red apple, low-fat yogurt, and fresh orange juice are healthy choices and add vitamins, minerals, and fiber.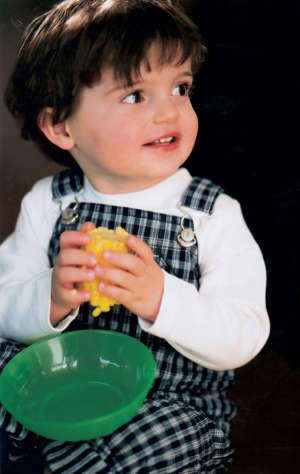 User friendly - Give your child a section of boiled corn on the cob for a snack. Corn is a good source of fiber.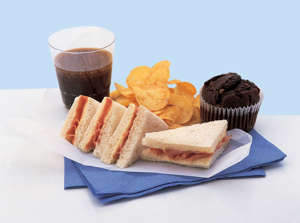 Superfood - Low-fat yogurt is an ideal snack. It is rich in calcium, protein, and some of the B vitamins, and is easier to digest than milk.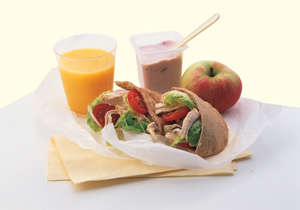 Unhealthy lunch - Ham and cheese are high in saturated fat, while white bread is low in fiber. Potato chips, chocolate-chip muffin, and cola add extra fat, sugar, and calories to this very unhealthy lunch.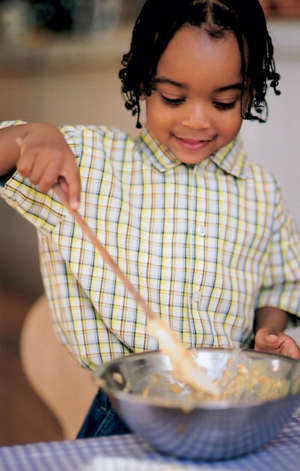 Appealing fruit - Oranges and tangerines are packed with vitamin C and are a good source of fiber. They are also fun to peel.
Schoolchildren need a variety of good foods to grow and develop.
Good nutrition is essential for schoolchildren. They need enough fuel to get them through the day and for their minds to thrive and brains to develop, so give them a healthy breakfast, and if they are taking a lunchbox to school, ensure that it contains a mix of nutritious foods from the five food groups.
Limiting junk food
Junk food such as French fries, cookies, and chips are extremely tempting to children. These are high in sugar, fat, salt, and in empty calories. Sodas and fruit drinks also contain empty calories and sugar. Your child's diet can contain some foods that are high in sugar and fat as long as the total diet is well balanced and all food groups are consumed in the appropriate number of servings.
Healthy snacking
Snacking is important for children because they usually do not eat enough at mealtime to sustain their blood-sugar levels between meals. Snacks prevent children from getting so hungry that they cannot focus on school or other activities and offers an opportunity, along with meals, for children to get enough calories and nutrients for normal growth and development. They can contribute a significant amount of important nutrients, so snacks should be as healthy as possible. If a child does not eat fruits or vegetables at mealtimes, these foods make excellent snacks.
Empty calories
Unfortunately, many children like to snack on sweets, chips, cookies, doughnuts, and other foods low in nutritional value, but high in calories. The calories in such snacks are known as empty calories. Such snacks can cause unhealthy weight gain as your child grows
Serving sizes: 6–12 years
For children aged 6–12 years, the number of daily servings from each food group and examples of a serving are shown here:
6–9 servings of grains and their products. Examples of a serving include 1 slice whole-grain bread or 1/2 cup brown rice or noodles.
3–5 servings of vegetables. For example, 1 serving equals 1 cup salad or 1/2 cup chopped raw or cooked vegetables.
2–4 servings of fruit. Examples of a serving include 1 apple, 4floz (120ml) fruit juice, or 1 cup berries.
2–3 servings of dairy products. Examples of a serving include 8floz (240ml) low-fat milk or low-fat yogurt, or 2oz (55g) cheese.
2–3 servings of protein sources. Servings include 2oz (55g) meat, chicken, or fish, or 2 eggs.
What to give your school-age child
School-age children need to eat three meals and at least one snack per day. Breakfast is an important meal because it helps minds stay alert until lunchtime. School-age children can often buy lunch at school, but these meals may be high in fat and most children will end up eating dessert. Encourage your child to pack a healthy lunch a few times a week . After school, children are hungry so give them a healthy snack, such as fruit or cut-up vegetables. Serve low-fat milk or water with the snack, which they can eat while they do their homework.
Sample menu: 10 yearsBreakfast
1 cup low-sugar cereal with 8floz (240ml) low-fat milk and banana slices, and 4floz (120ml) orange juice
Snack
1/2 bagel with peanut butter and jelly and 4floz (120ml) apple juice
Lunch
1 cup meat ravioli with fresh tomato sauce, 1 slice bread with margarine, 6 carrot sticks with dressing, and 1 apple
4 graham crackers and 8floz (240ml) low-fat milk
Dinner
2oz (55g) strips of breaded chicken breast with 1/2 cup boiled rice with vegetables, and 1/2 cup fresh tomato sauce, and 8floz (240ml) water
Healthy snacks for children
Children are often hungry, especially when they get home from school. Have healthy snacks ready for them to eat before their dinner and again in the evening. You can try some of the following ideas:
Animal, goldfish, or graham crackers.
Dry breakfast cereal such as oat circles or puffed grain.
Rice cakes or pretzels.
Cut-up vegetables, such as carrots, peppers, tomatoes, or cucumbers, with low-fat ranch or French dressing as a dip.
Fresh fruit such as bananas, pears, plums, grapes, oranges, strawberries, peaches, and apples.
Frozen juice cubes or ice pops.
Fruit salad.
Fruit smoothie with yogurt.
Low-fat, part-skim string cheese.
Low-fat yogurt.
Hard-boiled egg.
Sandwiches, such as tuna, egg salad, turkey, cheese, or peanut butter and jelly.
Homemade trail mix (a mixture of dried fruit, such as raisins, cranberries, and apricots, unsalted peanuts, sunflower seeds, and crunchy low-sugar cereal).
Preventing excess weight in childhood
Being overweight is a big problem in North American children and is also now becoming a global problem. One of the main reasons for this is that they spend more time watching television and playing video games than any other activity. Children also tend to eat more while watching television. Parents should try to limit these sedentary activities to less than two hours per day.
A recent study looking at television and video-game use and their relationship to obesity found that children who were limited to seven hours of television and video games per week had significant decreases in weight and body fat compared to a control group who were allowed to watch television or play video games for more than seven hours a week. The first group of children also ate fewer meals in front of the television.
To prevent children from becoming overweight, parents should therefore encourage children to develop skills for both indoor and outdoor activities, such as arts-and-crafts projects, creative imaginary play, jump rope, or hula hoop—basically, any activity that does not require expensive equipment or a large play area. For more information, see Children and Weight Management.
School lunch-box ideas
When preparing a school lunch box for your child, make sure to include foods from each of the food groups and vary these foods throughout the week. Variety will ensure that you are providing the maximum number of nutrients and will also prevent your child from getting bored with eating the same things.
Prepare foods that are appropriate for your child's age; for example, peeled apple or pear slices are ideal for a young child, while whole fruit is fine for an older child. You could try letting your child make his or her own sandwich, choosing healthy fillings together. If your children buy drinks at school, teach them why it is better to choose low-fat milk, bottled water, or even low-fat chocolate milk, all of which are more nutritious than sodas and juice drinks.
Lunch-box tips
Try some of these suggestions for your child's lunch box, and make sure you follow the storage tips.
Lunch menu ideas
Provide a carton of long-life low-fat milk or apple juice with each lunch. Add one or more pieces of fruit, and vary the choices daily.
Raisin bread or an English muffin spread with light cream cheese and topped with either low-sugar jelly, cucumber slices, or tomato. Serve with fruited yogurt.
Whole-wheat pita filled with tuna, light mayonnaise, lettuce, and sweet pickle relish. Serve with cherry tomatoes and low-fat chocolate milk.
Taco with kidney beans, topped with low-fat cheddar cheese, lettuce, and very mild salsa. Serve with baby carrots and fresh pear slices.
Pasta salad with tuna or some shredded chicken breast, corn, cucumber slices, and chopped parsley with a low-fat dressing. Serve with a cereal bar.
Storage tips
If keeping food cool at school poses a problem, freeze drinks or low-fat yogurts at home, and by lunchtime they should have become defrosted.
Keep cold foods cold in an insulated lunch box. Include a frozen juice pack or water bottle.
Keep hot foods warm by using an insulated portable container.
Cooking with kids
One of the most effective and fun ways to teach children about healthy eating is to involve them in the kitchen. This can begin by planning a menu and going to the supermarket together to purchase foods. Expose children to label reading, costs, and how to use coupons. This will stimulate their interest in helping you prepare, serve, and clean up the meal or snack.
Skills that stay for life
Children develop a sense of pride and ownership as they learn how to cook for the family. By engaging children to prepare and eat healthy meals and snacks, these skills will stay with them for life. In addition, cooking with kids and teenagers reinforces what they are learning in school, such as reading, science, biology, and mathematics.
Teach young children about colors, shapes, sizes, and to recognize the names of fruits and vegetables. Make a guessing game out of it when you are tossing a salad and let them help you wash the fresh vegetables. As your child grows older, he or she can participate in peeling and cutting up vegetables and be introduced to new foods, such as eggs and berries.
When you cook together, start with simple meals, such as baked chicken, brown rice, and string beans. Encourage your child to find healthy recipes he or she would like to make. Focus on lots of colors on the plate as well, such as red (tomatoes), green (peas), orange (carrots), and yellow (corn).
Safe cooking practices
Of course, safety is always an issue in the kitchen and children should never be left unsupervised. Teach them to ask for help and to use pot holders. This will help them to be more self-sufficient as teenagers and adults and to prepare healthy foods on their own.