Elements of a Healthy Diet - Fruits for Health
[Do Not Use]DK Publishing
2/07/2014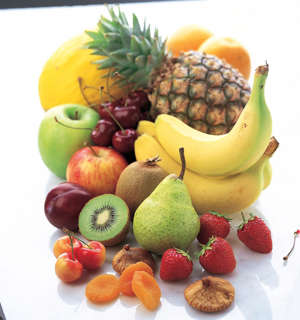 Nature's bounty - Available in a huge array of colors, tastes, and textures, fruits are easy to eat and packed with healthy nutrients.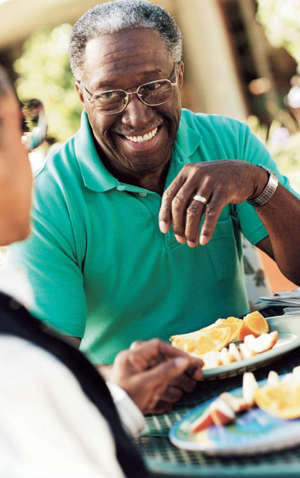 Fruits make great snacks - Cut-up fruits, such as apples, oranges, melon, and pineapple, make a tasty, quick-to-prepare snack that is rich in fiber and beneficial nutrients, such as vitamins, minerals, and phytochemicals.
Fruits for Health

These are easy to eat and packed with nutritional goodness.
Fruits—naturally sweet, colorful, high in vitamins and fiber, and low in calories and fat—are the ideal snack. Scientific research shows that a modest increase of one or two servings of fruit per day can dramatically reduce your susceptibility to many diseases.
Rich in antioxidants
Vitamin C and phytochemicals, including antioxidants, abound in fruit. Antioxidants destroy harmful substances in the body, called free radicals, which can build up and cause cancer. Of particular interest are two types of phytochemicals—flavonoids and polyphenols—which together have a powerful antioxidant quality. In addition, other phytochemicals in fruit have been found to be antiallergenic, anticarcinogenic, antiviral, and anti-inflammatory .
We truly do have a reason to say that an apple (or any fruit) a day keeps the doctor away.
What is a serving?
Two to four daily servings are recommended from the fruit group. Suggested servings include:
1 medium apple, pear, or orange.
1 cup raspberries or strawberries
15 grapes
2 dried figs or dates
6floz (180ml) 100 percent juice
2 tbsp raisins
1/2 grapefruit
1/2 large banana
How to increase your fruit intake
Fruits are ideal snacks. They are delicious, healthy and require little or no preparation, and it is easy to take an apple, orange, or banana with you to work or when you go out for the day.
You should have no problem getting your daily two to four servings of fruits in this way, once you get into the habit of having a good selection available at home and at work. In addition to eating familiar types of fruits, be adventurous and try some of the more exotic and unusual varieties available from your supermarket, such as mangoes, loquats, figs, and lychees.
Adding fruits to your meals
Fruits can be incorporated easily into your main meals of the day—breakfast, lunch, and dinner—in a variety of interesting ways. Try some of the following suggestions.
Breakfast
In the morning, liven up your whole-grain cereal by topping it with a chopped apple, a sliced peach, or a handful of raisins. Or have a bowl of strawberries, raspberries, fresh pineapple, or melon chunks topped with low-fat yogurt. You can also drink a glass of 100 percent fruit juice, such as orange or grapefruit juice.
Lunch
To spice up a garden salad, you can try adding fresh fruits, such as peaches and/or orange sections. Alternatively, instead of a sandwich with a meat or fish filling for your lunch, you can make a banana and walnut sandwich. You could make a fresh fruit smoothie or finish your lunch with a fruit salad.
Dinner
Start with a slice of melon, then try an exotic combination, such as grilled chicken with mango and melon. Finish with a fruit dessert, such as mango sorbet or a baked apple.
Dried fruits
You can buy dried fruits from stores or dry them at home in special fruit dehydrators. During dehydration, most of the nutrients are concentrated in the remaining solids. In this way, dried fruits have more nutrients—and more calories—by weight than fresh fruits. Some light fruits, such as apples, apricots, peaches, pears, and golden raisins, are treated with sulfur dioxide to prevent discoloration and to help preserve nutrients. Some people with asthma or allergies are sensitive to sulfur dioxide and should be cautious when eating treated dried fruit or choose nonsulfured fruits.
Dried fruits are good as snacks. Soaked or cooked, they can be used to top hot or cold breakfast cereals, make compotes and stuffings, or be added to baked goods.
Benefits of different fruits
Fruits are rich in vitamins and minerals, especially vitamins A and C, potassium, and fiber. Eat a variety to reap their individual nutritional benefits.
Apples
The skin of this refreshing fruit is an excellent source of fiber. An apple has about 75 calories.
Apricots
Due to a short life span once picked, most apricots are dried or canned. Half of an apricot has 9 calories.
Bananas
Technically an herb and not a fruit, half of a banana has 60 calories and is loaded with vitamins and minerals.
Blueberries
These delicious fruits are rich in antioxidants and help prevent urinary tract infections. One cup of blueberries has roughly 80 calories.
Cantaloupe
This is incredibly rich in a form of carotene (vitamin A precursor) that is known to fight cancer. Half of a cantaloupe has 55 calories.
Grapes
One cup has 90 calories with vitamins A and C and minerals.
Kiwifruit
You can eat the skin of a kiwifruit, but you may prefer it without. 1oz (28g) of kiwi has 22 calories and a range of vitamins.
Peaches
A medium-sized peach has about 40 calories and vitamins A, C, and D, and potassium.
Pears
These should be picked unripe and allowed to ripen in a paper bag. One medium pear has about 100 calories.
Pineapple
This fruit contains a potent enzyme, bromelain, that has been used to aid digestion, reduce inflammation, and help cardiovascular disease. One cup of chopped pineapple has 75 calories.
Plums
An average-sized plum has 32 calories and is a good source of vitamins A and C, and potassium.
Raisins
This dried fruit packs a nutritional punch. Raisins are a good source of energy but are rich in sugar.
Raspberries
There are nearly 1,000 varieties of raspberries. They are very perishable and therefore expensive. They provide 60 calories per cup.
Watermelon
One cup has 50 calories and a lot of vitamins and minerals.