Firing Up - Choosing Fuels
[Do Not Use]DK Publishing
2/07/2014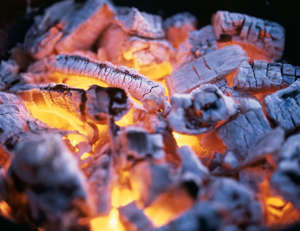 The real deal - Hardwood charcoal certainly gives a superior grilling experience. If you can find a supplier whose charcoal comes from sustainable sources, you can feel good about that, too.
Herb branches - Cut your own for an inexpensive way to create a Mediterranean atmosphere—but unless you're doing lid-on cookery, they won't add much flavor to the food.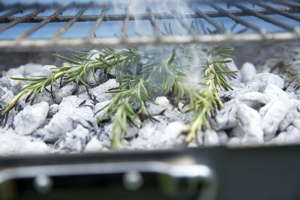 Log fire - Though the heat they provide is unpredictable, logs are great fun to grill over. A single log combined with a charcoal fire, however, gives you the best of both worlds.
Choosing Fuels

The charcoal briquette is so easy to find that it is the default fuel for most grillers. And, although our top choice for fuel is always hardwood charcoal, briquettes are fine with us, too, provided that you give them time for the chemicals they contain to burn off. Hardwood logs are ideal for those who love tinkering with a fire, but their unpredictability can be challenging. One of our favorite fire-building techniques is to combine charcoal with a single log . That way, you get the best of both fuels. Finally, of course, there's gas: We have to say that for us, it will never rival the joys of live-fire cooking, but there's no denying its convenience.
Hardwood charcoal
This is the real deal, charcoal made by the traditional method, which involves burning hardwood in a closed container with very little oxygen. Because it is simply wood that has been reduced to charcoal, it comes in irregularly-shaped lumps rather than uniform briquettes. It has several advantages over briquettes, all of which derive from the fact that it is almost pure carbon—it lights a little more easily, it is more responsive to changes in oxygen level so you can regulate it more easily, and (most importantly) it burns cleaner and hotter than briquettes. Its major disadvantage is that it's more difficult to locate, plus it is slightly more expensive.
Charcoal briquettes
Briquettes have several advantages: You can find them anywhere, they provide a good, hot fire if you use enough of them, and they are relatively inexpensive. They do have one disadvantage, though—they are not pure charcoal. Instead, they are powdered charcoal pressed together with binders, and sometimes chemical additives so they will light more easily. The only real problem with this is that until the briquettes are completely caught, a little bit of what you are burning is chemicals. So when you use briquettes, just be sure that you don't put any food over them until all the briquettes are totally covered with gray ash.
Hardwood logs
Logs are, of course, the original grilling fuel. Their primary characteristics are that they burn for a long time, which is a good thing, and that they burn unevenly and unpredictably, which can be either good or bad. If you're one of those people who think tending the fire is fun, then this is the fuel for you, because there's a lot of watching and shifting around involved. We like to compromise with a "dual fuel" fire . It's best to use seasoned logs. Greenwood chunks and chips are great for adding a little extra aroma , but a greenwood fire will spit and smoke too much for good grilling.
Minor fuel options
Wood chips and other aromatics such as vine trimmings and dried herbs are appropriate for slower, covered techniques such as smoke-roasting or barbecuing. In those situations, the food is going to spend enough time bathed in the smoke to pick up some of its flavor characteristics. (You can even use chunky trimmings from hardwood trees in your yard, such as apple and maple; the greener they are, the more smoke they will produce.) When you are doing just straight grilling, however, all they are really doing is perfuming the air, not the food. So unless you're a big believer in aromatherapy, save these aromatics for covered cooking.