Firing Up - Grilling on Gas
[Do Not Use]DK Publishing
2/07/2014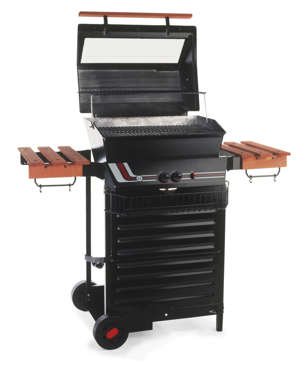 Choosing a gas grill - Follow the same general rules as with a charcoal grill (see What's the best grill for you?)—get the biggest and most powerful one you can afford and accommodate, so you'll have room to cook a lot at the same time, and get some char on your food.
Grilling on Gas

The advice we've given so far, of course, all relates to charcoal grills. But let's talk for a minute about gas grills. We don't have a lot to say about them, because we don't have much experience with them. The reason is simple: We love the excitement and unpredictability of live fire, so we really don't use gas. But their speed and convenience have made gas grills increasingly popular and, while you won't get the same experience as with true live fire, it's sure a lot better than not grilling at all.
Cooking on a gas grill
Any of the recipes in this guide can easily be done over a gas grill. Just be sure that you let the grill heat up for 15 minutes (with the lid closed) before you begin to cook, and set the dial to hot, medium, or low. When we call for a "multilevel fire," turn off the burner on one side or at the front or back, depending upon how your grill is configured.
A lid is essential to build up a good grilling temperature
A generous grill area is our number one requirement, whatever the fuel
The gas bottle will usually be enclosed or screened. Make sure there's a gauge that tells you how much fuel you have left
Dual burners give you two temperature zones that mimic a multilevel live fire
The more you spend, the more extra features for convenience you'll get, such as these wings
Check that the grill base slopes for good drainage to minimize flare-ups