Food as Medicine - Vitamin and Mineral Deficiencies
[Do Not Use]DK Publishing
2/07/2014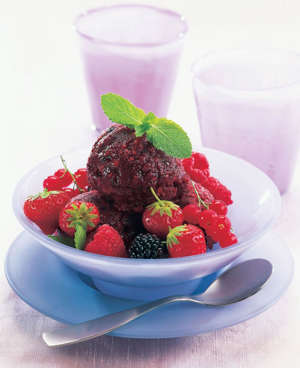 Fruit sorbet with fresh berries - Jam-packed with essential vitamins, fruits can be presented in a number of ways, such as this refreshing mixed-fruit sorbet with fresh fruits.
Vitamin and Mineral Deficiencies

Make sure you get enough of the right vitamins and minerals.
A varied diet should provide you with all the vitamins and minerals you need, and in their necessary amounts. The people most at risk of vitamin and mineral deficiencies are those who, for one reason or another, exclude certain foods or food groups from their diet.
For example, vegetarians and vegans may not get enough vitamin B12, which occurs naturally only in foods of animal origin, and people who avoid milk and dairy products may miss out on sufficient amounts of calcium and vitamin D. In addition, at different stages of life, you may need extra vitamins; for example, extra folate is needed during pregnancy.
However, isolated vitamin and mineral deficiencies are rarely seen, and the symptoms listed here provide an indication that you may not be getting adequate amounts of many nutrients. The chart lists potential symptoms of deficiencies and indicates which particular nutrients may be deficient.
Do I need a supplement?
If you have any of the symptoms in the chart, see your doctor, who may suggest that you have a blood test. Only take a supplement on the advice of your doctor.