Germany - Winegrowing Areas of the Rheinland
[Do Not Use]DK Publishing
2/07/2014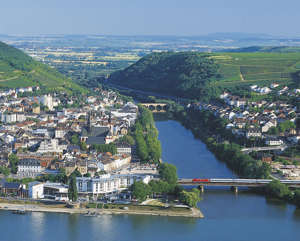 Bingen, located at the confluence of the Nahe and Rhein rivers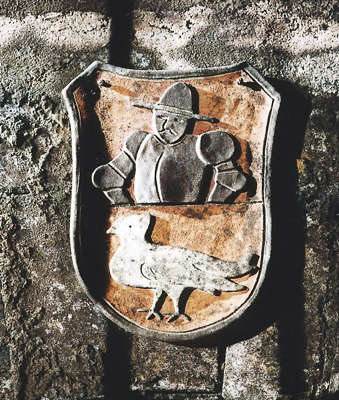 Vineyards around the village of Wachenheim in the Pfalz region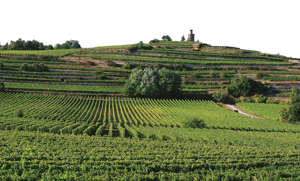 Weingut Wittmann's crest, Rheinhessen
Winegrowing Areas of the Rheinland

As its name suggests, the Rheinland is dominated by the mighty Rhein (Rhine) River as it winds its way northward. The river has a moderating influence on the microclimates of the vineyards along its banks: sites closer to the water are generally warmer and grapes ripen faster here than farther inland. Only in the Rheingau does the river flow from east to west, and its south-facing vineyards obtain maximum exposure to the sun.
Riesling is the Rheinland's most important grape, although away from the river, many other varieties, both red and white, are planted. Styles range from dry Riesling to sweet Eiswein and TBA, and light- to medium-bodied red wines with fragrance and finesse.
Ahr
soil type: slate, loam
red grape variety: Pinot Noir (Spätburgunder), Portugieser
white grape variety: Riesling
wine styles: red, white

Just south of Bonn is one of Germany's most northerly winegrowing regions, and the specialty here is Pinot Noir, which can ripen fully on the dark cliffs that hem in the river valley. The wines used to be made in a sweetish style, but now all the best producers aim for rich, dry Pinots with density and elegance. Production is limited, and prices tend to be high. This does not seem to deter the day-trippers from Bonn and Koblenz, who come here in droves over summer weekends to taste and buy. Other varieties are also grown here but result in wines of considerably less interest.
Mittelrhein
soil type: slate
red grape variety: Pinot Noir (Spätburgunder)
white grape variety: Riesling, Müller-Thurgau
wine styles: red, white, sparkling, dessert

After Rüdesheim the Rhein flows north once again, through the narrow, castle-studded valley of the Mittelrhein. The slopes here are very steep, and many sites have been abandoned over recent decades because they are too inaccessible and therefore costly to cultivate. Overshadowed by the Rheingau to the south and the Mosel to the west, the Mittelrhein is an underestimated and undervalued region, but one fully capable of producing exciting Rieslings. The region is popular with tourists, however, and too many growers content themselves with producing overcropped wines for sale in the local wine taverns and restaurants. This undermines the efforts of the more serious producers to achieve the quality that the Mittelrhein can produce.
Rheingau
See Rheingau
Nahe
soil type: porphyry, slate, clay, loam, sandstone
red grape variety: Pinot Noir (Spätburgunder)
white grape variety: Riesling, Müller-Thurgau, Silvaner
wine styles: red, white, sparkling, dessert

The northernmost fringes of the Nahe region lie across the Rhein from the Rheingau, and its vineyards stretch in a southwesterly direction in side valleys off the Nahe River. It is a very mixed region in terms of soils and grape varieties, so it is not surprising that it lacks identity. There are a handful of excellent local producers, but there are also many estates that produce run-of-the-mill wines. The Nahe is less well known than it ought to be, so prices, even for the finest wines, are usually reasonable given their quality.
The best vineyards lie on steep stony slopes around the villages of Schlossböckelheim and Niederhausen: the Rieslings from here are midway in style between those of the Mosel and Rheingau, and can be exceptionally good. The vineyards closer to the Rhein have fairly rich soils, and their wines can be rather soft and lacking in zest.
Rheinhessen
soil type: clay, loam, slate, iron, sand
red grape variety: Portugieser, Dornfelder
white grape variety: Müller-Thurgau, Silvaner, Riesling
wine styles: red, white, sparkling, dessert

This is the most maligned of Germany's wine regions, since the interior, west of the Rhein, is devoted to industrial vineyards that churn out tanker-loads of the undistinguished white wines that have marred the country's reputation worldwide. Many crossings are planted here, especially new varieties that ripen early and give high yields. This may satisfy the many growers oriented toward quantity rather than quality, but the wine itself is usually bland and dilute. Closer to the river, however, along the so-called Rheinfront, are remarkable red-soiled slopes that produce rich, mineral, and mostly dry Rieslings. Silvaner is another Rheinhessen specialty, a dry, tangy wine that is consumed in vast quantities during the asparagus season.
Liebfraumilch's decline
Associated with some of Germany's worst wines, Liebfraumilch has its origins in a single vineyard near the Liebfrauen church in Worms in the Rheinhessen. It was already cited as a distinguished wine in 1744, but recent examples from this site have been far from exceptional. The name Liebfraumilch was hijacked by other regions in the 19th century, and by the early 1900s the wine was in effect a brand. Today it is legally defined as a Qualitätswein from the Rheinhessen, Pfalz, Nahe, or Rheingau; it must contain at least 70 percent Riesling, Kerner, Silvaner, or Müller-Thurgau, and must have between 18 and 40 g of residual sugar. Depressingly, this bland concoction still mops up a quarter of all Rheinhessen's production.
Pfalz
soil type: loam, sand, basalt, loess, limestone
red grape variety: Portugieser, Pinot Noir (Spätburgunder), Dornfelder
white grape variety: Riesling, Scheurebe, Weissburgunder (Pinot Blanc)
wine styles: red, white, sparkling, dessert

The Pfalz, or Palatinate, is the southerly extension of Rheinhessen. A relatively warm region, protected by the Haardt Mountains to the west, it produces many of Germany's finest dry Rieslings, with impressive weight and power. Riesling dominates the subregion between Bad Dürkheim and Neustadt, especially around the villages of Wachenheim, Forst, Deidesheim, and Ruppertsberg. Elsewhere other varieties thrive: Scheurebe, Gewürztraminer, Rieslaner, and, farther south, the Pinot family.
Until 15 years ago, the southern Pfalz, had a poor reputation, but standards have risen swiftly. Much of Germany's finest Pinot Noir, Chardonnay, and Weissburgunder comes from here, as well as some vigorous Rieslings. The balmy climate encourages the production of rich, rounded wines, with little of the sometimes strident acidity of the more northerly regions. These are wines well in tune with modern tastes, and the Pfalz is enjoying great success. In no other region has overall quality improved as dramatically as in the Pfalz over recent years.