Hot and Steamy - Rice and Noodles
[Do Not Use]DK Publishing
2/07/2014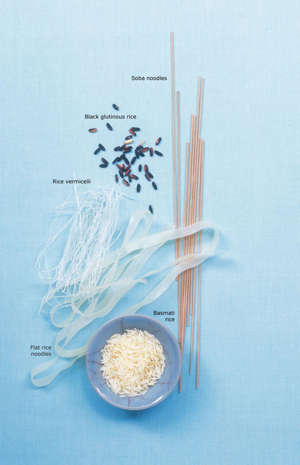 Rice and Noodles

Rice is such an important crop the world over, with half the population of the planet consuming it two or three times a day. China is credited with the earliest cultivation of this important plant, dating back to Neolithic times. Thousands of varieties are grown throughout Asia, cooked in different ways and eaten during various seasons. Connoisseurs claim that they can tell the difference in taste between rice harvested at different times, or the type of rice being cooked just by its smell. Despite the huge number of different varieties, two main types predominate: long-grain and short-grain rice.
Long-grain and short-grain rice
Long-grain rice is the most commonly used rice in India, China, Thailand, Vietnam, and throughout Southeast Asia. It cooks up into easily separated fluffy grains. Basmati rice is the most widely planted variety in India. With its silky texture and superior aroma, it is used for aromatic rice pilafs, birianis, and masala rice. Basmati is also the most exported of the Indian varieties of rice. In China, Vietnam, Thailand, and other parts of Southeast Asia, refreshingly fragrant jasmine long-grain rice is the most popular.
Short-grain rice is favored in Japan and Korea because it has a shorter growing season and can be eaten with chopsticks. Slightly stickier than long-grain, short-grain rice is eaten with savory dishes in Japan and Korea; in Southern China and Vietnam, it is commonly used for rice porridge.
Rice paper wrappers
In Vietnam, rice paper wrappers are called banh trang and used for Vietnamese spring and summer rolls, or wrapping meat or seafood. They can be fried or used fresh. To make the wrappers, a batter is made from rice flour, water, and salt. A pancake of this batter is then steamed, before being dried on bamboo mats in the sun. I went to a Vietnamese village that made them; the entire place was viewed through these translucent discs with their distinctive basketweave pattern—it was quite surreal. Rice paper wrappers are sold dried in packets.
Rice noodles
Noodles are intrinsic to life in many parts of Asia such as China, Japan, and Korea. They originated in China more than 2,000 years ago, and have been made commercially for centuries. Fresh and dried noodles are available in all shapes and sizes.
Fresh noodles are called fen in China. There are four main sizes that refer to the width: flat, round, fine, and very fine. They are eaten in a number of ways—stir-fried, in soups, or with a sauce.
Dried rice noodles are made much in the same way as rice paper, and are called "rice sticks." The thinnest variety is rice vermicelli, used in salads and cold dishes, or in stir-fries and soups. Other rice sticks are about 1/4 in (5mm) wide like a ribbon and about the length of a chopstick. These are soaked in warm water before adding to soups or stir-fries. Also made from rice flour, dried thick laksa noodles resemble spaghetti. There may be many variations of laksa, but the type of noodles used is consistent throughout Malaysia and Singapore.
Other noodles
Fresh egg noodles, known as mein or Hokkien noodles, are made with wheat. Dried wheat noodles are also made, and either packed in lengths or rolled like a tight bird's nest. Cellophane noodles (dong fen) are made from mung bean flour. Transparent when cooked, they are often used in soups and salads. In Japan, egg noodles are called ramen, while soba noodles are made from buckwheat and mostly eaten in the north. They are usually pale brown, but some are green and flavored with green tea. Round or flat udon noodles are made from wheat flour and are white in color; they are readily available.
Glutinous rice
Glutinous rice is a type of short-grain rice that is often referred to as "sticky rice." The rice is first soaked for between 5 and 8 hours, then drained and steamed on a clean cloth or piece of muslin in a bamboo steamer for 30–40 minutes. The rice grains become thick, firm, and translucent. Glutinous rice is never really eaten on its own, but often mixed with savory ingredients such as pork or mushrooms, or made into rice cakes that are wrapped in banana leaves. In Thai cooking, after the rice is steamed, it is mixed with thick coconut cream, sugar, and a pinch of salt, and served with ripe mango. When made with fresh coconut, this simple dish is really amazing.