Japan - Yoho
[Do Not Use]DK Publishing
2/07/2014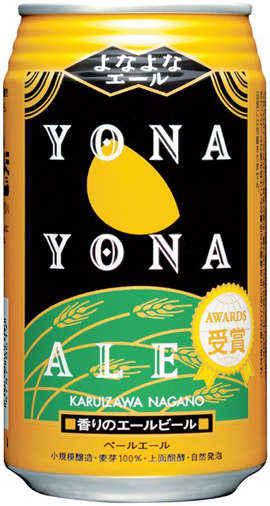 Yoho

1119-1 Otai, Saku City, Nagano, 385-0009, Japan
www.yonasato.com
Yona Yona Ale is perhaps the most popular craft beer in Japan, available in brightly colored cans and on draft all over Japan. While the recipe predates head brewer Toshi Ishii (who previously worked at Stone Brewing in San Diego), he is responsible for their second big success, Tokyo Black, a tasty porter with remarkable flavor and smooth balance.
Yona Yona Ale
beer style: Pale Ale
alcohol content: 5.5% ABV

Square in the American Pale Ale category. Brisk and citrussy, with Cascade hops giving a sharp finish
Tokyo Black
beer style: Porter
alcohol content: 5% ABV

This tasty roasty beer can best be described as a session porter, with a unique twist. Brewer Ishii recently brewed a batch in England.