Key Nations - US
[Do Not Use]DK Publishing
2/07/2014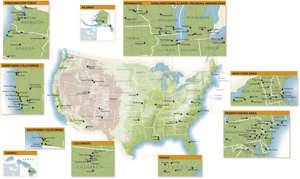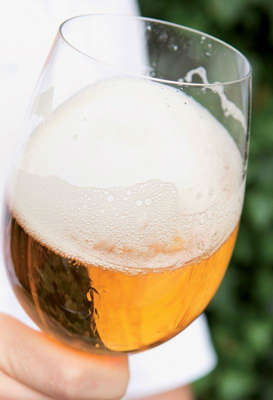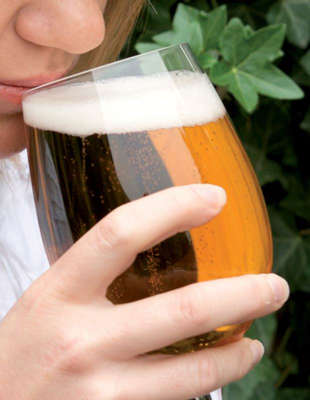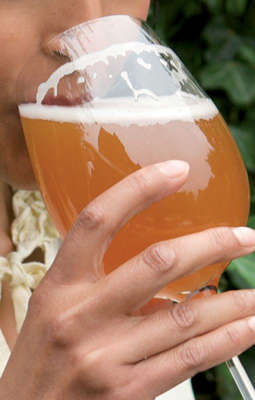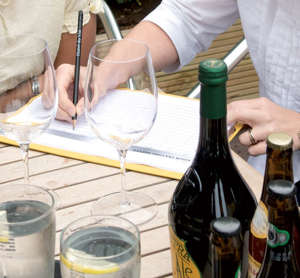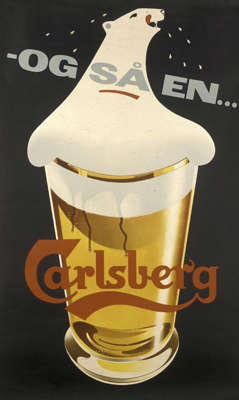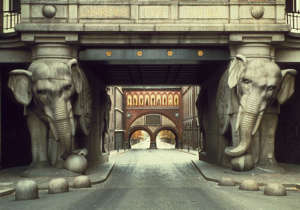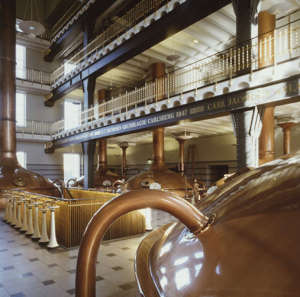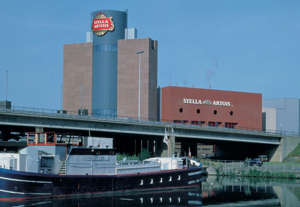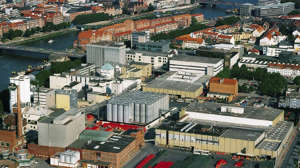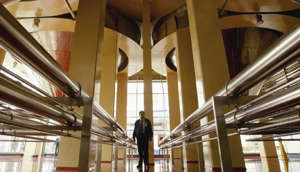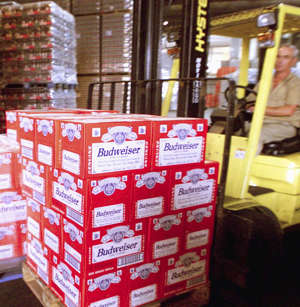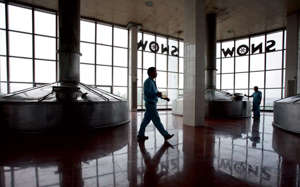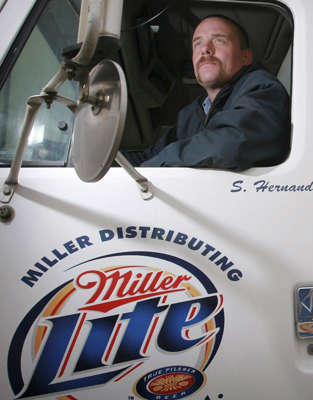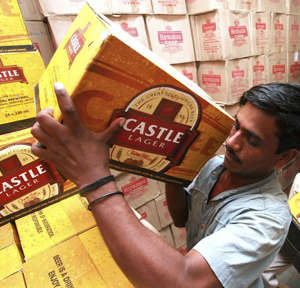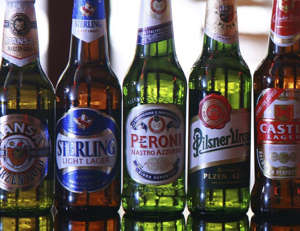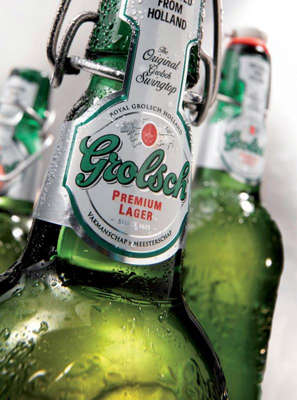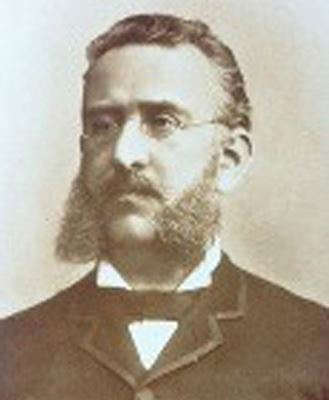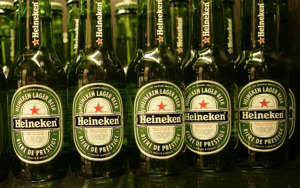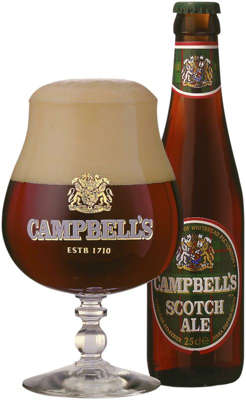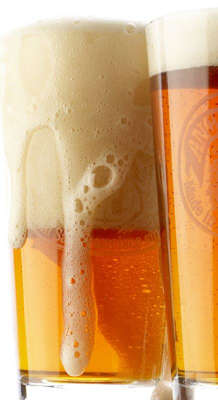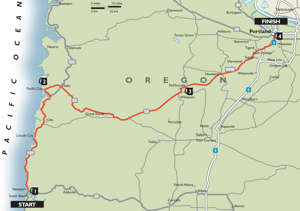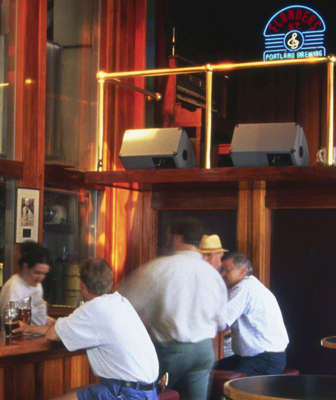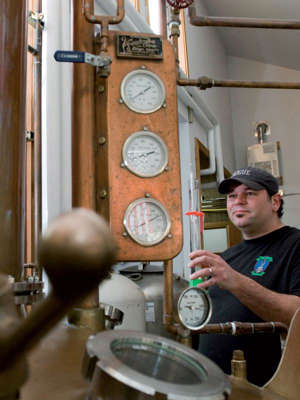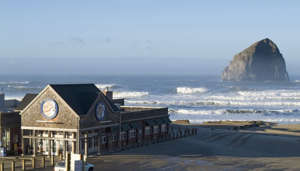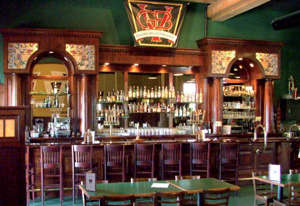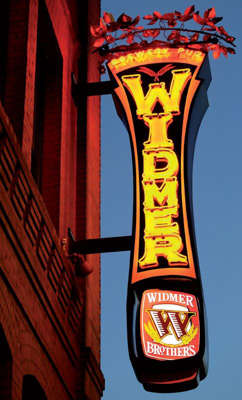 US

If the US was once known as the land of bland, pale lager, those days are long gone. With more craft brewers than anywhere else on Earth, their passions feed a beer culture in which diversity of styles, flavor, originality, and experimentation are the motivating factors – not rules and traditions.
Portland, Maine
Alagash
Gritty McDuff's
Geary's
Shipyard
Seattle
Elysian
Georgetown
Hale's
Pike
Pyramid
Portland, Oregon
Bridgeport
Hair of the Dog
Hopworks
Mactarnahan's
Widmer
San Francisco
Anchor
Shmaltz
Speakeasy
Denver
Breckenridge
Flying Dog
Great Divide
Wynkoop
The Best-known Beers of the USA
Over the last 30 years, the US has undergone a sea change in the world of beer. While it now offers great variety, the mass market is packed with pale light beers.
Just a few decades ago, the US was a country with one basic style choice when it came to beer—a pale lager, generally light in body and lacking in hop flavor or aroma. Today, there are more than 1,400 breweries, producing a wider range of beers than has ever been available anywhere in the world before. However, despite this dramatic change, the overall market is still dominated by Anheuser-Busch InBev (who produce Budweiser), Coors, and Miller. The market is led by light beers. In fact, six of the top seven selling domestically produced beers are low-calorie lagers.
America's brewing past can still be glimpsed on faded advertisements along the back roads, promoting brands from breweries long gone. But many of those brands are still produced under contract—such as Pabst, Schlitz, and Lone Star—and have avid fans. All are pale lagers that taste much alike.
Bud Lite (Lager 4.2% ABV)
Budweiser (Lager 5% ABV)
Coors Light (Lager 4.2% ABV)
Miller Lite (Lager 4.2% ABV)
Busch Light (Lager 4.2% ABV)
Michelob Light (Lager 4.2% ABV)
Pabst (Lager 5% ABV)
Schlitz (Lager 4.7% ABV)
Lone Star (Lager 4.7% ABV)
All About … Tasting
Beer is best drunk in the company of others, whether in a pub or beer café. Take this sense of conviviality further and invite friends to a tasting session—a joyful celebration of the best of John Barleycorn.
Tasting beer involves all the senses. After all, beer has a rich variety of colors, flavors, and aromas. There are few rules, but think about the beers that you are sampling. Either choose a variety of styles, showcasing the diversity of beer, or serve different variations on a theme—a selection of American IPAs, for example, Czech pilsners perhaps, or British bitters. Whichever course you choose, begin with the most delicate beers and end with the most intensely flavored or strongest beers. Between 6 and10 beers is best. Too many and the palate becomes dulled.
Use large wine or brandy glasses for beer tasting if you can—the shape of these helps to concentrate aromas. Lay out water and crackers, or plain salted crisps, which help to dry the palate between beers.
Then enjoy!
Pouring
Use a clean tasting glass for each beer. Hold the glass at an angle of about 45 degrees at first, straightening it toward the end of the pour to let the beer acquire a head.
Appearance
Look at the beer. It should have a clarity and sparkle to it. Judge the color and condition: does it dance and shimmer in the glass? A tired beer lacks life and actually looks dull. As you drink the beer, a laceworklike trace of foam should be left adhering to the side of the glass—again, a sign of good condition.
Aroma
Swirl the beer in the glass to help release the aromas. Malty aromas include cereal, dried fruit, coffee beans, biscuit, Ovaltine, chocolate, toffee, and caramel. Hops produce fruity, fragrant, perfumy, spicy, resiny, peppery, citrussy, herbal, and floral notes. Yeast esters add their own character to stronger beers, with rich fruity notes redolent of tropical fruit, bananas, and ripe apricot skin. Lambic and gueuze have powerfully earthy, sweet-and-sour aromas thanks to the presence of wild yeast.
Flavor
Taste the beer. The tongue detects sweetness at the tip, salt and sour on the sides, and bitterness at the back. Some beers come bearing lots of fruity gifts, while others—especially dark porters and stouts—produce roast, coffee, caramel, and chocolate flavors. Let the beer roll around the tongue, and work out the order of flavors. How does the beer feel in the mouth: smooth, thin, grainy, acidic (lambics again), oily, or chewy. A great beer is about balance and harmony. The malt and hops should be working with each other. Wine tasters always spit, but beer needs to be swallowed for the finish to be noted. Is it bitter? That's the hops. Dry? That's often the effect of the malt. It might be a long, lingering finish, or it might be short and abrupt.
Tasting notes
Make notes on the beer's key aspects—appearance, aroma, taste, and finish—as you go along.
The Story of … the Giants of Brewing
Walk into any airport bar in the world, five-star hotel, or major supermarket and the chances are that it will sell beer from one of the big four multinational breweries. Anheuser-Busch InBev, SABMiller, Heineken, and Carlsberg stand as behemoths in the world of beer. These mega-companies straddle continents and dominate domestic markets. And while their beers are happily drunk by millions of people every day, they do ruffle the feathers of many serious beer lovers, who accuse them of stifling innovation and local and regional beer traditions.
Around the world, the big four are involved in fierce competition, battling it out for the cream of the market share. For this is no cosy cartel, but a full-bloodied battle royal to be the biggest brewer in the world. They grow their businesses organically and through acquisitions, and, now that beer is drunk worldwide, they are targeting Russia, China, and India—places far beyond their traditional markets.
Big they might be, dominated by marketing personnel and accountants they certainly are, but within each of these giant corporations there somewhere beats the heart of a brewer proud to be producing a beer made with good, natural ingredients.
Carlsberg
Times have changed since JC Jacobsen first introduced the world to Carlsberg in 1847. Carlsberg's three key markets are Western Europe, Eastern Europe, and Asia. The company has majority holdings in several large European breweries, such as Carlsberg UK, Carlsberg in Sweden, Ringnes in Norway, Feldschlösschen in Switzerland, Sinebrychoff in Finland, and Carlsberg Polska. It now wholly owns the Baltic Beverages Holding, which brews beer in Russia, Ukraine, and the Baltic states. Carlsberg also has significant activities in Asia, which are run by its fully owned subsidiary Carlsberg Asia.
Anheuser-Busch InBev
Anheuser-Busch InBev's heritage is rooted in brewing traditions that originate from the Den Hoorn brewery in Leuven, Belgium, dating back to 1366 and the pioneering spirit of the Anheuser brewery, established in 1860 in St Louis, USA. The company was formed in 2008 when the Belgian-based brewer InBev acquired its US rival Anheuser-Busch. The US$52bn takeover represented the largest deal in brewing history. InBev was formed in 2004 when the Belgian company Interbrew—and the Brazilian Companhia de Bebidas das Américas combined to form a new world force in brewing. Interbrew, which style itself as the world's largest local brewer, was formed in 1987 from the merger of Brasseries Artois, then the second largest brewer in Belgium, and Brasseries Piedboeuf, the brewer of Jupiler. Anheuser-Busch InBev employs more than 120,000 people in over 30 countries across the world—describing itself as "the Best Beer Company in a Better World."
Anheuser-Busch InBev is the leading global brewer and one of the world's top five consumer products companies. Anheuser-Busch InBev manages a portfolio of brands that includes global, flagship brands Budweiser, Stella Artois, and Beck's. Striving to be the world's greatest local brewer, the company also manages a portfolio of over 200 other beer brands that includes, fast growing multi-country brands like Leffe and Hoegaarden, and strong local jewels such as Bud Light, Skol, Brahma, Quilmes, Michelob, Harbin, Sedrin, Cass, Klinskoye, Sibirskaya Korona, Chernigivske, and Jupiler. It also has shares in China's Tsingtao Brewery and Compañía Cervecerías Unidas in Argentina.
SABMiller
SABMiller has brewing operations in more than 60 countries across six continents. Its internationally marketed brands include Pilsner Urquell, Peroni Nastro Azzurro, and Miller Genuine Draft; its local brands include Aguila, Miller Lite, Snow, and Tyskie.
SAB (South African Breweries) was founded in 1895 when it launched its first brand, Castle Lager, in its home market of South Africa. The founder, a Swedish entrepreneur called Jacob Letterstedt, intended to provide beer for the thousands of miners and prospectors around Johannesburg.
In 2002, SABMiller was formed after SAB acquired Miller Brewing Company, then the second largest brewery by volume in the USA. The company is growing strongly in China and has recently bought the Dutch company Grolsch, the Netherland's second largest producer of pilsner. In 2007, SABMiller's Russian operation invested $170 million in the construction of a new brewery east of Moscow.
Heineken
Heineken has its roots in Amsterdam, where Gerard Adriaan Heineken purchased a run-down brewery called the Haystack in 1864. Today, the Heineken brand is the largest beer brand in Europe, and the company claims it is the most valuable beer brand in the world. Heineken also owns Amstel, which is the third largest beer brand in Europe.
Operating in more than 170 countries, through its own breweries and through export and licensing partners, Heineken has the widest global presence of all international brewers. Europe accounts for over half of Heineken's sales. It owns more than 120 breweries in at least 65 countries and employs over 60,000 people. It recently assumed ownership of Scottish and Newcastle breweries in the UK.
Hidden gems
While the four giants might concentrate most of their marketing strategies and budget on the main brands that they produce, they all also brew gems which beer lovers should certainly seek out.
Carlsberg's Jacobsen Vintage No 1 is said to be the most expensive beer in the world. A 10.5% ABV barley wine, it has been wood aged in Côte d'Or barrels made from Swedish and French oak. It has flavors of vanilla, smoke, caramel, and port.
Anheuser-Busch InBev's Campbell's Scotch Ale, at 7.7% ABV, has wonderful spicy and caramel candy aromas. Full of raisin flavors, it has a slightly burnt finish.
In the USA, Anheuser-Busch InBev may be more well known for its classic Budweiser brands, but it also brews a sprightly beer in the style of a Belgian witbier. Shock Top—an unfiltered wheat beer brewed at 5.2% ABV—sports a naturally cloudy consistency and tastes of orange and spices.
Heineken bought the Zywiec Brewery in Poland in the 1990s. At the company's Bracki Brewery in Zamkowy, an aromatic Baltic Porter is brewed in open fermenters. Weighing in at a very hefty 9.5% ABV, it is full of sweet coffee notes.
SABMiller's Castle Milk Stout, at 6% ABV, is a true milk stout, in which lactose sugars have been added to the wort during the brewing process.
Beer Styles - US Ales
The huge influx of German-speaking immigrants into the United States in the middle of the 19th century changed more than the ethnic mix of the country. These newcomers brought with them a tradition of beermaking that was to revolutionize the American brewing industry. Lager beers, as well as the odd weissbier, replaced porters and ales. Then, in 1920, began 13 years of Prohibition, which wiped the slate clean as far as brewing heritage was concerned. Those breweries that survived decided that the future lay in a light and neutral-tasting lager-style beer.However, when a new wave of craft brewers emerged in the late 20th century, its vanguard looked to the beer styles of mainland Europe and the British Isles, and then went on to develop individual versions of amber ales, pale ales, India pale ales, and brown ales. There are approximately 1,500 US breweries today, and many produce ale of some description. After the long reign of pale lager, ale is back with a vengeance.
Extreme beers
American ales are big, bold, and inventive, intensely flavored with hops and malt's caramel, biscuity qualities. Exceptional examples of such creativity have led to a coining of the term "extreme beers" to convey a sense of beers that are pushing boundaries and breaking the rules.
Craft brewers
In 1965 Fritz Maytag bought an ailing San Francisco brewery, creating the traditionally brewed Liberty Ale and launching the microbrewery movement. Home brewer and bicycle repairer Ken Grossman is a more recent example of what is now often called the craft brewer—his Sierra Nevada Brewery was founded in 1979. The term pays due tribute to the skill and respect for tradition of this new wave of brewers.
Old styles revived
American brewers have been enthusiastic in replicating Old World ales, even those that had become extinct in Europe. Brown ale, somewhat taken for granted in its English homeland, has thus benefited from the magical touch of Brooklyn Brewery's Garrett Oliver, while the long-abandoned hybrid style of Cream Ale is enjoying a renaissance in the form of Honey Cream Ale from Rogue Ales of Oregon.
Oregon
The term "Beervana" is often used to describe Oregon's culture of craft beer. The state also offers spectacular outdoor recreation from the Pacific Ocean on the west to Hells Canyon on the east, and up and down the Cascade Mountains in the center. Beer touring opportunities abound, and it would be possible to spend weeks traveling and never drink the same beer twice. This three-day trail starts in the seaside town of Newport, which is home to the iconic Rogue Ales brewery. It continues the next day with scenic stops on the way to Portland, then concludes with a full day in the Rose City. For more information visit www.oregonbeer.org.
1 Day 1: Newport and Rogue Ales
Rogue Ales Public House is located on OSU Drive, right in the center of the working seaport of Newport. There are plenty of bed and breakfasts to choose from in this friendly town, including Rogue's "Bed and Beer" apartments, above the public house. The public house is also the place to book in for one of the brewery tours, which commence at 3pm daily.
2320 OSU Drive, Newport
www.rogueales.com
2 Day 2: Pelican Pub & Brewery
The scenic 48-mile (77-km) drive from Newport to Pacific City easily occupies a morning, so you should arrive just in time for lunch at the Pelican Pub & Brewery. The brewery-restaurant is located on the shoreline of Pacific City, where there are outstanding views of the oft-photographed Haystack Rock and Cape Kiwanda.
33180 Cape Kiwanda Drive, Pacific City
www.pelicanbrewery.com
3 Day 2: Golden Valley Brewery & Pub
The scenic route to McMinnville passes through the Willamette Valley, one of the nation's premier wine-growing regions. The Golden Valley Brewery & Pub offers ales, sometimes aged in wine barrels.
980 East 4th St, McMinnville
4 Day 3: Portland
With more than three dozen breweries in the metropolitan region, it is little wonder residents of Portland like to say they live in "Beervana." Here are some you could visit on Day 3 of this trail.
Hair of the Dog
This tiny brewery uses equipment not originally designed for brewing. Visits by appointment.
4509 SE 23rd Avenue, Portland
www.hairofthedog.com
Widmer
Visit the brewery's Gasthaus restaurant to sample the full line-up of beers— including the Alt intended to be the brewery flagship before its Hefeweizen became an American standard. The brewery offers tours on Fridays and Saturdays.
929 North Russell, Portland
BridgePort
Oregon's oldest surviving brewery helped turn the Pearl District into a hip locale.
1313 Northwest Marshall Street, Portland
Higgins Brewpub
Greg Higgins uses local produce for his widely praised menu, which pairs well with Oregon beers and wines.
1239 SW Broadway, Portland
Green Dragon Bistro and Pub
This relative newcomer quickly became an instant hit with a trendy crowd. Offers a constantly-changing selection of beers not necessarily found elsewhere, served by a knowledgeable staff.
928 SE 9th Avenue, Portland
Horse Brass Pub
A Portland institution since 1976, the Horse Brass is a sprawling tribute to both the English pub and Oregon beer, offering 52 selections on draft. The pub is especially popular with the late-night crowd.
4534 SE Belmont Street, Portland