Main Meals - Griddled Chicken and Potato Salad
[Do Not Use]DK Publishing
2/07/2014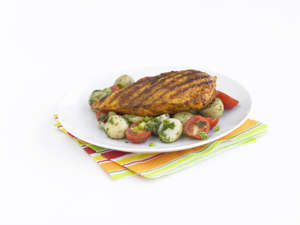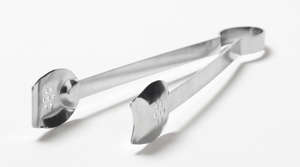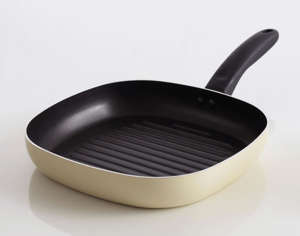 The chicken could also be served with a green salad or on a bed of rice.
Griddled Chicken and Potato Salad

This healthy dish is really easy to make, and bursting with color and flavor!
Marinating 30 mins
Equipment
large shallow dish
tablespoon
plastic wrap
griddle (or frying pan)
tongs
small sharp knife
cutting board
medium saucepan
salad bowl
Serves 4
Food facts
A griddle is similar to a frying pan but it is usually square and has a ridged base. It is sometimes called a grill pan. This design makes griddling a healthier way of cooking because most of the fat collects in the ridges of the pan, rather than in the food itself. Meat, fish, and vegetables can all be cooked on a griddle. As well as being a healthy way to cook, griddling gives food a delicious, slightly barbecued flavor.
Helpful hints
To check that the chicken is thoroughly cooked, insert a skewer or the tip of a knife into the thickest part—there should be no sign of any pink. If the chicken is not completely done, cook it for another minute or two.