Meat - Mediterranean Table
[Do Not Use]DK Publishing
2/07/2014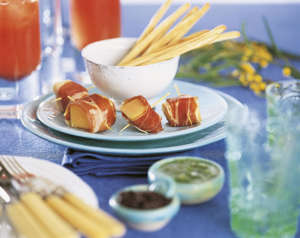 Fried artichokes, Roman style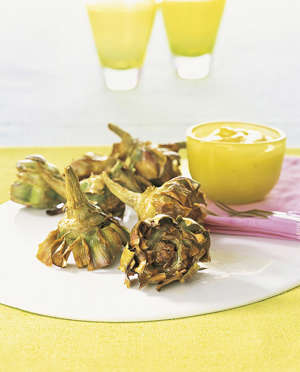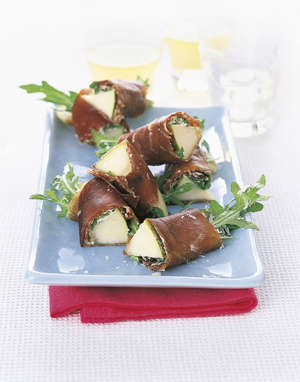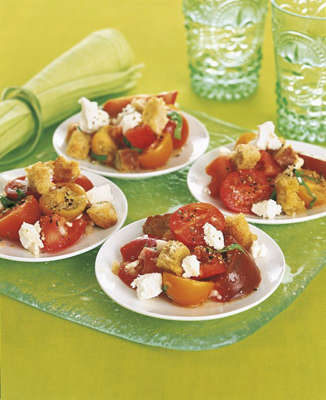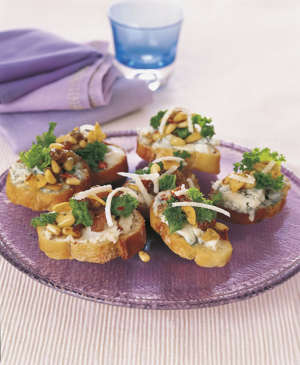 Chocolate Frangelico pudding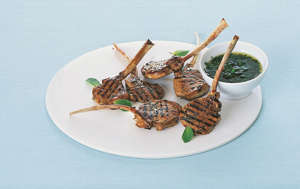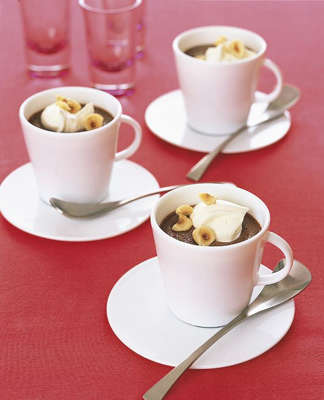 In the countries that sit along the Mediterranean Sea, you will encounter people who are perhaps more passionate and spirited about food than those you meet anywhere else. Food is paramount here, and life revolves around mealtimes. Of course, if we could all eat al fresco year-round, under the gently soothing sun, we might quickly adjust our priorities, too.
If you want to be assured of creating outstanding Mediterranean food, then it is important to track the seasons. Each brings its own fresh bounty: spring artichokes, summer tomatoes, fall mushrooms, and bitter winter radicchio. Conveniently, grassy extra-virgin olive oils, capers, anchovies, and nutty Parmesan remain all year. Most herbs are embraced in Mediterranean cuisine; sage, basil, parsley, and dill all make an appearance, adding freshness and perfume.
To dress the table, opt for cheerful sky blue or earthy mustard linen cloths, rustic white or terra-cotta plates and bowls, and pleasantly worn plain steel or bone-handled cutlery. Fill a large water pitcher with fresh flowers, such as yellow mimosa, twist open a Campari soda, and bring the warmth and glow of Mediterranean sunshine into your home.
Colors
Sky blue
Mustard yellow
French blue
Delicate lavender
Bone white
Tableware
Distressed white china
Bone-handled cutlery
Yellow mimosa flowers
Rustic terra-cotta plates
Plain linen napkins
Flavors
Grassy olive oil
Sage, basil, parsley, and dill
Salty capers and anchovies
Fragrant cheeses
Fresh lemon
Nibbles
Marinated anchovies
Parmesan crisps
Prosciutto-wrapped melon
Roasted garlic with bread
Spanish or Italian deli plate
Menu
Fried artichokes, Roman style with saffron aioli
Bresaola and pear rolls with arugula and parmesan
Three tomato salad with goat cheese and croutons
Gorgonzola crostini with garlic greens and raisins
Rosemary lamb cutlets with fresh mint and parsley sauce
Chocolate Frangelico pudding with hazelnuts
Buy and arrange
Pesto and aioli with grissini breadsticks
Marinated green olives with celery
Prosciutto-wrapped melon
Two days before
Make croutons for tomato salad
Make crostini
Marinate lamb cutlets
Marinate green olives
The night before
Prepare artichokes and leave to soak in lemon water
Make saffron aioli
Make chocolate Frangelico puddings
Four hours before
Make bresaola and pear rolls
Chop tomatoes for salad
Make prosciutto-wrapped melon
One hour before
Remove olives from refrigerator
Fry artichokes; keep warm in low oven
Make greens for Gorgonzola crostini
Organize cocktail Ingredients
At the last minute
Plate artichokes with saffron aioli
Plate bresaola and pear rolls
Finish three tomato salad; plate
Plate lamb cutlets with fresh mint and parsley sauce
Plate prosciutto-wrapped melon
Pour cocktails
Half an hour before
Assemble tomato salad without basil and dressing
Finish Gorgonzola crostini; plate
Sear lamb cutlets and keep warm under foil
Plate pesto, aioli, and grissini breadsticks