Mineral Directory - Zinc
[Do Not Use]DK Publishing
2/07/2014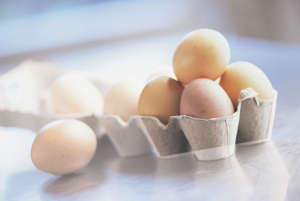 Eggs - Rich in zinc, protein, and vitamins A, B12, D, and E, eggs also contain, in their yolk, a substance called lecithin, which can protect against cardiovascular disease.
Zinc

Daily requirement
men: 11mg per day
women: 8mg per day

Although needed in minute amounts, zinc (Zn) is essential for the breakdown of carbohydrates, fats, and proteins; in normal cell division, growth, and repair—especially during fetal growth; in the manufacture of DNA (the substance that makes up our genes) and RNA (a substance that is involved in making proteins); in the functioning of the immune system, including wound healing; in sexual maturation, fertility, and reproduction; and in the senses of taste and smell.
Zinc is also necessary to maintain normal levels of the male sex hormone testosterone in the blood and convert this hormone into the female sex hormone estrogen. This is why oysters have a reputation for increasing desire.
Zinc deficiency
This deficiency may be primary (due to insufficient zinc in the diet) or result from decreased absorption from the intestine or increased needs because of recovery from disease. Those most at risk include people who abuse alcohol, those with HIV infection or diabetes, people on protein-restricted diets, people with diseases that affect absorption from the intestine, and those with liver disease.
Symptoms of zinc deficiency include poor appetite, loss of sense of taste, digestive problems, diarrhea, vomiting, night blindness, hair loss, skin problems, poor wound healing, problems with growth in children, and delayed onset of puberty and sexual maturation.
Good sourcesZinc
This is found naturally in all these foods, which contain at least 1mg of the mineral per 1oz (28g):
Oat bran
Dairy products
Red meat
Eggs
Poultry
Crab
Lobster
Brazil nuts
Navy beans
Soybeans