Natural Storage - Clamping
[Do Not Use]DK Publishing
2/07/2014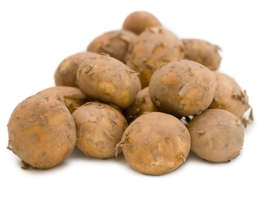 Preparing potatoes - Dig up potatoes carefully on a dry day, shake off the excess soil, and leave to dry outside for 1–2 hours to "set" the skins. Only perfect specimens should be used for clamping.
Clamping

The technique of insulating potatoes and other root vegetables outside, known as clamping, often keeps them fresher for longer than storing in sacks or boxes. Clamping is unsuitable in areas where frosts are common or severe.
Clamping potatoes
Dig a shallow round trench 4in (10cm) deep, 3ft (1m) in diameter, in a sheltered, well-drained site. Pack it down and cover it with a layer of sand to deter slugs. Heap clean straw over the trench to make a thick circular nest about 8in (20cm) deep, and arrange the potatoes in the center.
Pile the potatoes up in a cone or pyramid shape. The maximum height of the cone should be about 20in (50cm). Completely cover the potatoes with a protective layer of dry straw that is 4–8in (10–20cm) thick.
When the potatoes are completely hidden by straw, use a spade to cover the straw with a 6in (15cm) layer of soil. Leave a 2in (5cm) "chimney hole" (or use a piece of pipe) at the top for ventilation and fill it loosely with straw.
Pack down the soil around the sides of the clamp with the back of the spade until it is firm, to allow the rain to run off more easily. As an extra precaution, dig a shallow trench around the base of the clamp to help with drainage. If clamped properly, the potatoes will keep for 4–5 months.
Storing root crops in the ground
Any crop with a tapering root—such as carrots, parsley root, salsify, black salsify, and parsnips—can be stored in situ in the ground until needed. How well they keep there depends on the weather conditions, but expect slug damage and some deterioration over time. In severe winters, protect these crops as much as possible from frosts and snow with cloches or piles of straw heaped over them. Dig them up when the ground is suitable (not hard or frozen). Wash off the soil, leave to drain, and store in the salad drawer of the fridge.