Natural Storage - Storing Onions and Garlic
[Do Not Use]DK Publishing
2/07/2014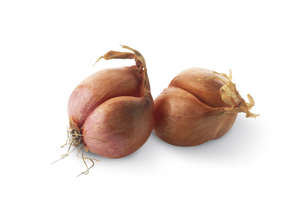 Shallots - Harvest and cure shallots in the same way as onions and garlic. Store in mesh or shallow boxes somewhere cool and airy. Once dried, store them in a basket or vegetable rack in the kitchen until needed.
Storing Onions and Garlic

Onions and garlic store well indoors and take up hardly any storage space. They can be strung up in nets or a mesh bag, or you can add a touch of Mediterranean glamour by making traditional plaits.
Onion and garlic plaits
Choose only garlic (shown here) and onion bulbs that are in prime condition for long-term storing. Clean them by cutting off the roots at the base of each bulb. Remove the outer, dirty skins if necessary, but leave the stems attached to the bulb.
Take 3 onion or garlic bulbs and lay them on top of one another at angles so that the bulbs nestle as closely together as possible.
Take another 3 bulbs and place them directly on top of the first bulbs to form the same pattern. The 6 stems should make 3 separate strands. Take the strands on either side in each hand and cross them over the central strand.
Continue to plait the stems, adding 3 new bulbs every time, until you have a plait long enough to hang up. Make up more plaits in the same way and hang on separate hooks with string or rope. If kept cool, onions last 6 months and garlic 4 months.
Harvesting and curing onions and garlic
Onions and garlic are ready to harvest in the summer when the bulbs are swollen and the leaves have yellowed and collapsed. Pull them up when the weather is amenable.
Leave to cure or dry for 2 weeks in a warm, dry place, or outside in suitable weather on a dry path or on pallets or upturned boxes, turning them to expose all sides to the sun. They are ready to plait and store when the skins are papery and the stems have shriveled.