Natural Storage - Storing Squashes
[Do Not Use]DK Publishing
2/07/2014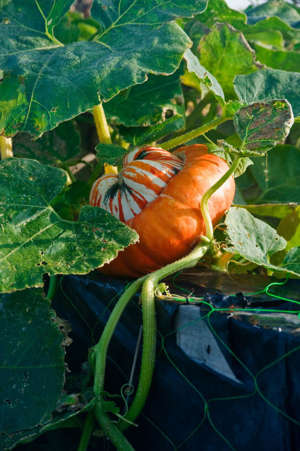 Squashes curing - Nothing is more cheerful than the sight of winter squashes, such as Turk's Turban (as shown here), basking in the autumn sun. Once cut, Acorn squashes will store for 2 months, Butternut for 2–3 months, Turk's Turban for 3 months or more, and Hubbard for up to 6 months.
Storing Squashes

Squashes are the only vegetable to become denser, sweeter, and more flavorful with age. The secret is in hardening the skin (called "curing"). Use only winter squashes (not softer-skinned varieties) for long storage.
On the plant
Cure squashes by leaving them to ripen on the plant for as long as possible. Turn them over every so often so their skin hardens evenly. Avoid bruising the skin, as this may impair storing. Once the skin feels hard and the vegetable sounds hollow if tapped, cut off the squash, leaving 4–6in (10–15cm) of stem (to protect against rotting). Leave to dry outside on a bench, wall, or raised area, or in a well-ventilated cold greenhouse or conservatory, for 10 days. Turn regularly to expose all sides of the skin to the sun, and bring inside if it rains or turns really cold.
Indoors
For long-term storage, squashes need good ventilation and a steady temperature of 50–60°F (10–15°C). A garage or shed will suffice as a storage room, as will a cool room indoors, or even a cool corner of the kitchen. Store the squashes singly on a raised shelf or hung up in a net bag where air can circulate. Check regularly for signs of deterioration.