Natural Storage - Storing Tomatoes, Peppers, and Chiles
[Do Not Use]DK Publishing
2/07/2014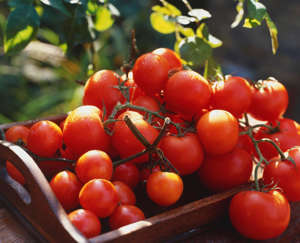 Harvesting tomatoes - Rather than pick tomatoes individually, cut them off the plant in "bunches" so that they remain attached to a length of the vine as they ripen.
Storing Tomatoes, Peppers, and Chiles

Tomatoes, peppers, and chile peppers all continue to ripen once picked, which extends their season. So, as the weather cools at the end of summer, bring any unripened fruits inside.
Tomatoes
Pick tomatoes on the vine and store in single layers on window ledges, trays, or decorative dishes indoors. They ripen gradually and, once red, keep for up to 1 month. Tomatoes dislike the cold, so don't store them in the fridge. Check regularly and remove any that turn moldy or soft.
Peppers
Cut undamaged peppers from the plant, leaving a little of the stem. Store in the same way as tomatoes. They gradually turn from green to yellow or orange or red, depending on the variety. The deeper the color, the better and richer the flavor. In the right conditions they will then gradually begin to dry, becoming more concentrated in flavor. Check regularly for any signs of mold: if you find any, cut away all the mold and use the rest of the pepper immediately.
Chile peppers
Chiles will keep growing and ripening on the plant, so bring the whole plant inside if you have room, and keep it in a warm, light spot. Otherwise, store in the same way as peppers and tomatoes.