New York State - Wine Map of New York State
[Do Not Use]DK Publishing
2/07/2014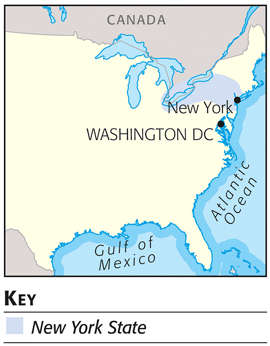 Vineyards above Canandaigua Lake in the Finger Lakes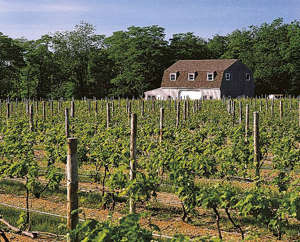 Millbrook Vineyards & Winery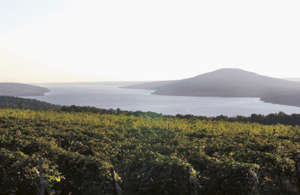 Merlot and Chardonnay vines on Long Island's North Fork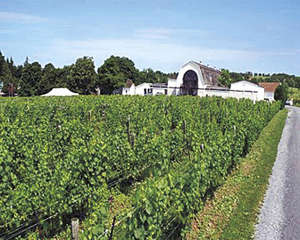 Wine Map of New York State

Between the shores of Lake Erie and the eastern tip of Long Island are four major American Viticultural Areas (AVAs). Lake Erie is the biggest, but 90 percent of its output is grape juice. Some 300 miles (500 km) west of New York City, near Ithaca, is the scenic Finger Lakes area, north of Manhattan is the Hudson River Valley, and to the east is "New York's Bordeaux"—Long Island's North Fork—and the South Fork, known as the Hamptons. Central New York State is developing as a wine region, but has not yet been designated an AVA.
New York State: Areas & top producersLong Island
Bedell Cellars
Palmer Vineyards
Paumanok Vineyards
The Lenz Winery
Wölffer Estate
Finger Lakes
Château LaFayette Reneau
Dr. Konstantin Frank
Standing Stone Vineyards
Lake Erie
Johnson Estate
Perfect case: New YorkTerroir at a glanceLatitude:
40.5–43°N.
Altitude:
0–245 m.
Topography:
Diverse terrain. Ice-age glaciers left behind a landscape of sloping hillsides, deep valleys, and bodies of water ranging from the carved-out Finger Lakes to the wide, majestic Hudson River.
Soil:
Deep, well-drained, glacial soils, silt and loam composition.
Climate:
Cool nights and warm, but not hot, days characterize these wine districts, all of which benefit from a lake, river, or ocean effect.
Temperature:
July avg. 75°F (24°C).
Rainfall:
Annual average is 915–1,120 mm.
Wind:
Lake and ocean breezes keep wine regions cooler in summer. In winter, warm southwesterly winds from the Atlantic moderate temperatures.
Viticultural hazards:
Black rot; insects; bird damage; hurricanes.
Exploring New York State's wineries
New York State's picturesque wine districts are well worth exploring by car. Wineries that are open to the public are clearly signposted with road signs bearing clusters of grapes.
Scores of wineries hug the shores of the Finger Lakes, particularly Lake Seneca. Among them are celebrated Riesling master Hermann J. Wiemer Vineyard, offering self-guided vineyard walks, and Wagner Vineyards, with a restaurant and tasting room (try the smoky, plummy Meritage, a Bordeaux blend, and tangy, spicy Riesling ice wine). Also in the Finger Lakes is Glenora Wine Cellars, which features a fine restaurant and inn with breathtaking views. It is a leader in the region for its impressive sparkling wines, especially Riesling, and Gewürztraminer.
Millbrook Vineyards & Winery, in the Hudson River Valley, hosts concerts, outdoor films, and giant harvest parties. On the Long Island tasting circuit, Pindar and Pellegrini Vineyards are key players, with live music, food festivals, and deluxe wine-and-food pairing dinners.
Hermann J. Wiemer Vineyard: www.wiemer.com; Wagner Vineyards: www.wagnervineyards.com; Glenora Wine Cellars: www.glenora.com; Millbrook Vineyards & Winery: www.millbrookwine.com; Pindar: www.pindar.net; Pellegrini Vineyards: www.pellegrinivineyards.com