Nibbles, Dips, and Dippers - Dippers
[Do Not Use]DK Publishing
2/07/2014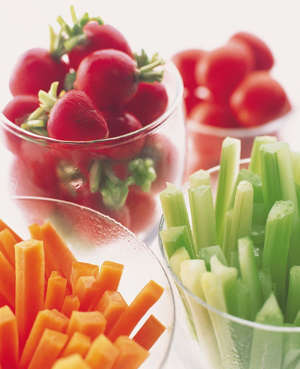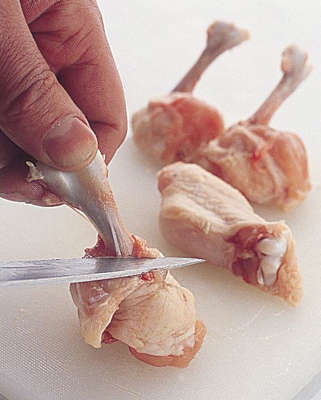 Vegetable dippers
Prepare your chosen vegetables as directed. Arrange vegetables in an airtight container covered with damp paper towels. Cover with the lid and refrigerate. Serve chilled, with dips.
Baby Carrots
Choose firm, crisp baby carrots and use as quickly as possible since they spoil more quickly than regular carrots. Do not peel. Trim root end but leave a short green stem to act as a handle for dipping.
Baby Potatoes
Choose even-sized, small new potatoes with a crisp, waxy texture and papery, thin skins. Simmer, unpeeled, in salted water until tender when pierced with the tip of a small sharp knife. Use both gold-and red-skinned potatoes for added color contrast.
Carrots
Avoid large carrots since they may have a tough, woody core.
Organically grown carrots have the sweetest flavor. Cut into sticks about 3 inches long and 1/4 inch thick.
Celery
Use only the pale, tender inner stalks. The outer stalks tend to be stringy and should be peeled. Cut into sticks about 3-inches long and 1/4 inch thick.
Chicory
Trim the bitter stem end and use only the crisp, smaller inner leaves. Chicory is grown in red as well as white varieties.
Cherry Tomatoes
Try to find yellow as well as red for color contrast. The plum- and pear-shaped cherry tomato varieties are now widely available. Their elongated shape makes them easier to use for dipping.
Cucumbers
Scrape out the seeds and discard. Cut into sticks about 3 inches long and 1/4 inch thick. Leave unpeeled for added color contrast between the dark green peel and pearly pale green interior.
Radishes
Trim the root end but leave a little green stem on to act as a handle for dipping. Elongated French-style varieties with red tops and white tips are best for dipping.
Think ahead
Prepare vegetables up to 1 day in advance.
Cooks' note
A generous quantity of just one or two vegetables makes an impressive display. Choose vegetables that are at their freshest, seasonal best, rather than aiming for a lavish selection.
Chicken Drummettes
20 chicken wings
Essential equipment: kitchen scissors or sharp boning knife
Cut the first joint of each chicken wing and discard wing tips. Holding small end of second joint, cut, scrape, and push meat down to thick end . Pull skin and meat over end of bone with fingers to resemble baby drumsticks. Cut off knuckle end with scissors or knife. Repeat with remaining chicken wings.
Think ahead
Make drummettes up to 2 days in advance. Cover and refrigerate.
Cooks' note
The tips and first joint of chicken wings are basically just skin and bone. When making drummettes, reserve these parts for later use. They are ideal for making chicken stock.