Northeast Italy - Wine Map of Northeast Italy
[Do Not Use]DK Publishing
2/07/2014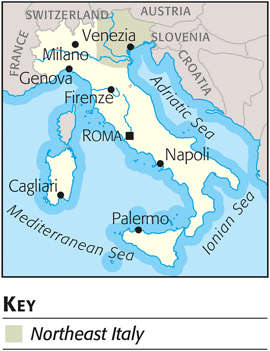 Tenuta San Leonardo vineyards, Trentino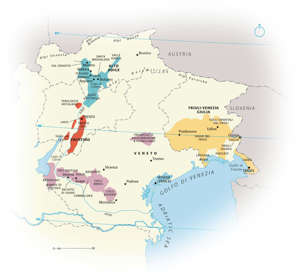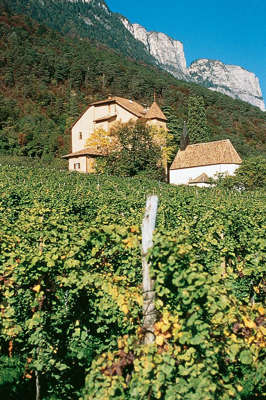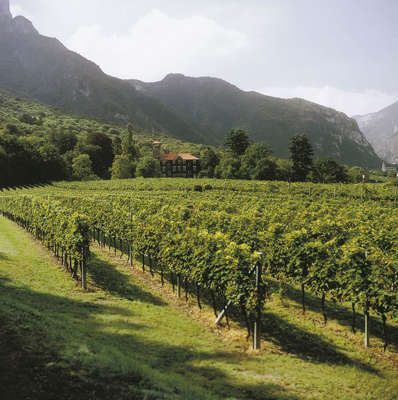 Produttori San Michele Appiano's winery and vineyard, Alto Adige
Wine Map of Northeast Italy

The majority of Northeast Italy's best vineyards lie in an area that begins in the northerly Valle dell'Isarco, stretches south through Trentino-Alto Adige to Verona, and then shadows the arc of the Alps across the Veneto and Friuli-Venezia Giulia to the Golfo di Trieste (Gulf of Trieste). Ironically, the area with the most varied soils and climates groups most of its wines under only two main DOCs—Alto Adige and Trentino—although there are some lesser-known DOCs within these. The Veneto and Friuli-Venezia Giulia, on the other hand, have a complex system of overlapping subzones.
Northeast Italy: Areas & top producersAlto Adige
Abbazia di Novacella
Alois Lageder
Arunda
Cantina Produttori Bolzano
Hofstätter
Kuen Hof
Josephus Mayr-Unterganzner
Produttori Colterenzio
Produttori di Terlano
Produttori San Michele Appiano
Produttori Termeno
Trentino
Cantina La Vis
Cesconi
Ferrari
Foradori
Pojer & Sandri
Tenuta San Leonardo
Veneto
Adami
Allegrini
Anselmi
Bisol Desiderio & Figli
Gini
Inama
Maculan
Masi
Pieropan
Quintarelli
Romano Dal Forno
Ruggeri
Speri
Tedeschi
Tommaso Bussola
Friuli-Venezia Giulia
Borgo San Daniele
Borgo del Tiglio
Edi Keber
Girolamo Dorigo
Kante
La Castellada
Le Due Terre
Le Vigne di Zamò
Lis Neris
Livio Felluga
Livon
Miani
Ronco del Gelso
Russiz Superiore
Schiopetto
Vie di Romans
Villa Russiz
Vinnaioli Jermann
Volpe Pasini
Perfect case: Northeast ItalyTerroir at a glanceLatitude:
45.3–47°N.
Altitude:
0–900 m.
Topography:
Vineyards benefit from the shelter of the Alps and the moderating influence of Lago di Garda (Lake Garda) and the Adriatic. The best sites are on south-facing slopes, mid-altitude hills, and valley sides.
Soil:
Extremely varied, from glacial-alluvial to volcanic bedrock, limestone, and sandy gravel beds.
Climate:
Generally hot summers and mild winters. Frost is rare thanks to mainly southern exposures, the shelter of the high mountains, and the moderating influence of Lago di Garda and the Adriatic.
Temperature:
July avg. 73°F (23°C).
Rainfall:
Average annual ranges from 500 to 1,450 mm.
Viticultural hazards:
Hail; unpredictable rainfall; drought.