Pastry - How to Make & Use Pastry
[Do Not Use]DK Publishing
2/07/2014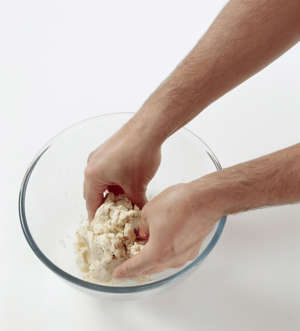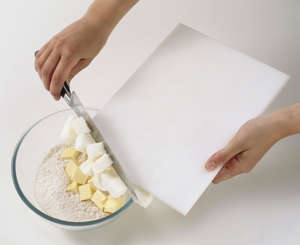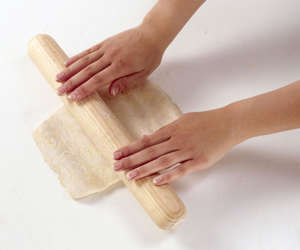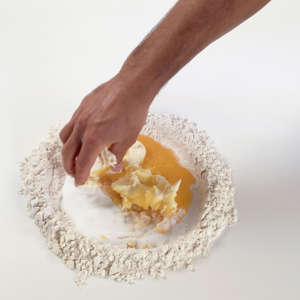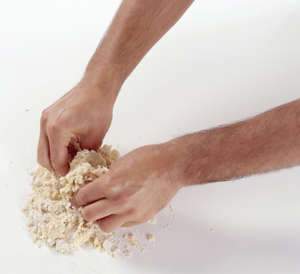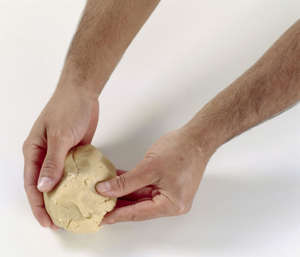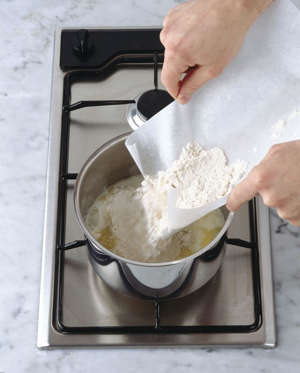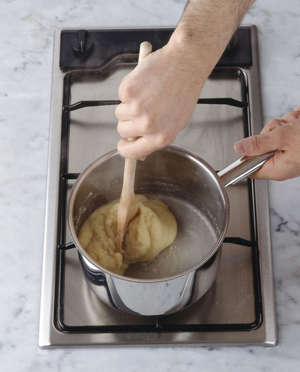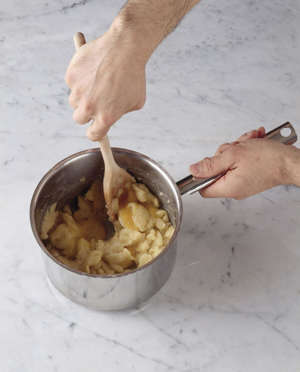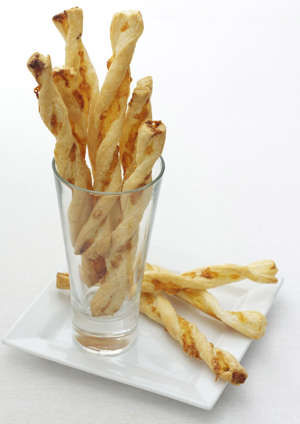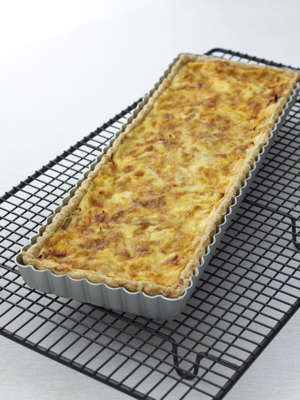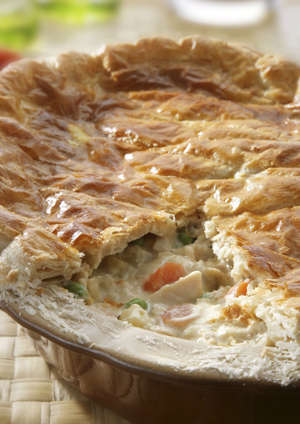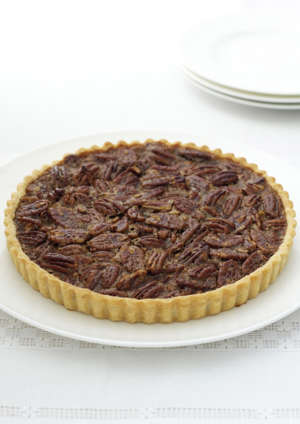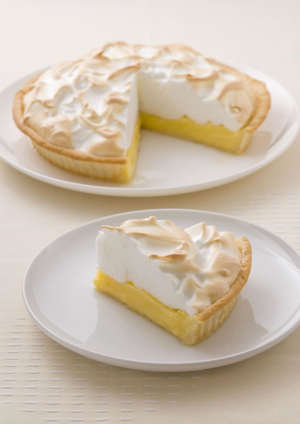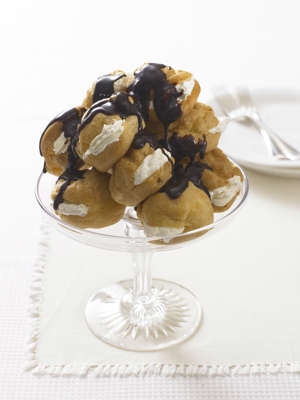 How to Make & Use Pastry

Shortcrust pastry
Sift 6oz (175g) all-purpose flour and a pinch of salt into a large bowl. Add 3oz (85g) chilled, diced butter or margarine. Lightly stir the butter to coat it in the flour.
Quickly and lightly rub the butter into the flour with your fingertips until the mixture resembles coarse bread crumbs. Sprinkle in 2 tbsp iced water. Stir gently to mix.
Use your fingers to gather the pastry and roll it around to form a ball, handling it as little as possible. Wrap the pastry ball in plastic wrap and chill for at least 30 minutes before using.
Rough puff pastry
Sift 9oz (250g) all-purpose flour into a bowl. Add 3oz (85g) chilled diced butter and 3oz (85g) chilled diced white vegetable fat, then stir in the flour to coat. Add 5fl oz (150ml) iced water and a squeeze of lemon juice, and stir with a knife to bind.
Roll out the dough on a lightly floured surface into a rectangle 3 times as long as it is wide. Fold the top third of the pastry down, then bottom third up, as if folding a letter. Seal the open edges closed with the rolling pin. Wrap in plastic wrap and chill for 15 minutes.
With the unfolded edges at the top and bottom, roll and fold the pastry as in step 2. Turn the pastry 90 degrees and repeat the rolling, folding, and turning twice more. Wrap and chill again for at least 30 minutes before using.
Sweet shortcrust pastry
Sift 7oz (200g) all-purpose flour and a pinch of salt on to a work surface. Make a well in the center and add 3oz (85g) soft butter, 4 tbsp sugar, and 3 beaten egg yolks. Blend the ingredients in the well together with your fingertips.
Using your fingertips, gradually work the sifted flour into the butter mixture until it resembles coarse bread crumbs. If the butter mixture is too sticky and crumbs don't form, work in a little extra flour.
Gather the dough into a ball, then knead it very quickly and lightly until it is smooth and pliable. Shape it back into a ball, wrap in plastic wrap, and chill for at least 30 minutes before using.
Choux pastry
Bring 8fl oz (240ml) water and 1/2 cup diced butter to a boil over high heat. Remove the pan from the heat and tip in 5oz (140g) all-purpose flour sifted with 1 tsp salt and 1 tsp sugar all at once and beat until the pastry is smooth.
Return the pan to the heat and stir until the dough forms a ball and comes away from the sides of the pan. Quickly remove the pan from the heat.
Gradually beat in 4 eggs, one at a time, beating well after each addition. Continue beating until the mixture becomes shiny and drops off the spoon when shaken. It is now ready to use.
Tips for perfect pastry
Add chilled water, eggs, and fat straight from the refrigerator.
Add liquid to the flour and fat mixture gradually. Flours have different absorption rates, so you might not need all of it.
Work quickly. The less you handle the dough, the lighter and more delicate the baked pastry will be.
Refrigerate your pastry dough for at least 30 minutes before rolling out. This makes it easier to roll and helps prevent dough from "shrinking" while baking.
If at any time the pastry becomes sticky, immediately return it to the refrigerator for 15 minutes before continuing with the recipe.
Dust the work surface and rolling pin very lightly with flour when rolling out pastry. If too much extra flour is incorporated at this stage, the baked pastry will be tough.
Tips for better baking
Preheat the oven to the specified temperature before baking.
For nonsoggy double-crust pies, such as Apple Pie, cut slits in the top of the crust to let steam escape during baking.
Very lightly splash the baking sheet with water before baking rough puff or puff pastry. The water creates steam in the hot oven, which helps form the many delicate layers.
Savory usesCheese Straws
Use rough puff or ready-made puff pastry to make these party favorites
Gruyère Tart
A combination of wholemeal and plain flours adds flavor to this shortcrust pastry crust
Chicken Pot Pie
Use rough puff pastry in this recipe to give a delightful contrast to the pie's creamy filling
Sweet usesPecan and Maple Tart
This American favorite with shortcrust pastry is very rich and filling
Lemon Meringue Pie
A creamy lemon filling and light meringue are encased in a shortcrust pastry case
Profiteroles
A French classic, these cream-filled choux buns are always a popular dessert
What can I do with leftover pastry?
Leftover shortcrust and sweet shortcrust pastry trimmings can be gathered together, shaped into a ball, wrapped in plastic wrap, and refrigerated for up to 3 days, or frozen for up to 6 months to be used in other recipes.
Unbaked choux-pastry shapes can be refrigerated for up to 12 hours before filling and baking.
Unbaked rough puff pastry can be refrigerated for up to 3 days and used in other recipes, but it is difficult to re-use trimmings because re-rolling will knock out all the air that forms the layers.
Rolled and shaped rough puff pastry, such as vol-au-vents, can be frozen for up to 6 months and then baked straight from the freezer, adding 5 minutes to the baking time.